Healthy Eats: Tropical Quinoa and Kale Salad
It may be winter, but that doesn't mean your taste buds have to accept that fact. I'm all for eating seasonally, but luckily, I've found a winter recipe that still conjures up images of white sand beaches and palm trees gently swaying in the trees. Plus, it takes 20 minutes on the dot and it packs beautifully for lunch, or it's a lifesaver if you need a quick, filling dinner one night post workout. Sweat Lifers, meet your new favorite dish: the tropical quinoa and kale salad.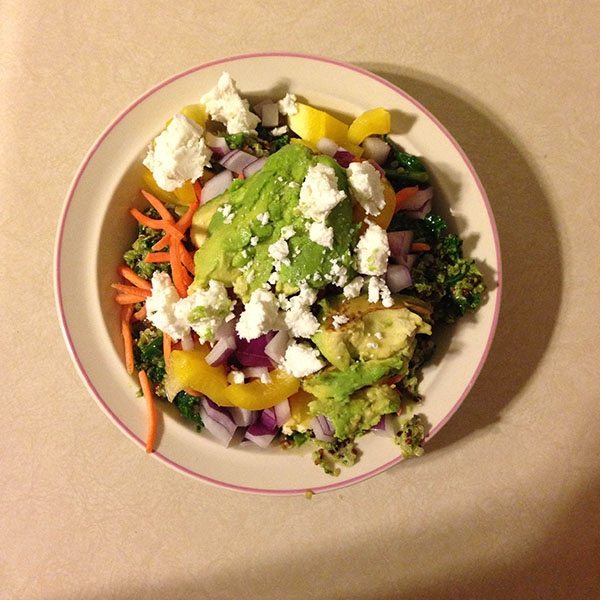 Adapted from my favorite site for quick and easy vegetarian meals, Cookie and Kate (seriously, I cannot recommend this site enough), twenty minutes of work gets you four meals worth of lunches. Also, maybe it's just me, but any time I make my own pesto I feel incredibly proud of myself. Sure, it's simple to do, but it's also easy to just buy pesto and the store, but if you take the couple of minutes to whip up your own pesto, your meal just got leveled up. Don't skip it.
Let's get down to business.
Whatcha Need: 
For the salad:
1 cup quinoa (rainbow adds the most flavor)
1 cup light coconut milk
1 small bunch of kale, stems removed and leaves chopped (for a total of about 4 cups chopped kale)
½ small to medium red onion, chopped
Any other add-ins your heart desires (personally, I went for a yellow bell pepper, avocado, and shredded carrots)
Goat cheese (optional; omit if vegan)
For the pesto:
2 cups cilantro, packed
scant ½ cup cashews
4 cloves garlic
½ cup olive oil
salt and freshly ground black pepper, to taste
½ lime, juiced (or more, to taste)
1 pinch red pepper flakes
Whatcha Do: 
In a medium saucepan, combine 1 cup coconut milk with 1 cup water. Bring to a boil. Add the quinoa, cover and simmer for 15 to 17 minutes, until the water is absorbed. Remove from heat, fluff with a fork, cover and set aside.
While you quinoa is simmering, make the pesto: combine cilantro, cashews and garlic in a food processor. Start processing the mixture, and slowly drizzle in the olive oil. Season with salt, pepper, lime juice and red pepper flakes, all to taste, and blend well.
Chop your extra vegetables, if necessary.
When your quinoa is finished, add in the chopped kale and stir for a few minutes until the kale is slightly wilted. 
Add your pesto on top of your coconut quinoa and kale, and mix thoroughly.
In a medium serving bowl, combine the warm coconut quinoa, chopped kale, and pesto with your extra vegetables. Mix well with a big spoon and season to taste with salt and pepper, if necessary, and crumble your goat cheese on top if you're feeling decadent. Serve over any leftover kale if you're so inclined.
Let us know!
Did this post help you get closer to achieving one of your goals?