The Lunch Bunch: Quinoa Chicken Tender Recipe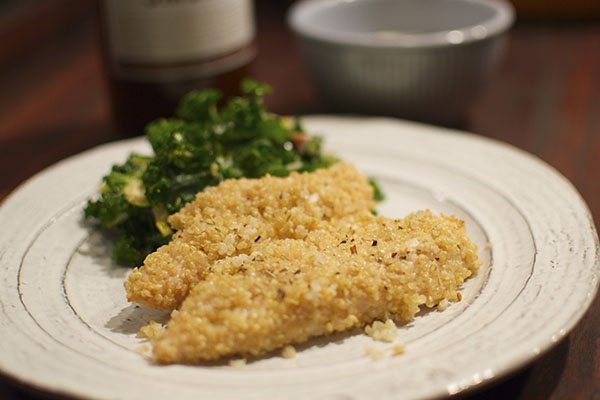 I'm going back to the basics for this week's lunch bunch. This simple recipe will take you less than an hour between prep, cooking AND clean up and will give you that protein punch you need to last all week. Not to mention, these "grown up" chicken fingers give any adult that tasty satisfaction of their favorite childhood (or pub) snack without the guilt!
This past Sunday, I only had TWO items on my grocery list for this week's lunch bunch. By investing time in a smart pantry and freezer, the only food I had to buy for this recipe was chicken and eggs. With a recipe so easy, this is a great week to look through your kitchen and see what may be missing. Take some of my suggestions from the PDF and add some easy foods that can assist in your lunches from week to week to week. It's time to stock up that pantry and freezer! Quinoa is a staple grain next to my pastas. Fruit is a daily necessity in my life and will always be found on my kitchen counter.
I keep onions and garlic on hand at all times…. note that I store these away from my fruit to delay browning. I also have frozen broccoli and peppers in my freezer for late work nights and quick lunches. At Whole Foods you can find (organic or non-organic) frozen vegetables that make a veggie stir-fry possible in less than 10 minutes. *Always check the label for plain veggies, no fancy sauce – you can make that yourself! 
I made these quinoa chicken tenders gluten-free by eliminating the flour component. The egg whites act as a binder to hold together the quinoa. With a little drizzle of olive oil before the chicken hits the over, they brown up nicely. Not to mention, we are adding protein to a protein! This dish can be the center of your lunch week or that protein power you need after a tough workout.
Lastly, as both college and pro football playoffs are the focus of sports news right now, I couldn't help but think of this as a great recipe for a game day snack. The Super Bowl is just around the corner and all of us will be tempted by spinach artichoke dip, creamy buffalo dip, confetti cake dip…. dips galore! Well, I'm going to go ahead and make these (perhaps in a nugget version) with some healthy, homemade honey mustard. No one needs to know how healthy it is. 🙂
Use this recipe for a delicious lunch, some post workout fuel or a healthy Super Bowl Sunday snack. Hopefully, it will become a staple meal for you to whip up in a hurry! Oh and shout out to my Buckeyes for their National Title Win! OH-IO!
Get the lunch planning and packing guide.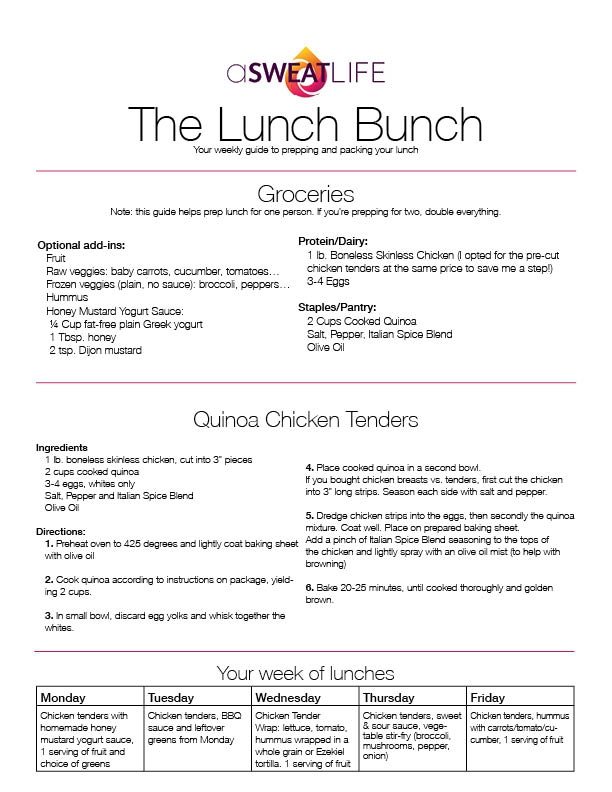 Grocery List:
Protein/Dairy:
1 lb. Boneless Skinless Chicken (I opted for the pre-cut chicken tenders at the same price to save me a step!)
3-4 Eggs
Pantry:
2 Cups Cooked Quinoa
Salt, Pepper, Italian Spice Blend
Olive Oil
Optional add-ins:
Fruit
Raw veggies: baby carrots, cucumber, tomatoes…
Frozen veggies (plain, no sauce): broccoli, peppers…
Hummus
Honey Mustard Yogurt Sauce:

¼ Cup fat-free plain Greek yogurt
1 Tbsp. honey
2 tsp. Dijon mustard
Recipe:
Ingredients:
1 lb. boneless skinless chicken, cut into 3" pieces
2 cups cooked quinoa
3-4 eggs, whites only
Salt, Pepper and Italian Spice Blend
Olive Oil
Directions:
Preheat oven to 425 degrees and lightly coat baking sheet with olive oil
Cook quinoa according to instructions on package, yielding 2 cups.
In small bowl, discard egg yolks and whisk together the whites.
Place cooked quinoa in a second bowl.
If you bought chicken breasts vs. tenders, first cut the chicken into 3" long strips. Season each side with salt and pepper.
Dredge chicken strips into the eggs, then secondly the quinoa mixture. Coat well. Place on prepared baking sheet.
Add a pinch of Italian Spice Blend seasoning to the tops of the chicken and lightly spray with an olive oil mist (to help with browning)
Bake 20-25 minutes, until cooked thoroughly and golden brown.