10 Foods to Put On Your Friendsgiving Charcuterie Board

The charcuterie board is arguably the most important appetizer at Friendsgiving. It's truly a work of art to create, both aesthetically and tastefully speaking.
Since the charcuterie board is what everyone picks at first, I always aim to keep mine filled with mostly nutritious foods before the indulgent dishes like buttered mashed potatoes and pumpkin pie fills have their turn in the spotlight.
Here are some of my favorite nutrient-rich foods to include on my Friendsgiving charcuterie board.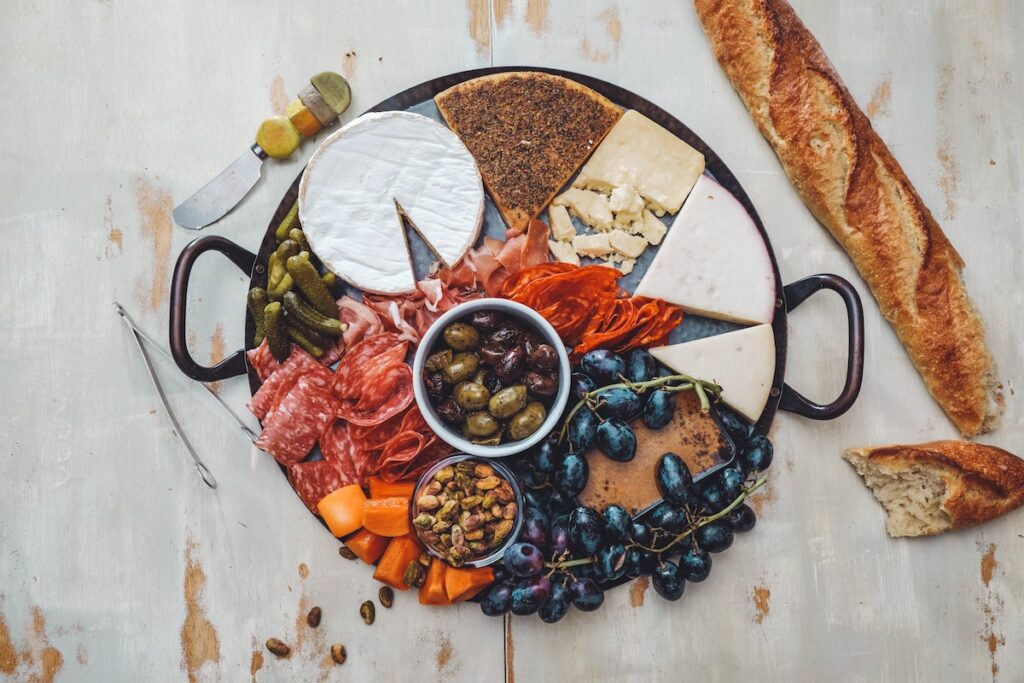 Pumpkin seeds: Pumpkin seeds are full of antioxidants, anti-inflammatory, and can help add a dose of salt to your charcuterie board.
Pomegranate seeds: To me, pomegranate seeds just scream holiday — and no recipe this time of year is complete without them. I literally top pomegranate seeds on everything from leftover turkey to pie during the holidays. These seeds are full of fiber, magnesium, and vitamin E. 
Raw cheese: Hit up your local farm for some raw cheese. Raw cheese can be way more nutritious than pasteurized cheese and is typically loaded with bioavailable vitamins, minerals, and enzymes.
Hu Kitchen grain-free crackers: These high-quality crackers have no refined sugars, no seed oils, and no refined starches. Oh, and they're perfect for dipping.
DIY Hummus: This simple recipe is made with whole-food ingredients and none of the preservatives you usually find in store brands.
Smoked salmon: Rich in Omega-3 fatty acids and selenium, this is the perfect addition to round out your Friendsgiving charcuterie board. 
Raspberries and blackberries: These berries are rich in fiber and pair well with the next suggestion…
Chocolove XO: Chocolate! This brand is a good find as it has only one gram of sugar and a whopping seven grams of fiber. Let's be real: No Friendsgiving charcuterie board is truly complete without something as sweet as this. 
Dried mango: Another fiber-rich food for the win. Dried mango is sweet and can help mix up the texture of your charcuterie board.
Dried plantains: Choose dried plantains made with grass-fed butter. I literally eat these like potato chips at night. They're a great crunchy addition to Friendsgiving snacking.