5 Trader Joe's Summer Trends That Are Officially Dietitian-Approved
The official start of summer is June 21st, and Trader Joe's is, per usual, hopping right on the bandwagon. I've always loved TJ's for their eclectic seasonal items, and this season is no different. The common themes this summer seem to be pickles (honestly, so many pickle items), outdoor entertainment, and adding in some spice. Today I'll highlight a few of my favorite new trends and the best Trader Joe's summer products to add to cart, immediately.
All things pickles
When I think outdoor picnics and grilling, I do think pickles, and TJ's has taken that idea and ran with it. They have launched a new Pickle Seasoning, which I am very intrigued by. This seems to be right in line with the unique seasonings such as Everything But the Elote and Everything But the Bagel seasonings. This would be great for a chicken salad, or even mixed in with ground turkey burgers to add some flavor to an easy lunch protein.
They also have a frozen item, Dill Pickle Mini Falafels, which strikes me as a great air fryer food and can be used as an appetizer or on top of a Mediterranean salad. Last but not least, they have added a pickle spin to my favorite condiment, mustard, with their Dill Pickle Mustard. This tangy condiment would be great on top of hard boiled eggs paired with some veggies for a flavorful, balanced snack.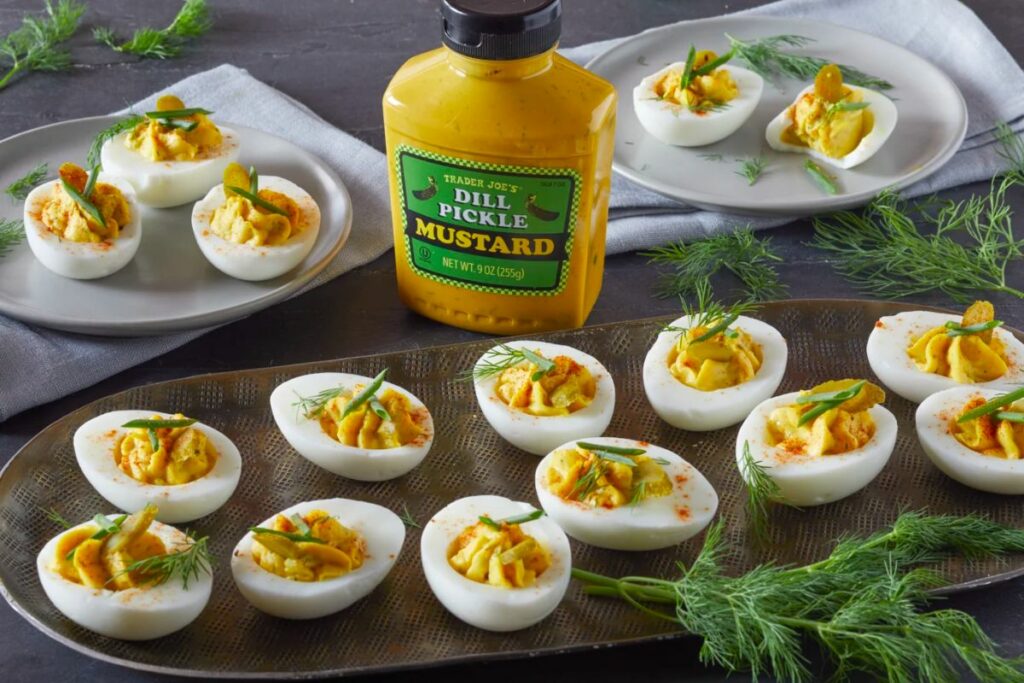 Some new protein options
Not many things are better than a taco and marg (or mocktail) night in the summer, which is why TJ's has added Beef Birria to the frozen section. This almost labor-free addition to your taco night is full of flavor and would be great for tacos bowls with black beans, fajita veggies, rice and guacamole for a quick weeknight meal.
They've also added Spicy Jalapeno Chicken Sausages and Sweet Apple Chicken Sausages, depending on if you're feeling sweet or spicy. These would be a great protein addition to a one-pan skillet meal with veggies and quinoa for an easy, filling, balanced dinner. 
New fruit and veggie options
If you've been around TJ's for a while, you know they have countless grab and go salad options. This summer they've added a Lemon Chicken & Arugula Salad, with Moroccan-inspired flavors and a filling blend of veggies, protein, and carbohydrates.
If you're looking for some sweeter produce, they've added Fresh California Apricots, which would be great to grill and add as a warm item on a salad. One of their new veggies, Persian Cucumbers, is great for a quick cold cucumber salad or dipped in hummus. 
Additions to your charcuterie board
If you are entertaining, charcuterie boards seem to be the new trend to impress your guests. Trader Joe's has always done a great job with creating flavorful cheeses to bring your charcuterie board to life. Some newer cheeses include the Chive Cheddar Cheese as a savory option or Blueberry Fields Hard Cheese for the sweeter side.
Coconut cold brew
Whether you're a year round or seasonal iced coffee drinker, their new Coconut Cold Brew certainly hits the spot. Just simply add ice, water, milk, or a milk alternative, and you'll have a refreshing beverage with a summery, tropical twist.
Check out these items at your local Trader Joe's to add some spice, flavor, and convenience to your summer. TJ's is always great at releasing new monthly items, so stay tuned for more options as the summer progresses!