6 New Ways to Use Peanut Butter
There are a variety of nut butters to enjoy. Almond butter, cashew butter, choose your favorite, but the all-star of nut butters has to be peanut butter. A classic kitchen staple for the pantry, peanut butter pairs well with basic items like overnight oats, sandwiches, and smoothies. Although these are all classic combinations, peanut butter is good for more than just sandwiches. So if you're ready to switch up the way you use your favorite ingredient, you're in luck. Here are six new ways to use peanut butter in your daily recipes.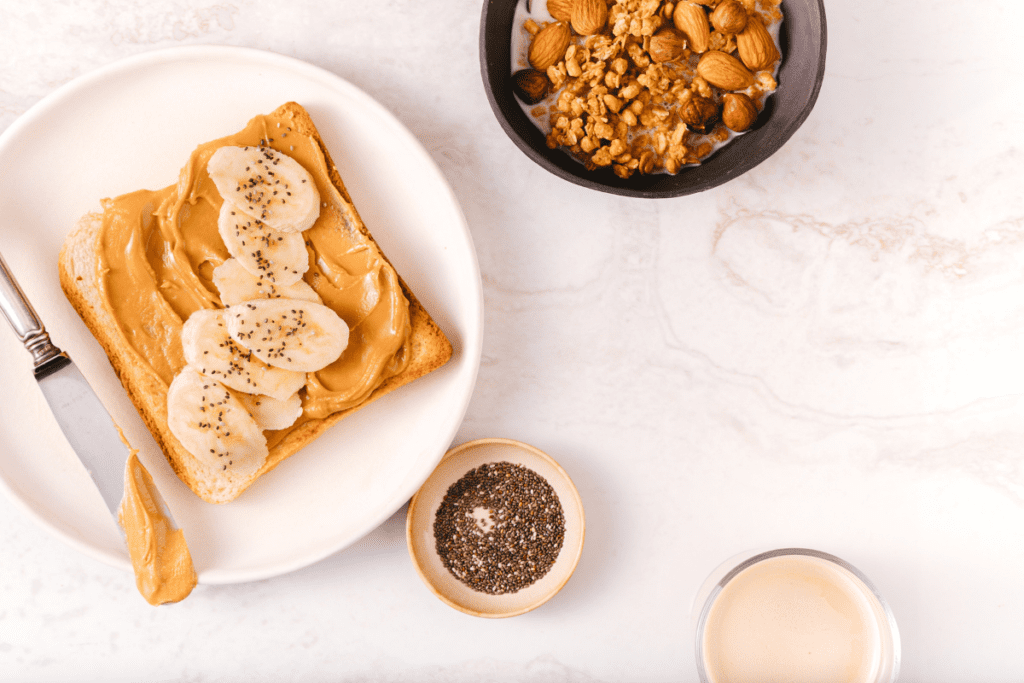 How to cook with peanut butter
Peanut butter and breakfast
A simple way to cook with peanut butter is to use it in breakfast recipes. You may be the most familiar with adding peanut butter to overnight oats, smoothies, and smoothie bowls. But if you're up for it, try something new like making your own cereal with this handcrafted peanut butter cereal.
You can also add a scoop or two of peanut butter to a stack of homemade pancakes or waffles. What about this epic Creamy Peanut Butter and Banana Stuffed French Toast? Yes, please!
Peanut butter dessert recipes
Another one of the easiest ways to cook with peanut butter is to use it in your baking. Peanut butter is a great binder and can help hold ingredients together. Plus, it just makes everything better.
From peanut butter cookies to peanut butter pie, peanut butter pairs perfectly with your favorite baked goods. Some other options include peanut butter bread, peanut butter brownies, peanut butter fudge, peanut butter macaroons, and peanut butter scones. The peanut butter options for baked goods are truly endless!
If ice cream is more your jam, Melissa Collins, Partnership Manager at Perfect Brew, recommends blending frozen banana chunks, jelly, and peanut butter in a food processor to create delicious vegan ice cream. Peanut butter also makes an incredible ice cream topping. Mouth…watering.
Peanut butter pasta sauce
Swap classic Alfredo sauce, pesto, and tomato sauce for peanut butter pasta sauce. Ethelyn Dietrich of Cooker Query shares her favorite peanut butter pasta sauce recipe. All you need are the following ingredients:
1/4 cup peanut butter
2 tablespoons margarine or butter, melted
1 tablespoon soy sauce
1 tablespoon chili sauce (optional)
1 teaspoon Worcestershire sauce (optional)
Combine the peanut butter, margarine or butter and soy sauce in a medium bowl. Stir to mix everything well. Then, add the chili sauce, Worcestershire sauce (if used), and pasta. Toss to coat well then enjoy. That's Amore!
Peanut butter stir fry sauce
If you are not sure what to do with all of those leftover vegetables in the fridge, combine them into one epic homemade kitchen sink stir fry using a homemade peanut butter stir fry sauce.
Elizabeth Thomson, recipe creator and food photographer at I Heart Vegetables, loves using this 5 ingredient Peanut Sauce on pasta, protein sources, rice, tempeh, tofu, and vegetables. If you enjoy chicken, you can even mix a tablespoon of peanut butter with some bread crumbs and spread them on chicken for a subtly savory dinner dish.
Collins also recommends this super simple homemade peanut butter stir fry sauce. All you need are the following ingredients, which you may already have stocked in your kitchen:
Brown sugar (1 Tbsp)
Cayenne pepper (⅛ tsp)
Garlic powder (1 tsp)
Crunchy peanut butter (2 Tbsp)
Ground ginger (⅛ tsp)
Red wine vinegar (2 Tbsp)
Soy sauce (2 Tbsp)
Once you gather all of these ingredients, mix everything together in a saucepan over medium heat. Stir for five minutes until brown sugar dissolves, and a creamy texture is formed. That's it!
Peanut butter salad dressing
Skip the store-bought salad dressings and make your own using a homemade salad dressing instead using peanut butter. Thomson enjoys using peanut butter as a base for homemade salad dressings and other types of salads like this Edamame and Quinoa Salad.
Pair that lunchtime salad with a bowl of soup that includes, you guessed it, peanut butter. Collins says, "You will notice an enhanced flavor and extra creamy texture when peanut butter is used as an ingredient in any soup."
Peanut butter snacks
Peanut butter makes a delicious snack when you pair it with just about anything, but Collins recommends making a batch of homemade peanut butter balls mixed with whole grains. If you prefer something savory, give traditional humus a new twist by adding peanut butter instead of tahini and excite your taste buds with a more mindful snack. Instead of chips and dip, try a plate of homemade Apple Nachos instead.
The next time you think that jar of peanut butter is basic and boring, repurpose it with one of these peanut butter-inspired recipes.