How to Cook With Tinned Fish
Growing up I was embarrassed to admit that I love tinned fish. I thought it looked like cat food and didn't want to admit to my friends that one of my favorite dinners was tuna casserole. As I saw more and more of my favorite chefs and food writers speak up about their love for the often perceived as slimy canned protein, I finally felt ready to admit that oil packed tuna and anchovies were some of my pantry staples and that I think canned fish is an excellent part of a healthy diet. Eventually, I started experimenting with more and more tinned, jarred, and canned fishes and incorporating them as a staple in my diet.
If you've historically been grossed out by fish in a can, I'm here to tell you to give it a try. Here's why you should open your heart and kitchen to tinned fish. Plus, how to use healthy canned fish in your favorite recipes.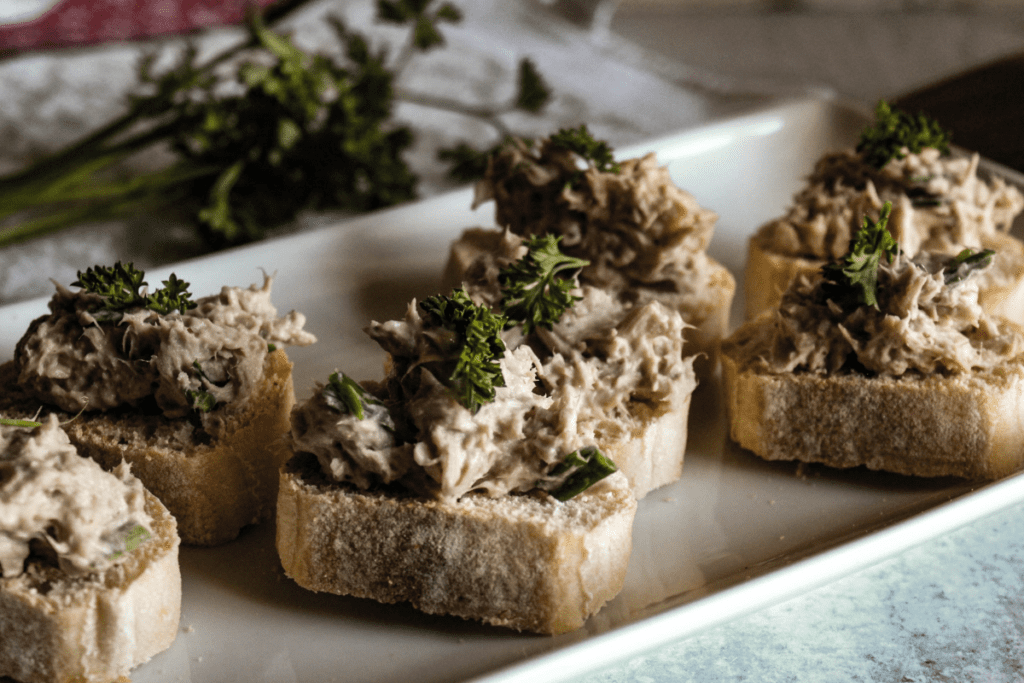 Why you should give tinned fish a chance
Tinned fish is shelf stable
In my opinion, there's nothing worse than braving Whole Foods at six o'clock in hopes of having dinner on the table at a reasonable hour. On the flip side, deciding days in advance to cook fish later in the week can be a bit too much commitment for me. This is where tinned fish comes in handy.
Canned fish will stay safe to eat in your pantry for up to five years, yes you read that right. Consider this your green light to stock up on canned salmon, sardines, anchovies, and tuna before the apocalypse. That means not rushing to use up your seafood haul before it goes bad when plans inevitably change and it turns out you didn't make that salmon you'd planned for Tuesday.
Low-cost protein
Fresh seafood is one of life's greatest joys, but depending on what kind of seafood it can come with a steep price tag. In contrast, healthy canned fish is a reliable low cost protein option if you're looking to make inexpensive food feel hearty. At a much more affordable cost than fresh, tinned fish packs a major nutritional punch. Canned tuna is high in protein, vitamins, minerals, and omega 3 fatty acids and still relatively low calorie. If you're looking to beef up your next meal without beef, turn to canned fish.
How to use tinned fish
Add protein to your favorite dishes
As a completely cooked, ready to eat, and shelf stable nutritional powerhouse, canned fish is one of the easiest proteins to throw into all of your favorite dishes. The most no fuss way to incorporate canned fish is to simply throw it on top of whatever you're planning to eat that could use a little extra protein like using canned salmon as a quick and easy salad topper. If you want to dress it up a little bit, consider making it the star of a quick and easy dinner like this mackerel pantry pasta that features a tinned fish as the focal point.
Add quick mix-ins
If you want to further dress up your favorite canned fish beyond throwing it into a pasta, salad, stir fry, or grain bowl, mix in a few ingredients and you'll have yourself an easy deli style fish salad. Mix canned tuna or salmon with Greek yogurt, chopped red onion, salt, pepper, and fresh herbs and use it for a quick tuna melt or eat it with crackers as a healthy snack.
Substitute for fresh fish
If you're feeling a hankering for fresh seafood but don't want to go to the trouble, you might be able to use tinned as a sub in the right dishes. There's nothing like fresh sushi but preparing raw fish at home can feel daunting and you may worry about how to ensure food safety. Try mixing canned fish with your favorite sushi ingredients for dishes like these spicy tuna rolls that feature the tinned version. Alternatively, try throwing some canned tuna onto a tortilla with some onion, cilantro, and crema for a taco Tuesday that you can have on the table in under five minutes. Once you try one of these recipes, you're sure to fall in love with tinned fish as a staple protein that's versatile, reliable, and delicious.