How to Pack *Everything* in a Carry-On
We've gotten really good at prioritizing just about everything… except what to take with us on vacation.
Traveling light is no easy feat when we've been taught to be prepared for any situation. But when it comes to travel, overpacking is stressful, time consuming, and expensive.
Packing everything in a carry-on is not only less physically burdensome, but it can cut down on overwhelm, too. If you're skeptical, know that you can travel using only a small carry-on with a few tips and tricks. Here's how to pack a carry on bag.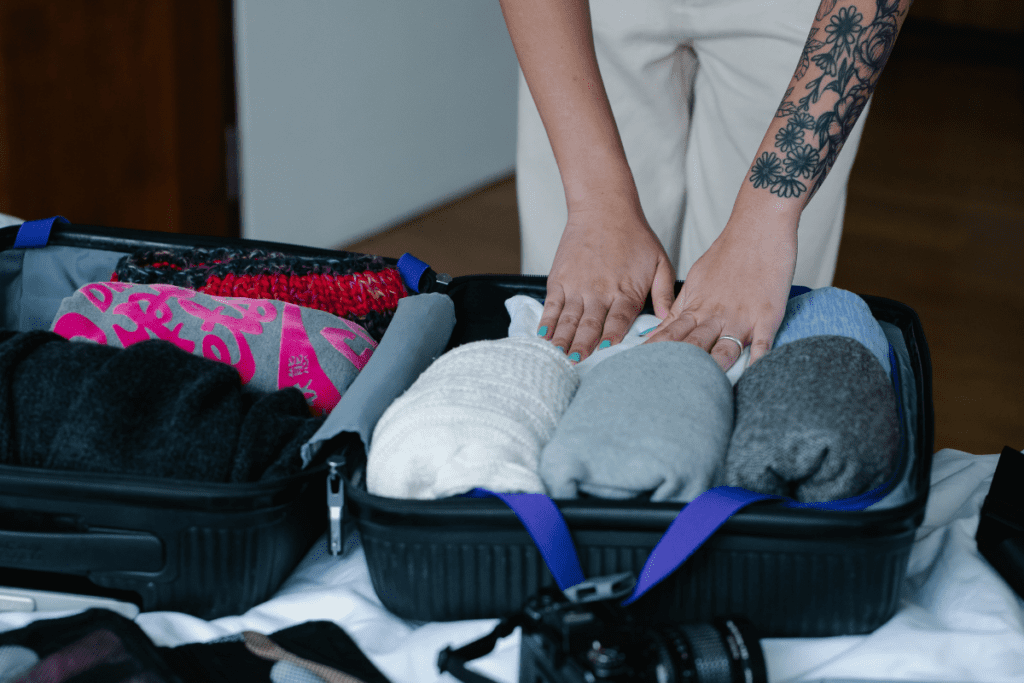 Build a travel capsule wardrobe
No, building a capsule wardrobe is not limited to successful icons like Steve Jobs! Even if you're not interested in building a capsule wardrobe for your daily life, a travel capsule wardrobe can be a useful method to pack lighter when traveling.
Anne Abreu, Travel Blogger at shepackslite.com, specializes in sharing tips about packing only the essentials.
"The main advice I would give anyone is to pack using a 5-4-3-2-1 travel capsule for your outfits," said Abreu. "It's a combination of clothing items you can mix and match on your trip to create tons of different outfits. The 5-4-3-2-1 refers to the number of each type of item: 5 tops, 4 bottoms, 3 dresses, 3 shoes, 2 bags, 2 hats, 2 swimsuits, 1 jacket, 1 pair of sunglasses, and 1 coverup. You can always get laundry done on your travels, but this will easily work for seven days without laundry."
Pack neutral colored clothing that can be easily mixed and matched. Pieces should be comfortable, layerable, good looking, and make you feel great. Don't settle for just one of those criteria!
Order matters
Do you throw clothing into your luggage without rhyme or reason? Or meticulously fold and place each item in a specific order?
When packing a small carry on, have a strategy for each item placement. This helps maximize space.
Pack heavier clothing items, like jeans, at the bottom. Then pile lighter items, like t-shirts, on top. This ensures more delicate items are not squashed by the weight of bulkier ones. Another tip is to roll clothing instead of folding–this not only saves space, but prevents wrinkles, too.
If you're looking to take your luggage organization to the next level, packing cubes are a helpful tool to compress and organize items. Many brands sell cubes in a set of varying sizes, so you can organize your clothes and toiletries in a way that makes the most sense to you.
Ditch bulky items
Bringing your favorite accessories and beauty supplies on trips is fun, sure. But keep in mind you don't often need all of the things you use at home! For example, most hotels and Airbnbs have a hair dryer on site. You don't need to waste precious space on a hair dryer.
Also, try to limit the number of shoes you bring along on your trip. Think ahead about your itinerary, then pack one pair of shoes accordingly. They should be comfortable for you to walk around in without pain. And don't worry! Comfort doesn't have to mean ugly. Brands like Allbirds design shoes that are comfortable for walking but also cute with most outfits.
Keep in mind that there are certain instances where you need to bring bulky items, like during the winter or if you're planning an outdoorsy trip (like the city-friendly outdoor activities listed here!). In those cases, try wearing your heaviest jackets and shoes on the airplane so those items don't take up space in your carry on.
Are you ready for your next trip yet? Go forth with confidence that you can learn how to pack a carry on bag in style, but be more efficient than ever!