The Best Frozen Foods to Make Your Life Easier
If you're anything like me, then you're probably exhausted from cooking so many meals at home during the pandemic. One way to cut down on your time in the kitchen and ultimately lower your stress? Use frozen foods.
I asked a variety of food experts, from dietitians to food bloggers, for the best frozen foods to make your life easier. Bonus—they included their favorite picks from the frozen food wonderland that is Trader Joe's.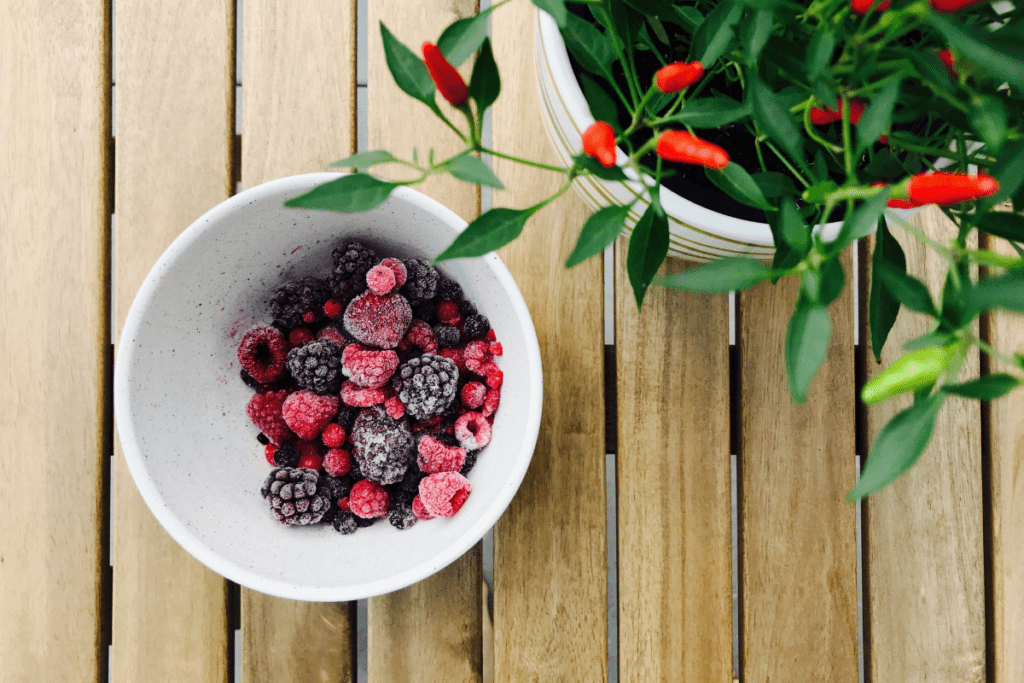 Fruit
"I am a smoothie fanatic and love having a variety of fruit on hand to switch up the flavor profile in my smoothies," says Jenna Radomski, nutritionist, cookbook author, and founder of Jenna Bee Basics. "I also love to make homemade fruit compote to have on waffles, pancakes, and yogurt parfaits." 
Since frozen fruit can be expensive, Radomski suggests buying your favorite fruits fresh in bulk when they're in season. Then, freeze them yourself. 
"When doing this, first cut any larger fruits into bite-size pieces. Then, spread them evenly on a baking sheet that will fit in your freezer, making sure to leave room between each piece of fruit—otherwise you will end up with a big, frozen clump," she says. "Freeze for a couple of hours before transferring to a bag or container."
Vegetables
Add frozen vegetables to soups or pastas  when you don't have the time or energy to chop up fresh vegetables, recommends Radomski. "I almost always have frozen corn, carrots, peas, and broccoli in my freezer. These are the vegetables I use the most, especially in a pinch," she says.
Bianca Kamhi, certified holistic health and accountability coach and founder of Living With Bianca, suggests choosing any organic, low-sodium brand. "Sometimes you just do not feel like cooking and this is an easy way to have nutrients without putting in too much work, especially on those busy, late weeknights," she says. 
Adds Radomski, "When using frozen vegetables in a soup or stew, simply add them to the pot a few minutes before serving; the hot dish will thaw them quickly." You can also toss frozen broccoli or peas into a boiling pot of pasta with two or three minutes of cooking time remaining for excellent results.
Cauliflower rice
Beyond basic veggies, cauliflower rice is a frozen food staple that's healthy and versatile. "Frozen cauliflower rice is one frozen food item I'd recommend time and time again," says Trista Best, RD at Balance One Supplements, environmental health specialist, and adjunct nutrition professor. 
Best lists the various benefits of cauliflower rice: It cooks within minutes, provides nearly as much of the nutritional content as fresh cauliflower, is high in fiber, and can be added to stews, casseroles, or used as a replacement for traditional rice.
Cauliflower gnocchi
Another cauliflower hit from Trader Joe's, is of course, their cauliflower gnocchi. It's an especially useful choice if you have kids who hate veggies, says Alex Mastin, dad and CEO and founder of Home Grounds. "This makes for a delicious yet healthy treat," he says. "Try to keep them in a single layer for the crispiest results, then toss with your favorite sauce and protein."
Traditional rice
One of my go-to frozen foods is plain ol' white or brown rice. Using frozen rice has cut down significantly on my dinner prep time (and post-dinner clean-up time). Plus, it still tastes good.
Jessica Clark, founder and gluten-free eating expert at Gluten Free Supper, recommends Birds Eye Steamfresh Whole Grain Rice. "I absolutely love this rice because I can just pop it in the microwave for a few minutes and have a super-easy and healthy side to go with any meal," she says. She stocks up on a few bags each week to have on hand for busy nights. 
Meatballs
"As much as I love to make homemade meatballs, let's face it: There's not always the time," says Chelsea Plummer, owner and food blogger at Mae's Menu. That's why she always has Trader Joe's frozen turkey meatballs on hand. 
"Trader Joe's turkey meatballs are delicious served with almost any pasta, Italian dish, or in meatball subs—but they also have enough flavor to stand on their own as a main dish protein," she says.
Breaded chicken
There's no need to spend time breading chicken when there are plenty of good frozen options. There are even ones that come with yummy sauces for a one-stop meal.
"One of my favorite quick dinners from the freezer aisle is the Trader Joe's Orange Chicken paired with their Japanese Fried Rice," says Michelle Keldgord, co-founder of BakingHow. "The combination is delightful and bursting with flavor. Plus, it has a lot of healthy stuff hidden inside, like edamame and seaweed."
Steamed dumplings or potstickers
"I love almost every variety of Trader Joe's steamed dumplings and shu mai," says Plummer. "I almost always grab a bag or two when I'm at the store and serve them steamed up with steamed or stir-fried veggies." You can also serve a selection of them for a fun dim sum-inspired dinner, she adds. 
Another option? Feel Good Foods Pork Potstickers, which I regularly serve as an appetizer or side with dinner. 
Seafood
Frozen seafood is an excellent option if fresh fish isn't readily available near you. "Trader Joe's frozen fishes like swordfish and wild salmon are surprisingly good quality, and I always pick one up when I visit the store," says Timothy Woods, owner, director, and editor of Carnivore Style. 
Jennifer Hill Booker, owner and executive chef of Your Resident Gourmet, meanwhile, is a fan of the frozen SeaPak Shrimp Scampi. "It's perfect as an add-in for soups like shrimp and corn chowder, great for upgrading your pasta sauce, and will become a Taco Tuesday family favorite," she says.
Mac 'n cheese
When you're craving comfort food but just don't have the energy to whip something up from scratch, then simply pop a frozen version in the microwave and enjoy.
Clark says the Trader Joe's Gluten-Free Mac & Cheese is a family favorite. "They make great quick lunches or snacks. We can just pop them in the microwave and the taste is out of this world," she says. "You can't even tell that these are gluten-free."
Pizza dough, crusts, or ready-made pizzas
Hill Booker says she always has at least two balls of Whole Foods pizza dough in her freezer. "I can defrost it in the fridge without worrying about it losing quality or taste," she says. "Their dough makes great pizza, calzones, and flatbreads—with little effort on my part."
Eril Eti, founder of Shopfood.com, likes Trader Joe's Cauliflower Pizza Crust. "It's a delicious alternative to the regular crust with only 80 calories per serving and is gluten-free," says Eti. "This is a great frozen item for those who want to serve healthy pizza in a few minutes without sacrificing taste."
If you don't even want to bother adding sauce, cheese, and toppings, then there are plenty of delicious ready-made frozen pizzas. Marc McDermott, food blogger at This Dish is Veg., recommends Trader Joe's Vegan Meatless Meat Eater's Pizza for a vegan twist on a classic. "It's a fully loaded, plant-based pizza with meatless pepperoni style slices, meatless Italian sausage style crumbles, and vegan mozzarella style shreds," he says. "It's a great option for the kids on a busy weeknight."