How Chomps Grew from E-commerce Only to One of the Biggest Players in Healthy Snacks
This post was written in partnership with Chomps. As always, we only write about products, brands, and experiences we truly love. Want to try Chomps yourself? Use promo code "SWEATLIFE" for 20% off plus free shipping on Chomps.com.
As a personal trainer during his college years, Peter Maldonado noticed a need for on-the-go snacks that had nutritional value. His idea for Chomps began to take shape once he started doing CrossFit and following a paleo diet.
"I realized there was a niche market there," he remembers. "This trend was taking off."
After creating a partnership with Chomps COO and co-founder Rashid Ali, the first iteration of Chomps was born—only it wasn't Chomps at all. In fact, Chomps started as Logic Meat Locker, a grass fed beef company. However, after some time, Ali and Maldonado realized it was time to pivot.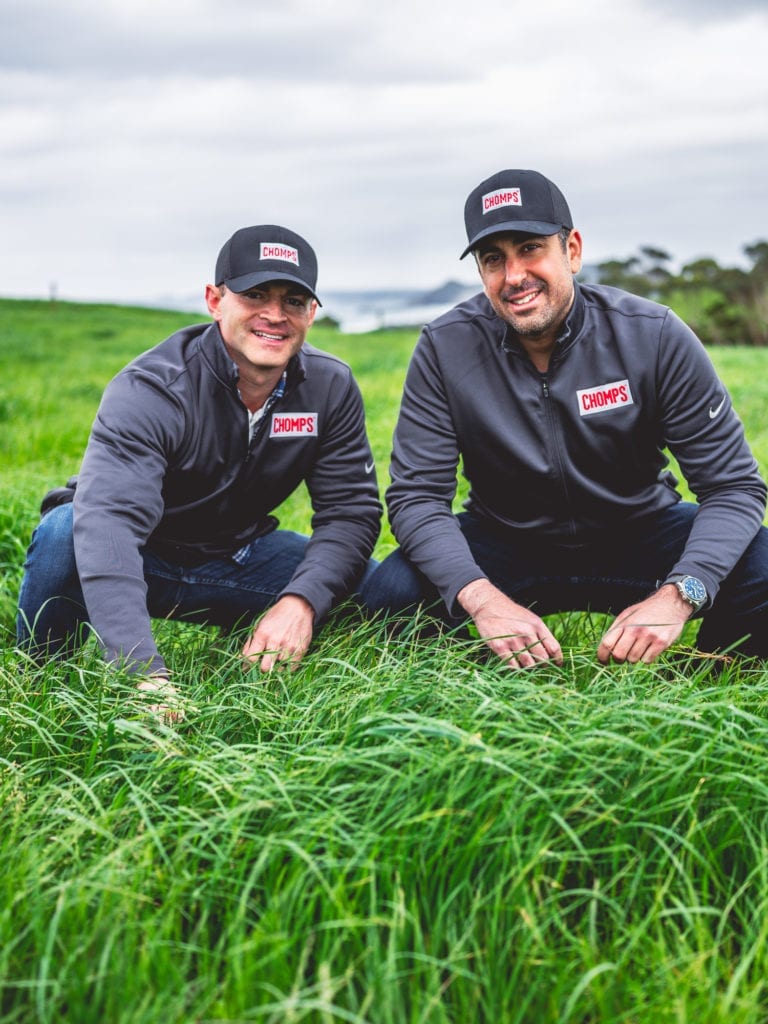 "We realized Logic Meat Locker was a really difficult business to scale, shipping frozen meat around the country," Maldonado says. "We wanted to stick with a shelf-stable product that was small and easy to ship—that's where the idea for Chomps came from."
Adds Ali, "It was a great pivot, because in addition to getting out of shipping frozen meat, we were able to shift our focus from full meals to snacks and on-the-go foods."
How Chomps found its place in the CPG space
"The first step was finding the right co-packer to partner with," says Maldonado, now the CEO of Chomps. That right co-packer ended up being a small, family-run operation in Missouri with a corner store in the middle of the farm town.
"Luckily, as we grew our business over the years, they were open to growing their business too," explains Maldonado. "He was also willing to invest and expand, and he built a full-on plant for a real manufacturing facility that kept growing as Chomps kept growing."
Ali and Maldonado had a few non-negotiables for their products, like quality protein sourcing, grass-fed beef, and no added sugar.
"We knew we didn't want any sugar, which is tough for meat snacks due to quality control issues," says Maldonado. "So instead of sugar, we hand-inspect every stick that we manufacture. If there are four to six million Chomps made per month, we hand-inspect every one of them."
"Everything's about transparency," says Ali. "For example, we've gotten pressure to use colored casing to hide blemishes. But instead, we use clear natural casing, we won't ever change that. It's important to see what you're eating and not hide the uniqueness of the food."
In addition, Chomps are free of the top nine allergens.
"The concept was really around serving these niche communities that had these unique or limited dietary restrictions," says Ali. "Now those dietary restrictions are more mainstream, but we still serve them."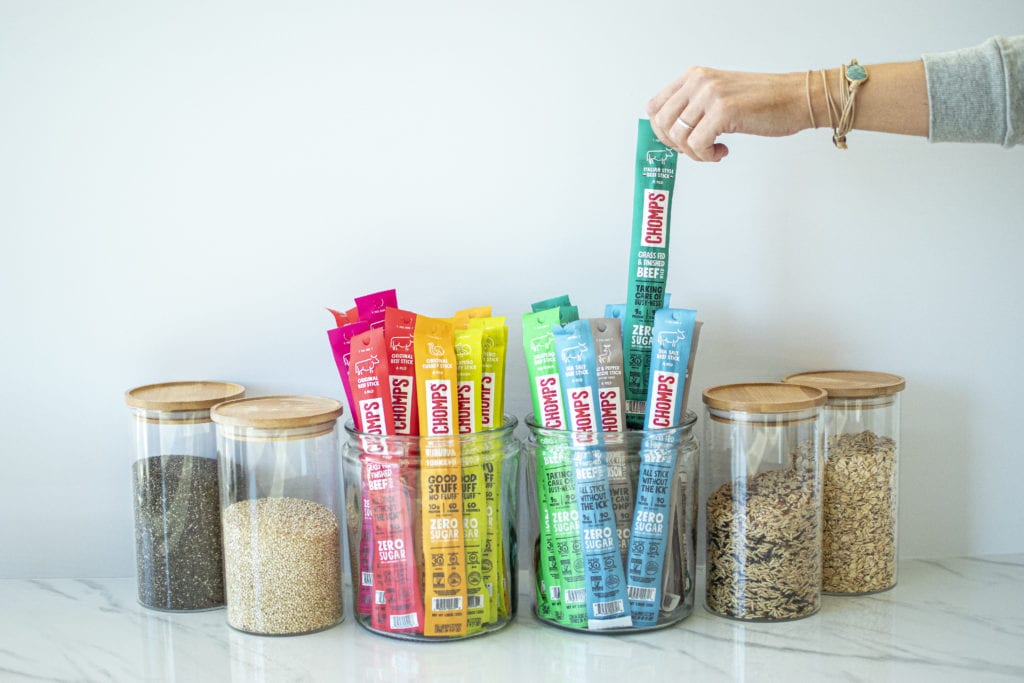 How Chomps fits both niche audiences and the general population
In the beginning, the two note, Chomps was embraced by those who follow paleo, Whole30, and keto diets. Those communities became key to the growth of Chomps.
"As those niche communities—like keto—became mainstream, so has our ability to grow our brand," says Maldonado. "Timing was critical in our success."
"As a small brand, you naturally lack credibility," points out Ali. "Our strategy was always around influential, trustworthy individuals within those communities that grew the product for automatic credibility with consumers." (For example, Melissa Hartwig is a noted fan of Chomps.)
But while Chomps has devoted fans in those hyper-specific communities, the brand firmly believes that Chomps are for everyone—not just the paleo-CrossFit crossover.
Says Maldonado, "One of the big things about our brand and what we stand for is generally healthy products. There's so much conflicting information about what's healthy and what's not, with so-called "experts" on social media telling you to eliminate entire food groups. We want to be able to let customers know that if they see the Chomps logo on a product, we've done the hard work for them. It's a truly healthy product for them, and we've probably gone to the ends of the earth to bring the best ingredients to them. That's for anybody, not just people dieting."
How Chomps and its co-founders have grown—together
"In 2012 when we launched this, we were both single, living in Chicago, and dating the women who would become our wives," says Ali. "Our mindsets were different. Back then, it was a good idea that was on-trend and exciting."
But these days, Ali and Maldonado's days look a lot different.
"Now, we're both married with two kids, and we're aware of how important it is to know what you're consuming," continues Ali. "We take that seriously. We're not going to cut corners. We'd rather limit growth than not get the right quality protein. We won't take shortcuts because it's important and that's what makes Chomps special. We want to build something special and make all the right decisions."
The team's use of Chomps has changed over time, too. Back then, Maldonado and Ali were throwing Chomps in a gym bag for an after-CrossFit snack. Now, they're packing Chomps in lunch boxes for day care.
"It is insane the amount of Chomps that my kids consume," laughs Ali. "Their school even started buying it to give out as an afternoon snack."
And Chomps has even evolved beyond the on-the-go snack function to being a pantry staple—and even an ingredient.
"We found we were using Chomps as an ingredient in various meals we were making," says Ali. "We started talking more and more about that, especially as people are working from home and no longer on the go. We're chopping them up, putting them on charcuterie boards, and repositioning chomps as a pantry staple and possible ingredient."
Their biggest advice to new businesses? Build audience loyalty before anything else.
While it's tempting for many new CPG businesses to get on retail shelves as soon as possible, Ali and Maldonado found success by building a devoted audience first.
"We started out as direct-to-consumer with an e-commerce model for four years before we went onto retail shelves at all," says Maldonado. "We built the business organically on social media with very little money needed. We agree that we owe all of our retail success to that base—we waited until we had a really strong loyal following [before launching in-store]."
He continues, "The way we think about scaling the business is we want to make sure brand awareness is lightyears ahead of distribution. That's how any CPG brand should be thinking. Landing on the shelf is the easy part. Getting pulled off the shelf, that's the hard part."
Luckily, Chomps is invested in building their brand awareness over time.
"Using that steady path to building a loyal following and THEN getting in front of them on the shelves where they shop—that's the best way to build a business," concludes Maldonado.
Want to try Chomps yourself? Use promo code "SWEATLIFE" for 20% off plus free shipping on Chomps.com—and keep an eye out for their latest flavor, Pepperoni Turkey, launching May 12!