February 25 at 6 pm: Celebrate Black History Month with Sweat Lit X aSweatLife
Happy Black History Month! Join Sweat Lit X aSweatLife on February 25th for a total body workout with Afrobeat/Caribbean inspired music. Build strength, have fun and sweat with Master Trainer and aSweatLife Ambassador Kaylla Spinks.
Black History Month has been around in the United States since 1976, and after last summer's Black Lives Matter protests and the murder of George Floyd, we're being more thoughtful than ever in how we're called to commemorate the month (and how we act and learn the other eleven months of the year).
That's especially important to us as leaders and creators in wellness. aSweatLife is a woman-led organization with a renewed focus on inclusivity within the fitness, health, and wellness industries. As an organization that has always valued diversity, we realize we can do more. In 2020, the Better with Friends Committee was born – compiled of aSweatLife ambassadors who are inspired to integrate diversity in health and fitness.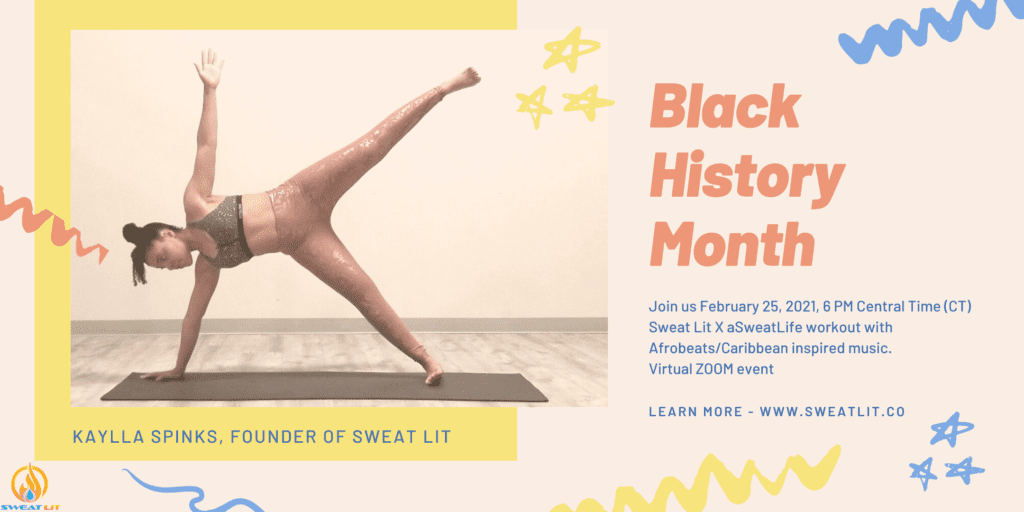 Tell me more about this event:
We will kick off this event with Black History Trivia created by the Better with Friends Committee. Giving time for conversation as well as highlight black-owned businesses. Then we will get moving with Kaylla Spinks for a 45 min class that integrates elements of personal training, HIIT, dance, strength training, Pilates, meditation & yoga. This all fitness level class with an emphasis on music beats, will make you want shake what your mama gave ya.
Fitness Attire/Equipment:
Wear proper workout clothing that allows for movement and confidence! Feel free to exercise barefoot, in gym shoes or grip fitness sock. No dance experience required but we encourage you to shake it at home (no one is watching). No equipment is necessary. All you need is a yoga mat, water & a positive attitude.
More about Kaylla Spinks:
A fitness expert turned entrepreneur Kaylla Spinks is a certified professional trainer and mental health advocate based in Chicago, IL.
In 2017, I accomplished my goal of quitting a 9-5 job to create my own fitness company. Sweat Lit was born! We are a black-owned female operated fitness company that offers personal/group training, wellness services and virtual classes. Our mission is to help members commit to a healthier lifestyle by providing effective workouts, supportive community and building physical/mental strength.
Learn more at www.sweatlit.co
The details:
What: In honor of Black History Month, join us for an Afrobeats/Caribbean music inspired workout with trainer Kaylla Spinks.
Where: You stay at your house and we'll stay at ours, deal? We'll use Zoom for this special event.
When: Thursday, February 25 at 6 pm.
How to sign up: This special event is pay-what-you-can and you can RSVP here.