#TrainersConnect 11/12: Myofascial Anatomy, Function and Dysfunction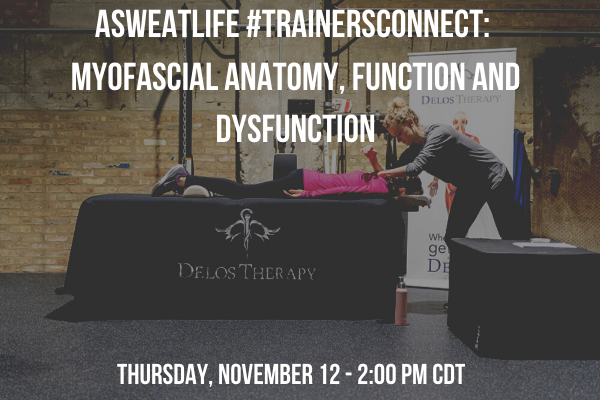 Get your ticket to #TrainersConnect on 11/12 right here.
Strengthen your knowledge in myofascial anatomy, function and dysfunction. The recovery protocols you need to add to your trainer toolbox.
What's keeping you from falling apart? No, we're not talking about our emotions; instead, we're talking about what's PHYSICALLY holding us together—our fascia. At this month's #TrainersConnect, we're taking a deep dive into myofascial anatomy, function and dysfunction. Our friends at Delos Therapy welcome you to take a peek inside the Delos Institute, a detailed, science and research-based instruction on the health of muscles and fascia. As trainers, we need to know a lot about how our clients move their bodies in order to help them reach their goals. Delos is here to help give us the education and tools to develop our knowledge as a trainer.
On Thursday, November 12th, you will hear from Eric Owens and Mimi Bosika, co-founders of Delos Therapy, go deep on the following topics:
Overview of anatomy and how fascia responds to stretching and strength training
The current research and development
What should be added into your current recovery protocols
Despite "doing everything right," why clients still feel stiff or plateau during their training journey.
Expert Presenters:
Eric Owens – Eric co-founded Delos Therapy after having a career as a professional athlete. In graduate school, he centered his research on pain and inflammatory conditions and earned a master's degree in biomedical science. He continued his scientific training in medical school where he focused on musculoskeletal dysfunction. During his final year of medical school, Eric decided to forego his residency training and pursue his passion for Delos Therapy. By combining his background as a professional athlete and his medical studies, Eric is looking to change the way the industry approaches the understanding and treatment of chronic pain.
Mimi Bosika – Mimi is a long-time friend and business partner of Eric Owens. She graduated with a master's degree from the University of Chicago's Booth School of Business and has a background in management, operations and business development. Mimi always wanted to create and be a part of something much bigger than herself and Delos Therapy, with its potential to help so many people, is the most exciting way for Mimi to make it happen.
#TrainersConnect Workshops are free for all attendees. We'll host the event in a private Zoom room. If you don't have Zoom, you can download it here!
Details for #TrainersConnect
What: A virtual (free!) #TrainersConnect
When: Thursday, November 12, 2 pm Central
Where: Zoom link will be provided in the reminder email.
What you need: A notebook and questions.
Where do I snag a ticket? Right here!
Let us know!
Did this post help you get closer to achieving one of your goals?