Yoga in Yangshuo: Coloring Outside the Lines
As children, most of us learn to take up our crayons, and color within the lines. We are praised when we learn to keep our reds and yellows and indigos within the bounds of whatever it is we are coloring. As adults, we teach our children to color inside the lines as we help the littles to work on their fine motor skills. We say things like, "Wow! Look at you! Great job staying inside the lines!"
As a 37-year-old woman, I am wondering more about this coloring inside the lines business. It feels to me now more about following rules than it does about skill-building. As a child, I swam in the praise offered me when I colored inside the lines, followed the rules, and learned how to be a good girl.
As a child and then an adult who has had a personal relationship with anxiety, I also reflect that seeing such clear boundaries on paper, or in my life, helped me to feel safe which quelled at least some of my anxious thoughts and feelings for many years.
The beautiful thing about being 37 and in a long-term relationship with Lexepro (and going to therapy) is that I don't need the same boundaries anymore, and probably I never did, I just thought that I did. My mind and my nervous system are no longer constantly trying to combat an army of anxious thoughts.
Previously, the thought of eight hours in total of travel for 24 hours of new adventure would have seemed just not quite worth it. Stay within the bounds of the city, color at your favorite cafe, I would have thought. Besides, Sundays are for food prep, and what will you do on Monday if you don't have your quinoa-veggie salad ready? Really, what will you doooo?
As it turns out, food prep is sometimes overrated, and taking short trips feeds the soul more than my best-cooked millet.
My Shenzhen yoga instructor Leo is the one who turned me on to the whirlwind trip to Yangshuo. Our first yoga, a yin practice, was by the river. The river ran and the trees rose around us as we moved slowly, breathing into poses, surrendering to our surroundings and to ourselves.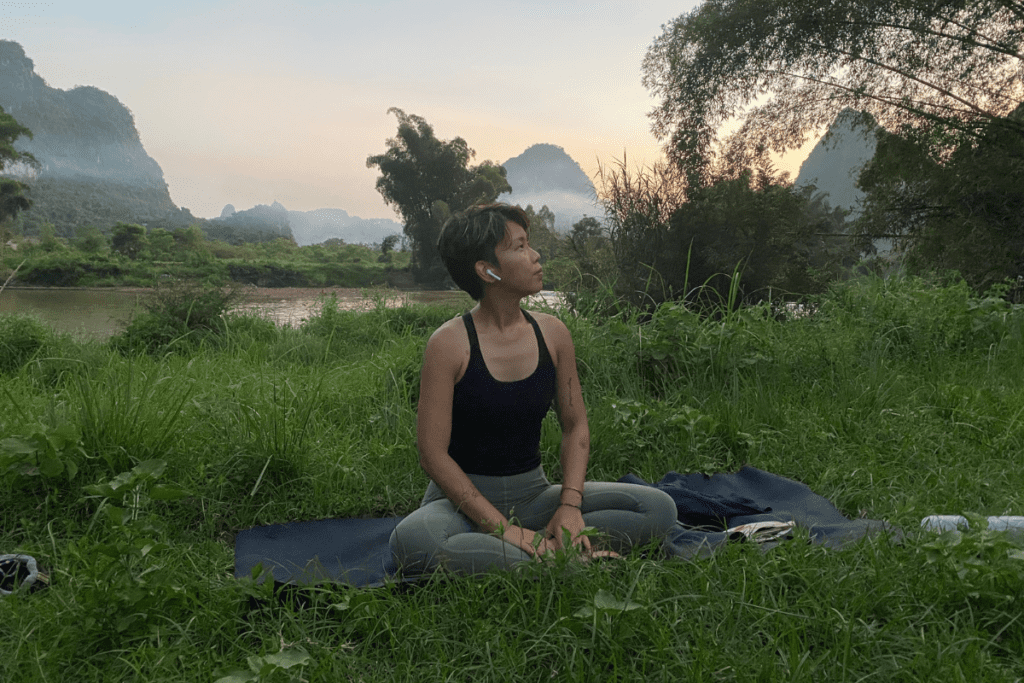 The next day, on a hike to Yangshuo highlight Treasure Cave, I locked in step with Lukas, our guide and co-founder of PachaMama Adventures. I asked him about the name PachaMama, which I knew meant Mother Earth in Quechua, a language from a South American indigenous people.  I wanted to know, though, how a Polish man chose the name for a people living in China. Lukas explained that his friend who helped him start the adventure group is Mexican and knew something of the Quechua. 
Lukas and his friend acknowledge that many people in China do not feel connected to Mother Earth, and so part of their mission is to increase that connection. In truth, when I am in Shenzhen, I do not feel connected to the earth either. I can find hiking trails, yes. And they are beautiful and even lush, but my body and feet do not feel rooted in Mother Nature's abundance and vibrations while I am bustling around the busy city.
A city girl is long how I have identified myself, and yet when I leave the city for a place like Yangshuo, I can find myself so entirely connected to my center. I am learning that if I break some of the "rules," like abandoning a Sunday of prepping for Monday for a Saturday-Sunday excursion, I am more soulfully prepared for that Monday… and Tuesday, and Wednesday and Thursday. 
It was a whirlwind weekend in Yangshuo, and worth getting home a bit late on Sunday to crawl into bed and feel a little bit tired on this Monday. It was a happy tired. A settled tired.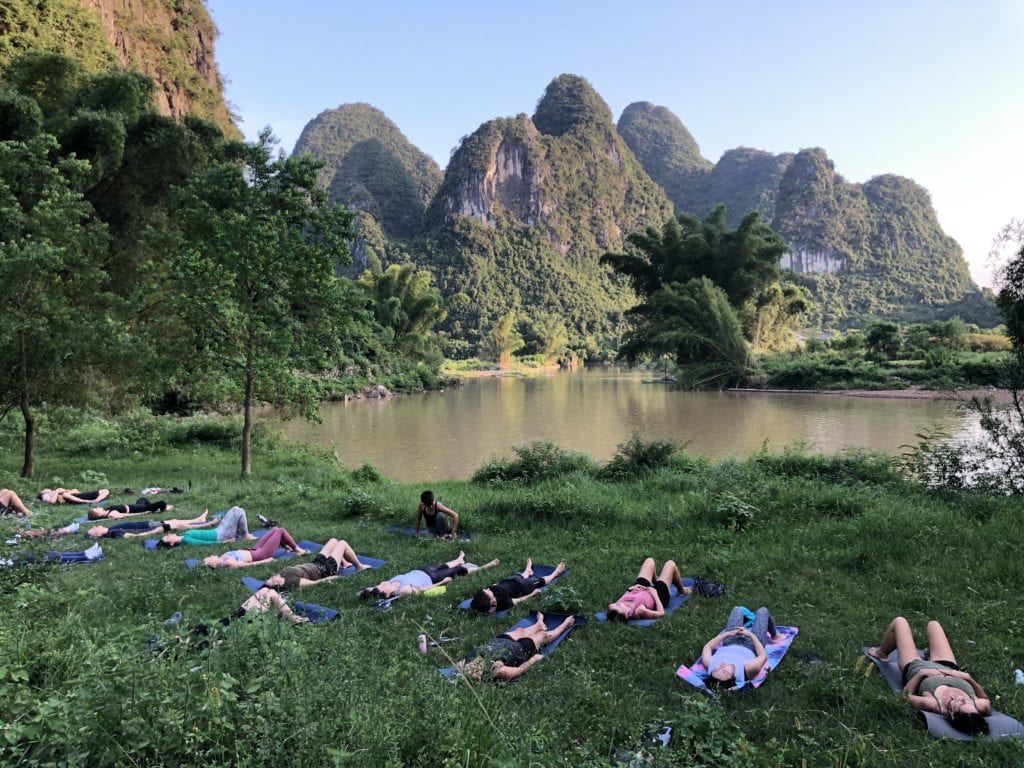 In yoga, and in meditation, I have heard my teachers talk about surrender. We are to surrender to a bit of discomfort in poses and surrender to ourselves. I have long appreciated the notion, but I am not really sure I understood it. I am not saying I have arrived at that understanding just yet, but something in my soul kind of gets it now. Surrender, to living outside the lines. I like the sound and feel of that.