This Startup Is Changing the CPG Space With Their Healthy Snacks—Here's How
This blog post was written in partnership with Bitewell. Get $5 off the aSweatLife Bitebox with promo code "SWEAT". As always, we only write about products, brands, and services that we truly love.
What's your snack routine looking like these days? There are probably a few scenarios in play. You're likely limiting your grocery trips to avoid contact with others, so random aisle browsing is out of the question. Or, you might be ordering your groceries online, so you're sticking (more or less) to a list and not putting a lot of effort into discovering new brands. And at the same time, you're home *more than ever*, so you could be mindlessly snacking a LOT. Sound familiar?
All those factors are combining to make it really hard for emerging consumer packaged goods (CPG) brands to gain a foothold in the market. It's incredibly tough for customers to find new products that they love when it's easier to grab their tried-and-trusted brands; plus, consumers are often turned off by the effort required to read labels and find snacks that fit their particular health needs.
Chris Fanucchi saw these obstacles as an opportunity. He founded Bitewell, a dietitian-curated online marketplace that supports small brands making better-for-you products. Here's how Bitewell is changing the CPG space.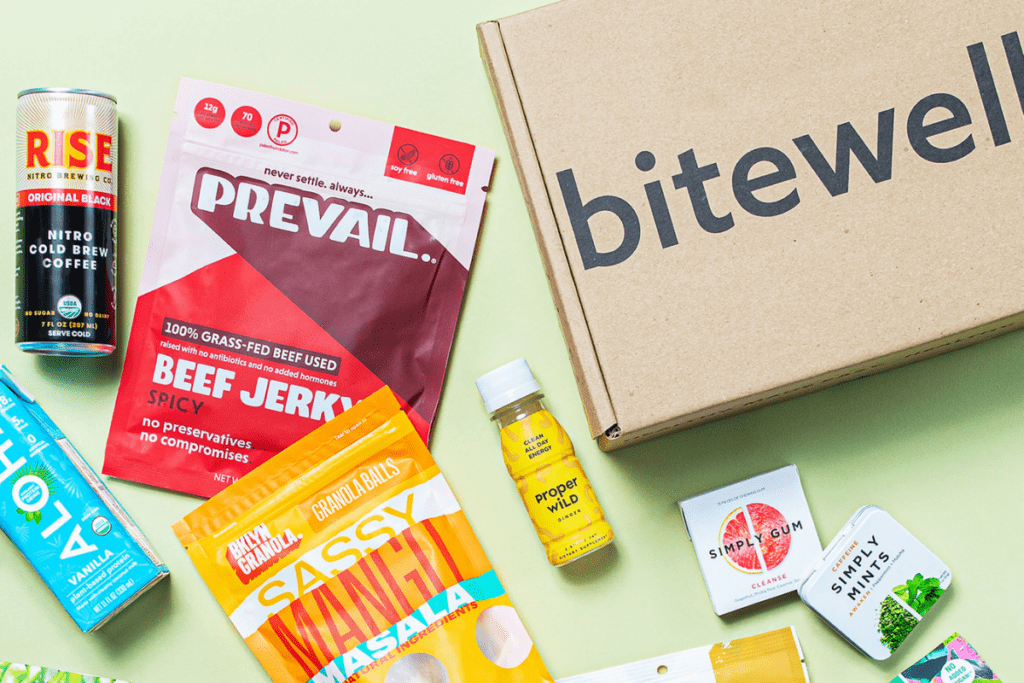 A passion for entrepreneurship
Fanucchi is a lifelong entrepreneur, starting small businesses as a child and working his way up to winning second place in an innovation contest at DePaul. But right before graduation, he was arrested for possession of marijuana, which made him feel pressured into taking the first job he could find right out of college: selling e-cigarettes.
"I did really well," Fanucchi admits, noting it was a boom time for e-cigs. "In my spare time, I hung out with food and beverage entrepreneurs. One lived in my building and ran a juice company
The neighbor turned out to be Dustin Baker, and the juice company evolved into Koia. Baker asked Fanucchi to help him create a new brand, and at a time when no vegan protein drinks were on the market, Fanucchi found energy and excitement in being the first to market.
Fanucchi's new gig also introduced him to other heavy hitters in health and wellness.
"We met the CEO of Suja, and the guy who started Zico coconut water… I was absorbing as much as I could, trying to understand why and what and how they approached businesses and start-up companies."
Eventually, Fanucchi crossed paths with Matt Matros, founder of Protein Bar. Matros apporached Fanucchi to help him start Limitless, a beverage company known for their lightly caffeinated sparkling water. During that new adventure, Fanucchi helped grow Limitless into a national brand.
But every step in his food and beverage journey helped shape the way for what Bitewell would eventually become.
Recognizing a gap in the CPG market
"I was a sales and marketing guy constantly on the road, and I was having a hard time eating consistently healthy, especially in an areas where I was unfamiliar with the cuisine," Fanuchhi explains. "I started digging into food delivery, and I saw a gap between personalized recommendations and immediate gratification."
This stayed in the back of his mind until March, when Fanucchi noticed that brands were having a hard time gaining awareness (especially with high-exposure conferences like Expo West getting cancelled).
"Right now at grocery stores, you're not really looking for new stuff," Fanucchi points out. "In March, people were buying comfort foods, getting in and getting out. I thought it'd be cool to put together a dietitian curated market of emerging brands."
The dietitian component of his idea came from a simple realization from his past careers: dietitians weren't ever present in meetings with buyers. Stuck on what he perceived as a cognitive dissonance, Fanucchi knew that his new marketplace would have dietitians as major partners. Now, Bitewell's website lists an ever-growing roster of over 20 dietitians that help vet and curate the products they sell.
Making discovery easier for brands AND consumers
When asked what the CPG space is currently like, Fanucchi takes what seems like a major tangent: HotNewHipHop.com.
"When I was a kid, I visited HotNewHipHop.com and felt so cool being the first—and only—one of my friends to know these songs," he reminisces. "I didn't want to tell my friends about that website because knowing about it made me the coolest person."
Back on track, he makes the connection to Bitewell: "There's an element of that to Bitewell that i don't think exists with big retailers like Kroger and Whole Foods. I think there's an opportunity to be a leader in that community for a reason. I also think in general, there's not a Costco meets Whole Foods from a e-commerce perspective yet."
In fact, a new Bitewell innovation is going to make discovery even easier and more exciting for the consumer: Biteboxes.
"Brands REALLY want this discovery, and they're not getting it in grocery stores," Fanucchi points out. "On their own websites, it's really hard to ship cases or product AND get customers to buy $50 of product when they've never tried it before. What we're attacking overall with the Bitewell platform is the need of health-meets-convenience, and Biteboxes are a really cheap way to try a bunch of awesome brands."
Consumers will pay $20 for a box filled with 10-15 products from a variety of brands. They've also curated boxes for specific diets, like gluten-free, vegan, and keto, to make it easy for new adopters of those lifestyles to find snacks that they love.
"It's a huge value save, typically around $40," he continues. "You'll typically discover at least a few brands you've never tried before. Biteboxes are perfect if you're the guy who's looking to discover hot new hip-hop first."
Plus, Fanucchi has a soft spot for new-to-market brands.
"The emerging brands market is near and dear to my heart because I've been an emerging brand."
Meeting the consumers where they are, with text messages.
Another Bitewell innovation is that their business model relies heavily on text message marketing and subscription.
"We wanted to leverage where consumers are used to going—text messages," Fanucchi explains. "Texts are really underutilized by most companies, but so much more can be done with that experience. We think there's a big opportunity to dig into it a little deeper."
Right now, Bitewell mostly uses text messaging opt-ins to share major deals, but eventually, they'll update the platform to focus more on value-add experiences.
"We're working on making healthier decisions easier for everybody, and we'll do that by going to where people are used to experiencing things and nudging them in the right direction," Fanucchi says.
It all rides on making it easier and more convenient to make healthy choices.
"We want to be the place that helps you curate every food decision you make during the day, one way or another, and help you feel good when you get there," Fanucchi concisely states.
And, not insignificantly, he hopes that Bitewell and Biteboxes put a little fun back into your grocery haul.
"Let's bring some fun back into your life with healthy products—that's what we're trying to address today, especially with the pandemic," Fanucchi shares. "What Bitewell looks like in the future might be a little bit different, but we want our consumers to know we're along for the ride and we're here to support them. We hope opening our Bitebox will still give you that instilled feeling of joy."
Want to try Bitebox for yourself? Get $5 off the aSweatLife Bitebox with code "SWEAT"!