aSweatLife's Digital Schedule for the Week of May 10 Presented by Simple Mills
[Disclosure: This week's digital content is created in partnership with Simple Mills. As always, we only partner with the brands we truly love]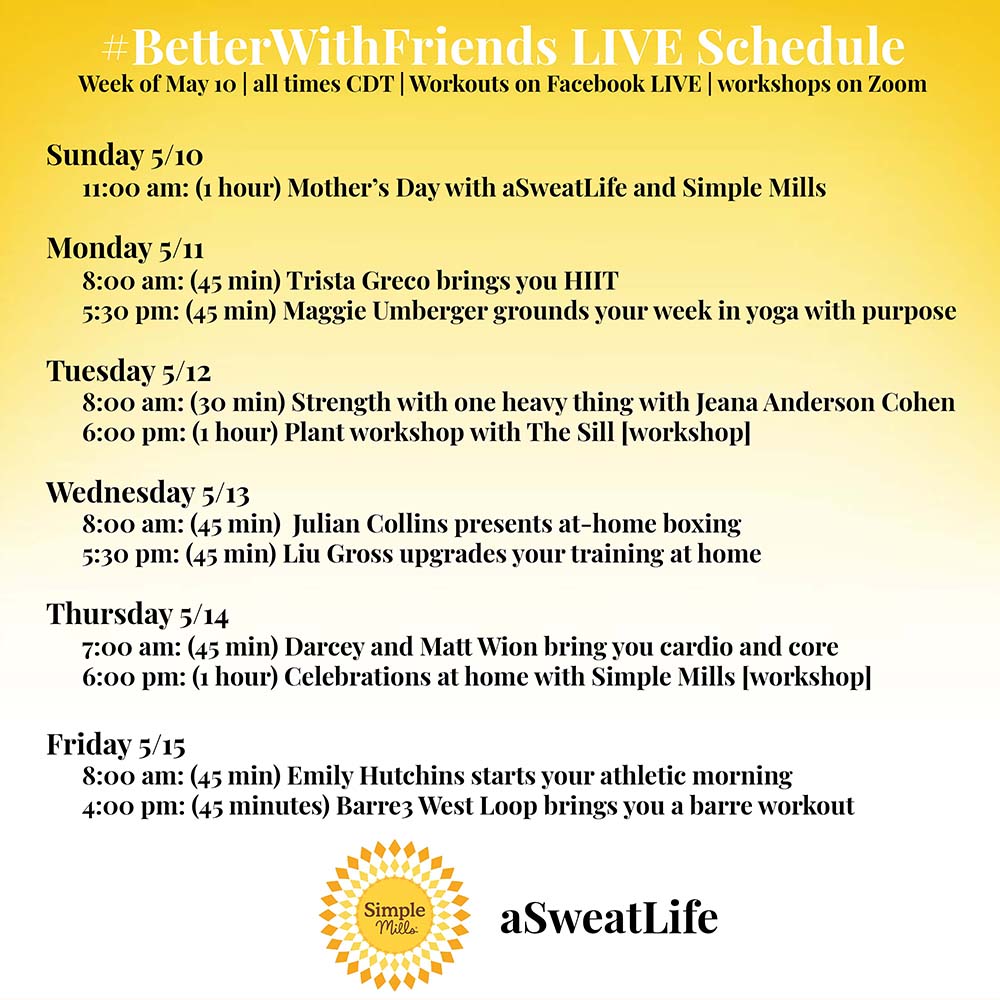 It's our ninth week of creating a completely digital workouts and workshops schedule. In this ninth week, we're bringing in the help of our friends at Simple Mills, a brand that loves and creates clean, nutritious food and is deeply invested in your happiness. They're a match made in heaven for a week of digital fun.
You'll see Simple Mills pop up organically in our schedule of digital events! Mother's Day, they'll help you connect with the moms, mother figures, kids, or kid figures in your life, even if you can't be in the same place physically. There will be brunch! And they'll also be a part of a workshop we're hosting reminding you of ways to host celebrations right now! Food will be a major part of that event!
And we're so excited to partner with so many people to bring this week to life: Eric Tenfelde from Bottomline Yoga, musician Pat McKillen, Chef Kendra Peterson of Drizzle Kitchen; Trista Greco; Maggie Umberger; Emily Hutchins; The Sill; Julian Collins Sr.; Liu Gross; DJ Blatner; Alia Dalal; Darcey and Matt Wion; and Barre3 West Loop.
Hot off the digital presses: Three workshops to bring something different to your days.
Sunday May 10 at 11 am CDT: Mother's Day Celebration
On Sunday, 5/10, aSweatLife is hosting a Mother's Day Celebration. We are partnering up with our friends at Simple Mills to inspire you to bringing tasty brunch treats to the table. This day is all about finding a way to digitally say "WE LOVE YOU MOMS!" Invite your mom, your kid, anyone who feels like your mom or your kid, because you're in for a treat. You'll do a yoga practice with Eric Tenfelde that starts laying in bed and finishes standing on the floor. You'll definitely be serenaded by guitarist Pat McKillen. You'll make a new brunch dish with Kendra Peterson from Drizzle Kitchen that will be so delicious that you'll be talking about it on your family zoom calls for months.
Tuesday May 12 at 6 pm CDT: Plant workshop with The Sill
Start your journey to Plant Parenthood on the right foot with The Sill! On Tuesday, May 12, at 6:00 pm CDT, The Sill is bringing in a plant expert to share tips and tricks on plant care and plant styling. They'll break down the science behind how to determine the light level of your environment, identify water stress signals, and teach you how to choose the perfect houseplant for your space and your schedule. Tune in to learn about common houseplants and ask all your burning plant questions!
Thursday, May 14 at 6 pm CDT: Celebrating at home with Simple Mills
On Thursday, 5/14, we are gathering a few of our friends to share easy, fun and delicious celebratory-treat recipes to help us do just that! Chef Alia Dalal and Dawn Jackson Blatner will be demoing a variety of goodies, all using Simple Mills products and other staples you likely have at home. Chef Alia will be making dips to pair with Simple Mills Almond flour Crackers and Mug Brownies. DJ Blatner will be making Supercharged Brownies and Vanilla Mint Nice Cream using Simple Mills Brownie Mix. We love Simple Mills because their products are made with only simple, whole food ingredients and contain nothing artificial, ever. The number one ingredient in their baking mixes are nutrient-dense almonds, and they have NINE different mixes including artisan bread, muffin mixes, brownies, pizza dough and more.
Live from your favorite trainers' living rooms: Lots of ways to get a workout in!
We're tapping into a wide network of trainers and teachers to continue to help you move in ways you love AND discover new ways to move. Wherever possible, these workouts are bodyweight-only, but you may see some accessible props requested occasionally.
Monday 5/11
8:00 am: (45 min) Trista Greco brings you HIIT
5:30 pm: (45 min) Maggie Umberger grounds your week in yoga with purpose
Tuesday 5/12
8:00 am: (30 min) Strength with one heavy thing with Jeana Anderson Cohen
Wednesday 5/13
8:00 am: (45 min) Julian Collins presents at-home boxing
5:30 pm: (45 min) Liu Gross upgrades your training at home
Thursday 5/13
7:00 am: (45 min) Darcey and Matt Wion bring you cardio and core
Friday 5/14
8:00 am: 45 min) Emily Hutchins starts your athletic morning
4:00 pm: (45 minutes) Barre3 West Loop brings your a digital barre class.
Let us know!
Did this post help you get closer to achieving one of your goals?