You've Heard of Body Positivity. Let's Talk About Body-Positive Activewear.
About four years ago, Candice Huffine's husband dared her to run a half-marathon.
"I'd been working tirelessly in the fashion industry, [but] sport, I will be honest, was not a huge part of my day-to-day life," says Huffine, who's worked as a plus-size model for 20 years. "Something about the dare really intrigued me."
She started running, and she loved it. She even upgraded to full marathons. But Huffine also quickly realized that the same lack of size representation she had witnessed in the fashion industry existed in the fitness industry, too.
"There were multiple times where I would try [a pair of leggings] and I'd have to turn around on a run because the legging was not supporting me the way I needed to be supported," she says.
Huffine decided she was going to take the matter into her own hands. She met with an on-demand manufacturer (meaning they start making the garment when you order it), and designed her "wish list" legging comprised of "everything that [she] would want in a pant," including compression black fabric, a high waist band, a pocket, and the words "P.S. You Got This" along one of the legs. Then she ran the 2017 Boston Marathon in them.
"And I swear to you, of all the other things that went wrong that day, I did not touch that legging at one time," she says.
Now anyone can purchase those leggings for $84. In October 2017, Huffine launched Day/Won, a sustainably-made body positive activewear brand for sizes 0 to 32. Sizing isn't just formulated mathematically — Day/Won tests items on sizes 2, 12, and 22, says Huffine, who herself acts as a fit model for size 12.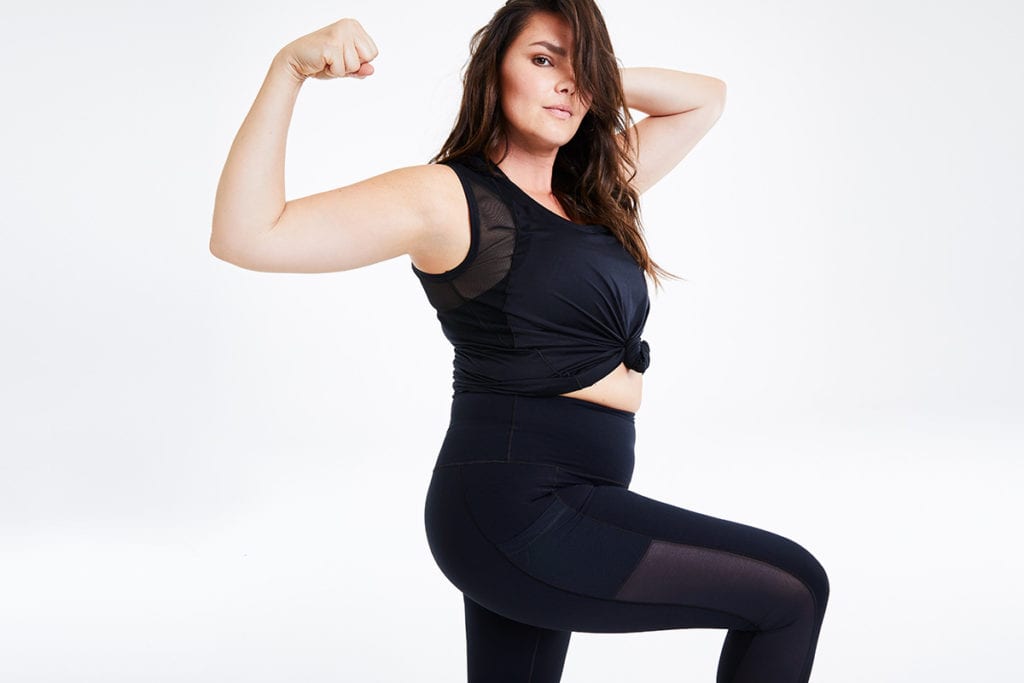 "There's all kinds of women of all kinds of sizes doing the coolest things, and to hold her back based on material — an actual physical garment that she needs to put on her body in order to do [those things] — the time has passed for that," Huffine says.
"I want the same choices"
Today the #bodypositive hashtag has been used nearly 12 million times on Instagram. A 2016 study found that the average American woman wears between a size 16 and 18, and market researchers estimate that the plus-size industry is worth more than $21 billion. And yet, women continuously struggle to find cute activewear that fits their bodies.
Jessica Rihal, a body-positive yoga instructor who teaches at Curvy Love Fit Hub and Everybody Los Angeles in Southern California, estimates that she wears workout clothes five to six days a week. She loves sleek activewear that allows her to "feel secure and covered where I need to be, but also makes it so that I feel like I'm not really wearing a whole lot."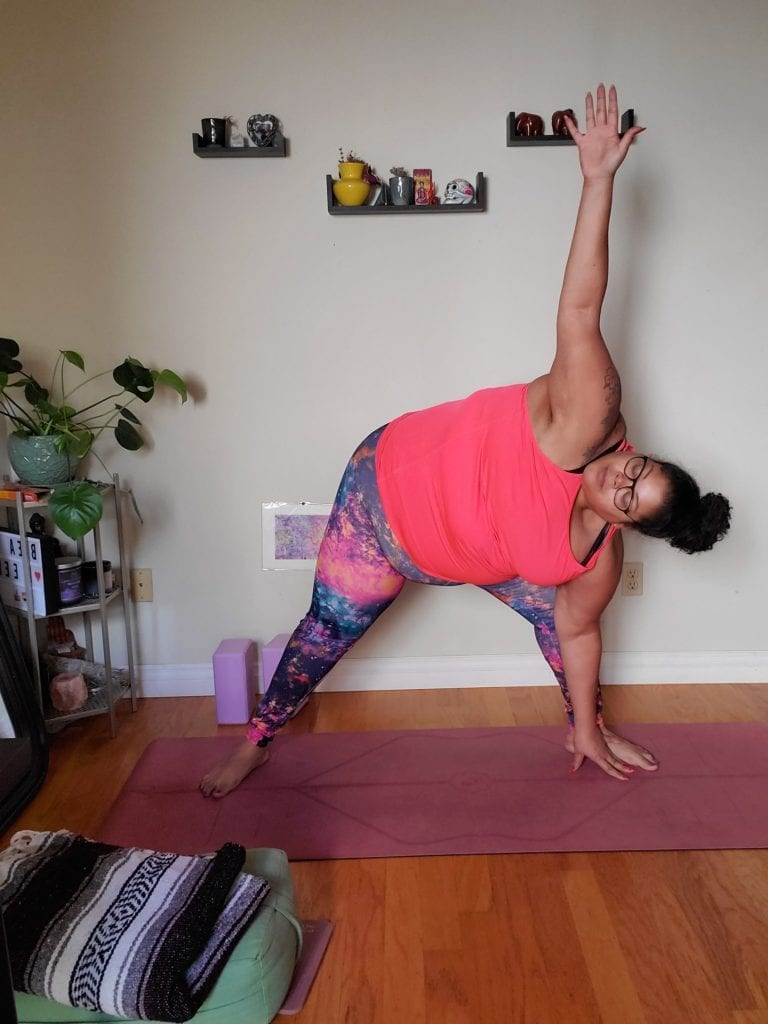 Often, she says, she'll encounter brands that don't seem to have actually done their due diligence to size for all bodies, "almost like they took a straight-sized pattern and then they just expanded it by three or four instead of actually developing it from scratch for curvier bodies."
Both Rihal and Rachel Holdgrafer, a yoga instructor throughout the Minneapolis area, think plus-size activewear options have improved a bit over the years ("For a long time, it was like you just basically got the athletic version of a muumuu if you were above a size 14," Holdgrafer says.), but that there's still a long way to go.
It's simple, according to Holdgrafer, who says she teaches yoga to help people embrace the bodies they have now, not change them, and to be the body-positive, plus-size instructor she never had herself: "I want the same choices that everybody else wants. Give me the same options, because I have the same taste as my friend who's a size five."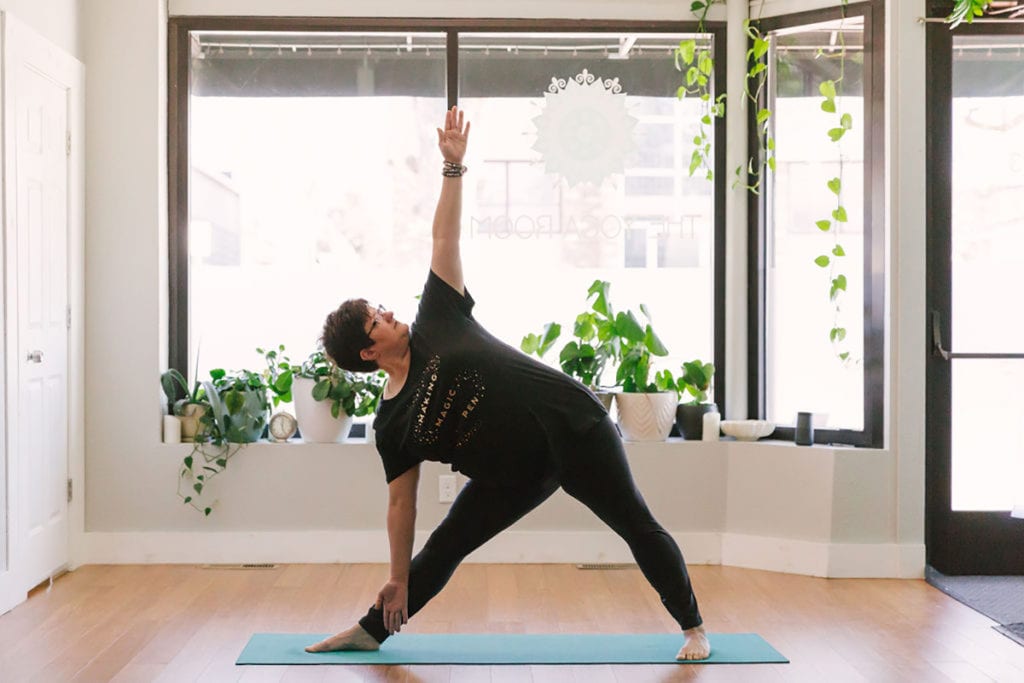 One brand Holdgrafer has found to be body positive, inclusive and high-quality is Superfit Hero. In addition to selling ethically-made activewear for sizes XS through 5XL, the brand offers a Body-Positive Fitness Finder on its website, which points to inclusive trainers, gyms, and communities literally around the world. (Both Holdgrafer and Rihal are listed.)
Micki Krimmel launched Superfit Hero on Kickstarter in 2015. Similar to Huffine, Krimmel's personal experience led her to the realization that "there was a huge hole in the market" when it came to high-quality, plus-size workout wear.
"I think, like most women, I had a rocky relationship with my body for most of my life and viewed fitness as a way to beat it into submission, if you will," Krimmel explains. Then, a decade ago, she started playing roller derby competitively.
"That experience really changed my relationship with fitness and with my body," she says. "I learned to respect my body for what it can do and found a healthier approach to fitness, and I wanted to share that experience with other people."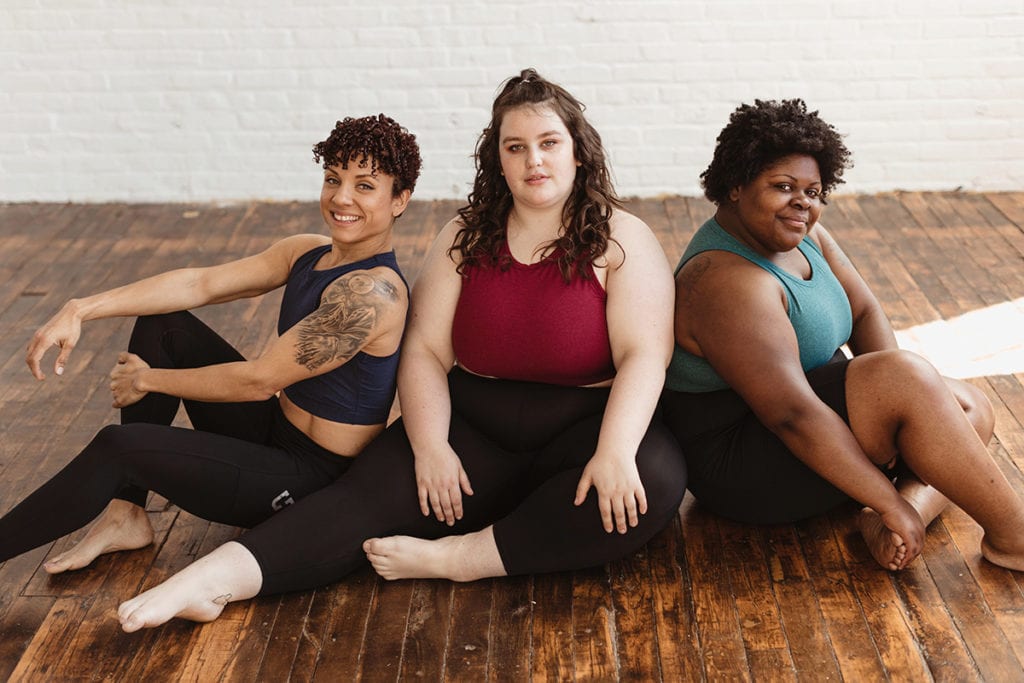 Krimmel has a background in tech, and she applies that approach to product design: "You build something and you test it, and then you make it better, and then you test it again, and then you keep making it better, and you keep testing it," she explains.
As such, Superfit Hero tests all products on fit models who are sizes L, 2XL (its most common size), and 5XL; "once [an item] fits really well on those three bodies, then we make the entire size run, from XS to 5XL, and we recruit athletes that we work with locally to actually wear the clothing," Krimmel says. "They run, they lift, they do yoga, whatever their movement practice is, and they give us feedback, and we take that feedback back to pattern maker, back to the design, and we make sure that the product works well for everybody in the size range."
"Where there's a space for her"
Both Rihal and Holdgrafer tend to purchase their workout clothes online — but that's way more out of necessity than desire. They say they often struggle to find a variety of sizing in brick-and-mortar stores, even when the brand sells plus sizes online.
"When I go to a store and I see racks and racks and racks and racks of XS through XL — which, caveat, XL isn't even all that XL — but when you look at it, and then you see one little arm of a rack is the plus-size section, that says to me that maybe folks don't think that we care about fitness," Holdgrafer says. "And I know that's not true."
It doesn't make sense to Rihal, either, who points out that plenty of stores carry loads of maternity and baby clothes.
"All of these departments in your store represent a very small niche audience. Plus sizes are not a small, niche audience. I think it's a stigma thing," she says. "If you're stopping at a size 16 or 18 in the store, but you're going to sell the stuff online, it sends a message to people that we're not worthy, we're not deserving of having access to the clothing that we need."
Both Superfit Hero and Day/Won are direct-to-consumer, e-commerce brands. Krimmel says she's not considering a Superfit Hero brick-and-mortar store at the moment because of how costly that would be — her company is a small and totally bootstrapped business. But she is interested in experimenting with more pop-ups because of that need for physical shopping opportunities. For example, on March 14, Superfit Hero will host a spring fling in downtown Los Angeles, complete with shopping, a dance class, and a panel.
Huffine says that, while Day/Won is obviously still in its "baby years," she would love to one day open a physical shopping experience where women of all sizes can "peruse every rack together." She adds, "My biggest goal would be to create a space where she can come, no judgments, no fears, no pressure, and just know that there's a space for her."