2/27: Financial Goals Workshop: Fit Finance into your Life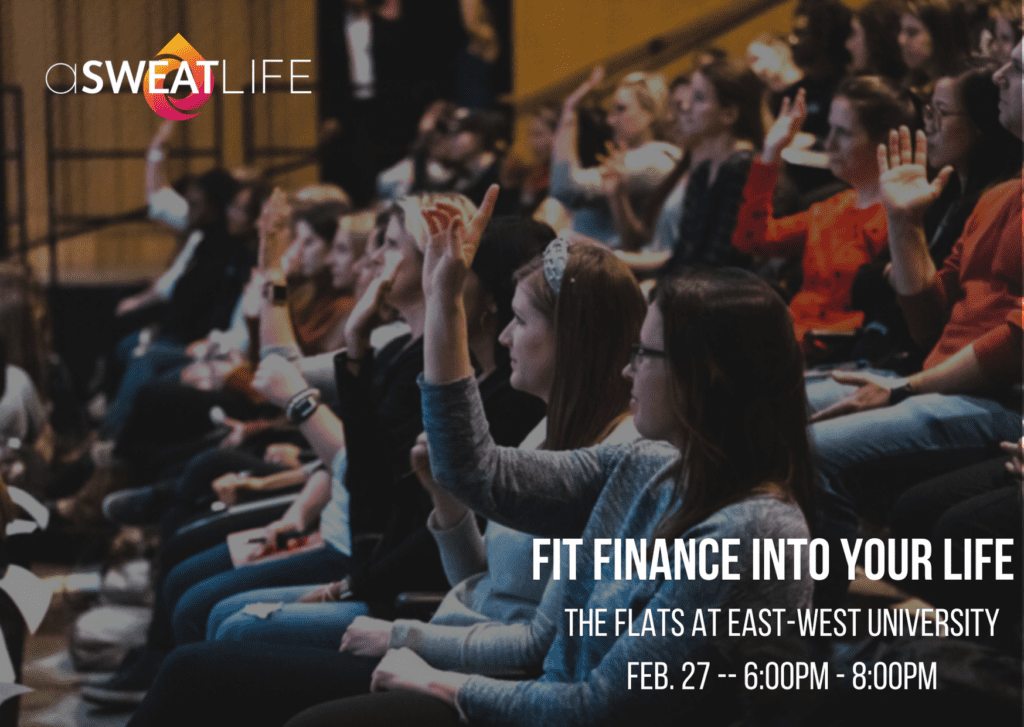 [Get tickets to aSweatLife's Financial Goals Workshop here!]
Let's talk about $$$! On Thursday, February 27th from 6pm-8pm, we're gathering at the Flats at East-West University for the workshop of the month with financial expert, Kristi Ross. Kristi is the co-CEO and President of tastytrade, the most-watched online financial network making finance fun and actionable. Kristi is incredibly knowledgeable on this topic and you will walk away with a financial action plan.
Schedule at a Glance
6pm – 7pm
Keynote presentation from Kristi Ross. Kristi believes in 5 checkpoints for a "balanced" life…one of those 5F pillars being "finance". From fitness to family to (f)philanthropy to focus to finance…she covers it all and shares how you can fit "finance" into your life.
7pm – 8pm
aSweatLife Ambassadors Sanjana Das and Anna Castillo of WellStreet will guide you through a financial focused goal setting practice. As former CPAs, SJ and Anna combine their knowledge of finance, health and fitness, and the city to provide many tips and tricks that they have learned along the way.
Ready to learn more about what to do with your dolla dolla bills? Here's everything you need to know.
When: We'll kick this off February 27 at 6 pm, but plan to arrive by 5:45 pm.
Where: We'll meet at The Flats at East-West University, 829 South Wabash Avenue (Floor 4), Chicago, IL 60605
How to sign up and bring a friend for the price of one: Here!
What should you wear? Coming straight from work or elsewhere, join us in whatever the day brings.
What should I bring? A notepad and pen to take notes!