Living aSweatLife in Cambodia
A grin was plastered on my face as I breathed in dusty air. My bike bumped along the narrow dirt path, sandwiched between my friend Liz, and Vuthy, our warm Cambodian guide. We were in Siem Reap, on an adventure to visit Angkor Thom, which includes the ruins of Bayon, an oft-explored Khmer temple featuring nearly countless serene, smiling faces carved into high-rising stone.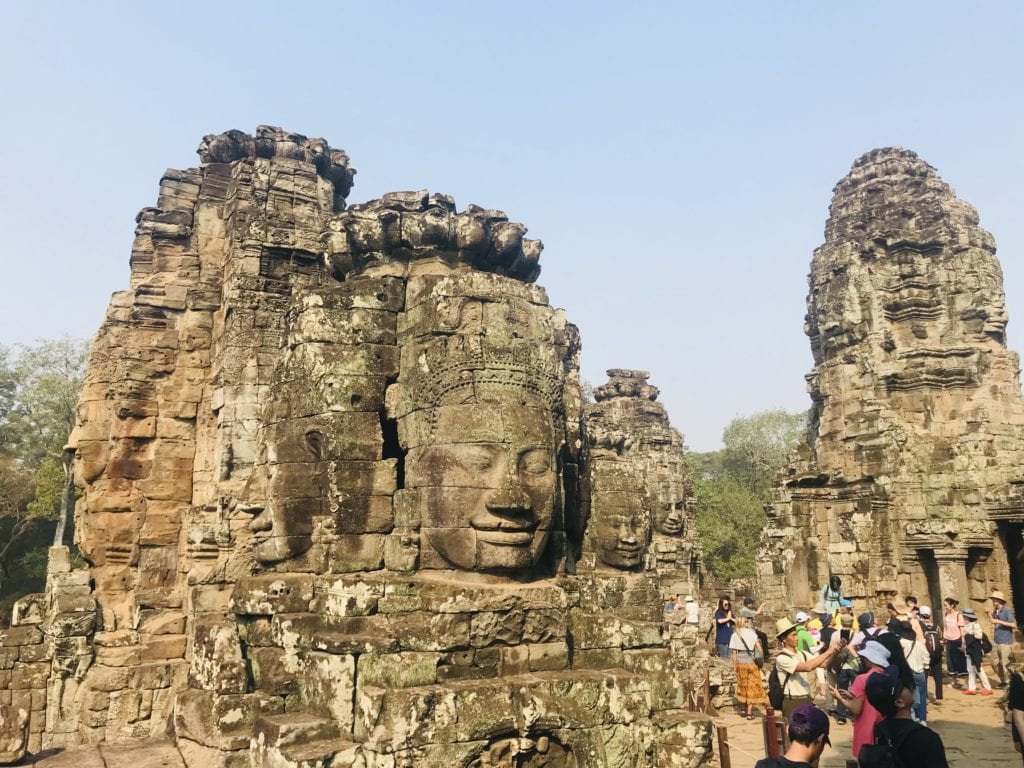 Sweat was running down my back as we pedaled along under the afternoon sun. I love sweating in a hot yoga class, or while running on the boardwalk outside my school in Shenzhen, China, but this — the sweat that covers my body in a space where I am surrounded by such novel sights and sounds — this is me living my favorite kind of sweat life.
Before moving to China, I had not considered visiting places like Cambodia. When I had pictured myself exploring the East, it was on a beach in Indonesia or Thailand. The more I traverse these new lands, though, the more that I thirst to learn about cultures that are, perhaps, more off the beaten path.
After two days of walking around the grounds of ancient ruins, gazing at the exquisite details carved into walls and pillars centuries ago, Vuthy took us on a three-hour road trip to the city of Battambang.
At first I was less impressed with the experience in Battambang than I had been with our time in Siem Reap, but I came to deeply appreciate what Vuthy sought to show us in this place. One of our stops as we entered the city was to see how rice paper is made. My back began to ache quickly as I watched one woman, who wore a smile upon her rosy face, spread the thinnest layer of rice paste onto a rubber surface to cook over a pot.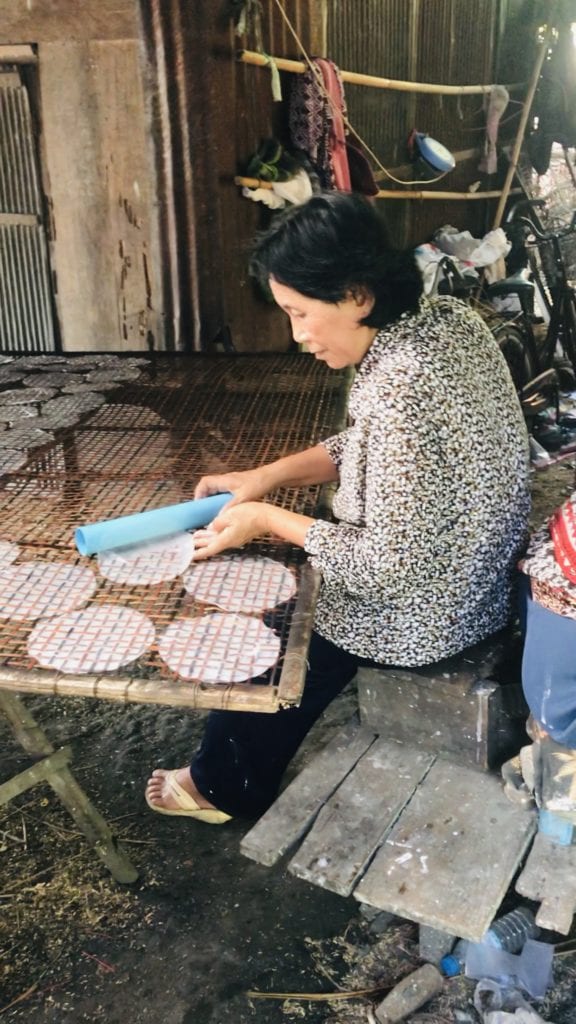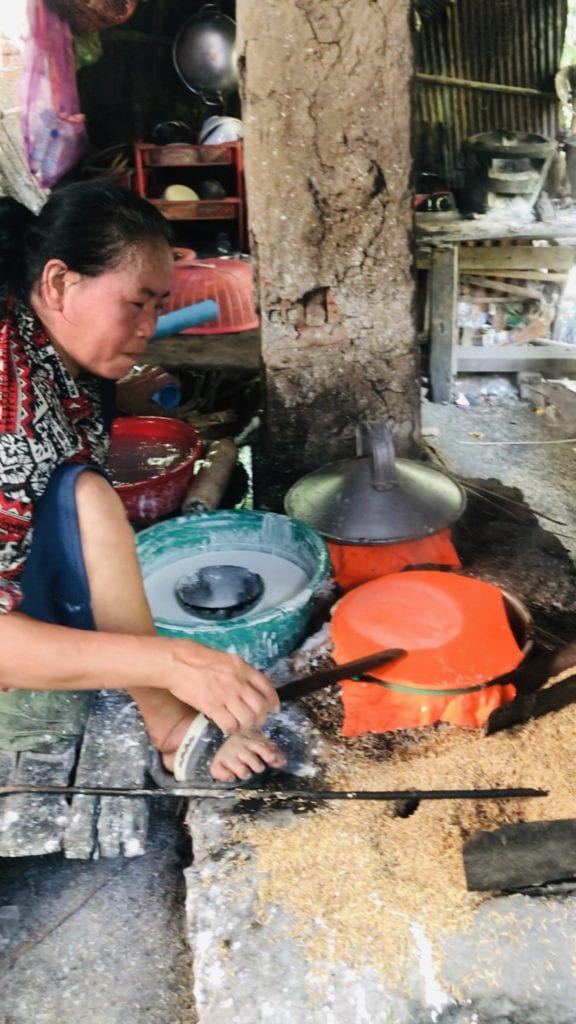 As Liz and I watched on, I noted the efficient and laborious process that this woman and her mother engaged in for many hours each day. In a day's work, they would make enough rice papers to earn $25.
When we returned to the car, I considered my privileged life. I work hard, yes. But it is largely circumstance — my birth country, the efforts of my parents, the socio-economic sphere I was born into, my private college education — that allows me to spend more on a meal than many make in a day. I have a life that, as a balance to the many hours of focused work that I do from week to week, offers me the opportunity to explore places near and far.
When I was in middle school, I played a very small role in the school play about the Khmer Rouge. My innocence blinded me from understanding the horrors of Cambodia's history that the play explored. Before landing on Cambodian soil, I read Loung Ung's memoir First They Killed My Father, allowing the atrocities of the of Khmer Rouge bleed into my heart.
Traveling the next day to the capital of Cambodia, Phnom Penh, Liz and I explored more of the country's history with a visit to Security Prison 21. Walking through Security Prison 21, reading the stories of the prisoners, standing in the rooms where innocent men and women had been tortured, it was eerie and horrifying.
Perhaps this is not how we often spend our vacations, looking the dark side of humanity in the face, but the time in this former school turned prison turned genocide museum also allowed us to reflect on the lightness of humanity that we saw in Cambodians' faces.
I think that it is a marvel that with such a dark recent history, such vitality surrounds the sojournista that treks to this welcoming Southeast Asian country. Everywhere that Liz and I went, we were met with smiles and warmth. This included one of our favorite restaurants called Friends. We loved this place for the fish amok, a traditional Cambodian curry, but especially for their dedication to taking youth off of the streets and training them, working to help them build hopeful futures.
Nearby this restaurant National Museum and Cambodian Living Arts theatre. As we settled into our seats to watch Earth and Sky, a "magical journey through Cambodian mythology, ancestral traditions and village life" through classical dance, I felt the pulse of Cambodia. It is one of life and dynamic spirit.
It's true that I lived aSweatLife in many forms in Cambodia — whether due to our biking expedition, the hot Asian sun, or the heat from the burner in our personal cooking class. I love to live aSweatLife to live the sweet life, the sweet life of expansion and exploration.
And I have to say, stretching yourself outside of your preconceived notions about a place or space, it's yoga for the soul.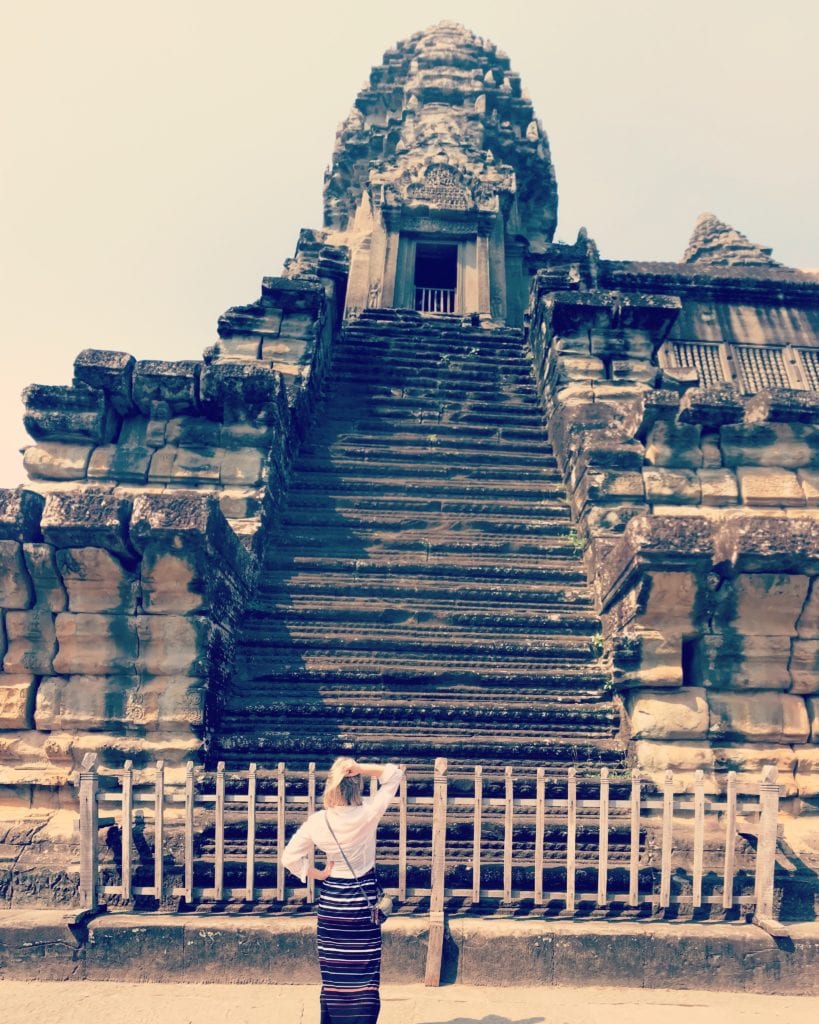 Let us know!
Did this post help you get closer to achieving one of your goals?