#Sweatworking for Expecting Moms with Weissbluth Pediatrics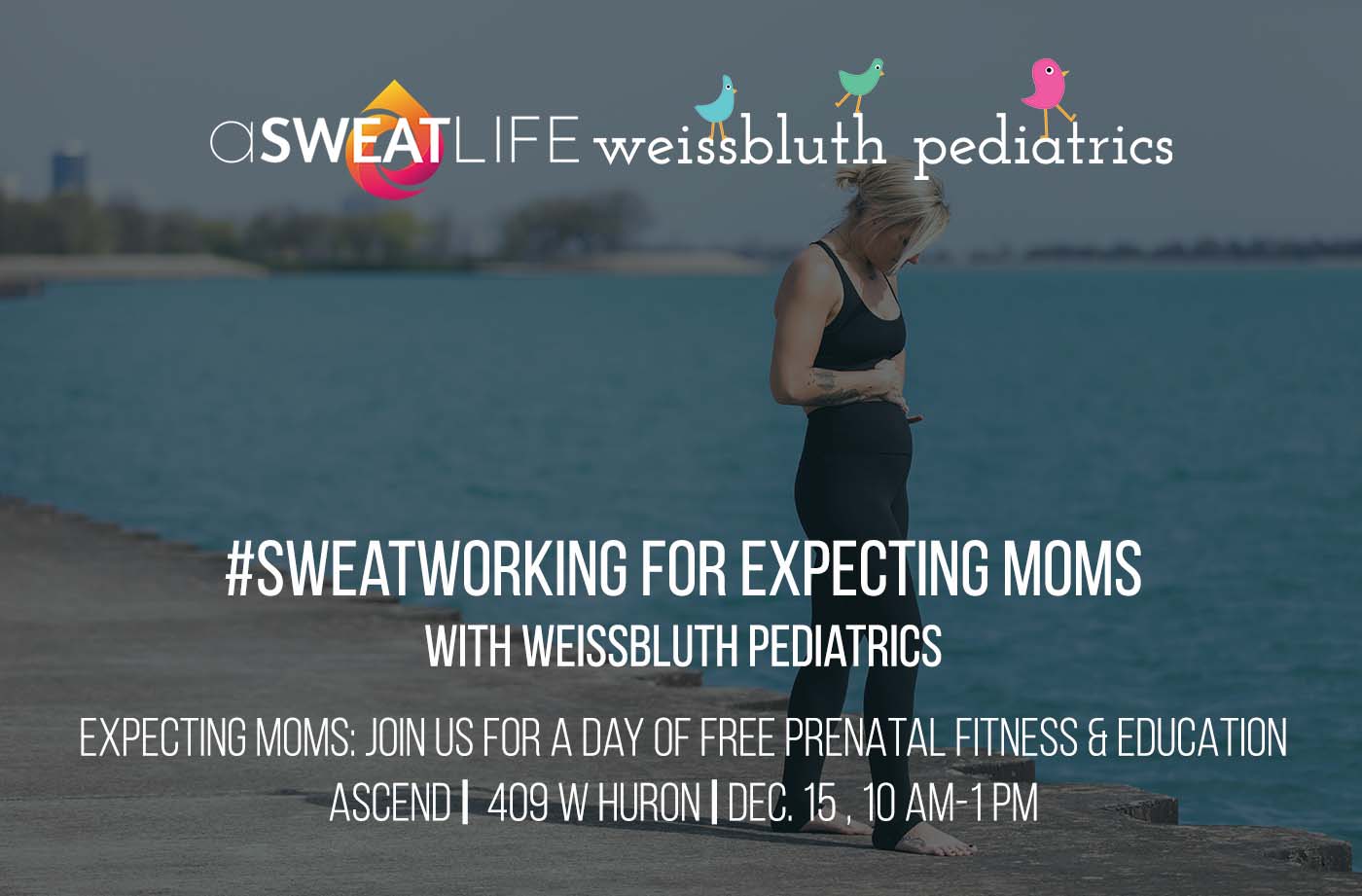 (Get your tickets here)
Weissbluth Pediatrics and aSweatLife are teaming up to bring new moms-to-be the very best in prenatal fitness and education on Saturday, December 15th at Ascend.
At aSweatLife, we believe everything is better with friends and that fitness can be a catalyst for living your best life and Weissbluth Pediatrics is committed to expectant moms – from bump to birth and far beyond – with free prenatal education and community events that best prepare moms-to-be.  It was a natural fit for Weissbluth Pediatrics and aSweatLife to launch a prenatal event bringing together expectant moms to experience and learn about prenatal fitness and newborns while meeting others in the same stage of life.
On Saturday, December 15, at Ascend, expecting mothers will experience a day of prenatal fitness built just for them. Try two different types of workouts, hear from Dr. Weissbluth on preparing for baby sleep / newborn-related topics, sign-up for a one-on-one prenatal appointment with one of Weissbluth's Pediatricians AND check out different products and services!
We will kick things off at 10:00 am when you'll take on a prenatal strength class led by Kate Lamere or a yogalates class led by Jacquelyn Brennan. Kate is a Barry's Bootcamp and Nike trainer and she is a new mom herself. Jacquelyn is the co-founder and owner of Pilates and Coffee where she teaches and runs pre/postnatal classes.
After attendees have experienced both pregnancy-safe workouts, Dr. Weissbluth will lead a workshop, "Prenatal Education: Preparing You and Your Baby for Great Sleep" and answer any questions attendees have on newborn-related topics.
Attendees will have a chance to pre-register for 1-1 appointments with Weissbluth Pediatricians from any of their three locations (Northwestern/Streeterville, South Loop and Bucktown – coming soon!) that will be held in private treatments rooms, giving you the chance to ask any additional questions you might have in a more personal setting.
There will also be pre-registration available for smaller group sessions with Rachelle Mallik, MA, RDN, LDN, owner of The Food Therapist, a private practice specializing in reproductive nutrition for fertility, prenatal, postpartum and breastfeeding wellness. Finally, partner brands will be setting up experiences complete with snacks, services and baby-related accessories!
Here's everything you need to know:
What: all things prenatal fitness – 2 workouts, experts in pediatrics, nutrition, and a 'baby shower' by brand partners
When: Saturday, December 15th, 10:00 – 12:30 pm
Where: Ascend, located at 409 W. Huron on the third floor
How to register: Get your tickets to the event here. You'll also be able to register for 1-on-1 sessions with Weissbluth pediatricians as well as small group sessions with Rachelle Mallik.
Let us know!
Did this post help you get closer to achieving one of your goals?