What You Need to Know About the Clean Wine Movement
[Disclosure: This post is a part of a partnership with Thrive Market. As always, we only write about the products, places and experiences that we love.]
Do you know what's in your wine?
This isn't a trick question. It's simply one many consumers aren't thinking about when purchasing a bottle (or two, or five—no judgement here!).  Fermented grapes should be the only ingredient, right?!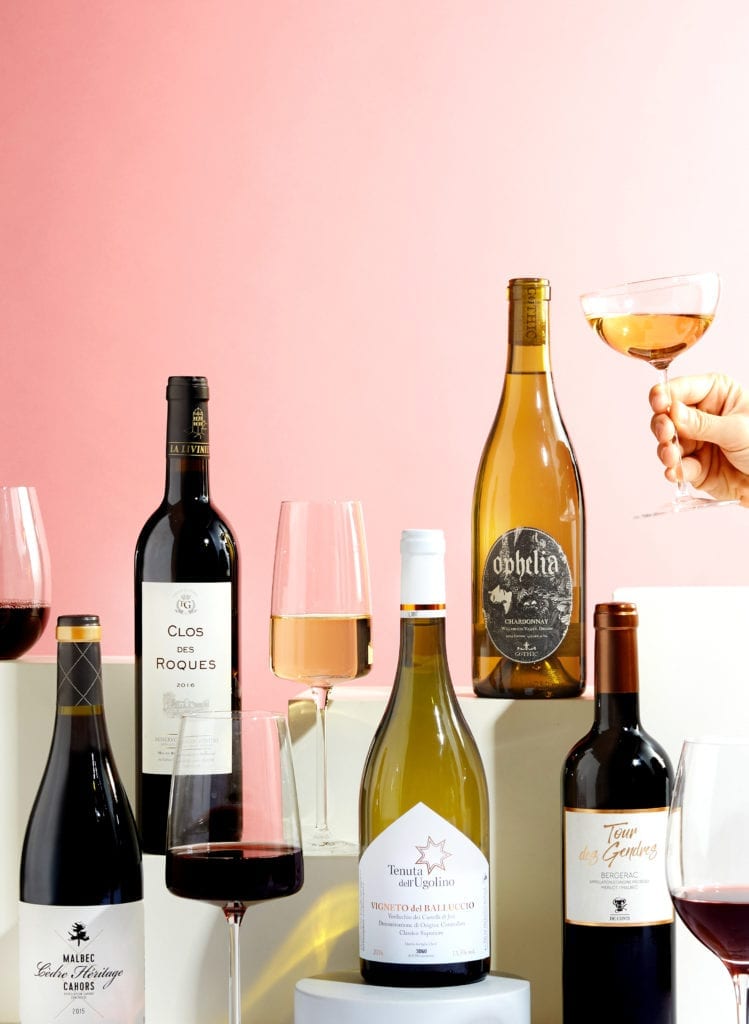 But this isn't the case. Unlike with processed foods, wine makers aren't required to list ingredients on their labels. This only reinforces the idea many hold, that wine contains natural ingredients. The truth might shock you.
There are 62 chemical materials that can be added to wine, and these are found in many common brands sold in stores and online.
Besides added chemicals, winemakers can use an array of techniques to achieve desired properties and flavor profiles. This can include adding sulfites, which are used as a preservative, but must be listed on the label to warn people who are allergic.
Another additive that might come as a surprise is added sugar, which is regulated at the state level. In California, for example, added sugar is not allowed at any stage in the winemaking process. However, winemakers are allowed to add unfermented grape juice to tweak the sweetness, which is a roundabout way of enriching a wine's flavor with added sugar.
Thrive Market, an online food retailer that aims to provide healthy food to consumers at-cost, saw an opportunity to add wine to their list of trusted, clean products. In early October, they launched a line of clean wines.
Thrive's Master Sommelier, Josh Nadel, tested hundreds of wines from around the world to curate a catalog of organic, biodynamic wines that meet rigorous farming and winemaking standards, while remaining affordable. They also contain no pesticides or added sugar, and are low-sulfite.
I had the pleasure of interviewing Nadel, and sampling a couple of his delicious picks–a French white and Italian red (with names I am unable to pronounce—so drinking them made me feel super fancy), and I can attest to how tasty they are. The white was really buttery and smooth going down. It tasted like a mix between chardonnay and sauvignon blanc—the latter being my absolute favorite wine, so no complaints to note. The red had a rich cherry aroma and flavor and was also quite smooth. I'm a pretty particular/picky wine drinker, so I was a good person to entrust with this subject and sampling. I give both wines a big thumbs up.
What inspired this new line of clean wines?
According to Nadel: "Our members are super excited about the launch of clean wines because it aligns with how they're already shopping across the rest of their pantry and home goods." Thrive surveyed thousands of members to find that over 60 percent drink wine multiple times per week.
The problem is that in the commercial wine industry, there's no visibility given," Nadel explained. Thrive saw an opportunity to change this.
What makes Thrive's wine "clean" compared to most commercial wines?
It contains no added sugar, which many mass-produced wines have because of an enrichment process they undergo when grapes aren't sweet enough. Thrive's wine also has minimal fining and filtration—a tactic that produces the clarity of a wine. Natural sediment is harmless and has no impact on flavor.
Thrive also uses no oak chips (there's an issue with creating the illusion of oak barrel aging, which has become the default process when subpar fruit is used), staves or flavoring, no flash pasteurization and no DMDC (dimethyldicarbonate) or PVPP (polyvinylpolypyrrolidone), which are chemical preservatives used to sterilize and de-alcoholize wine and reduce bitterness plus color correction.
How will Thrive's organic wine maintain fair, wholesale pricing?
Wines will be available for $12 to $18 per bottle to Thrive members (as part of their annual membership). These wines will be sold in packs of six or twelve, with 2 purchasing options:
Six or twelve packs of the same wine, or

Six or twelve packs of curated variety boxes.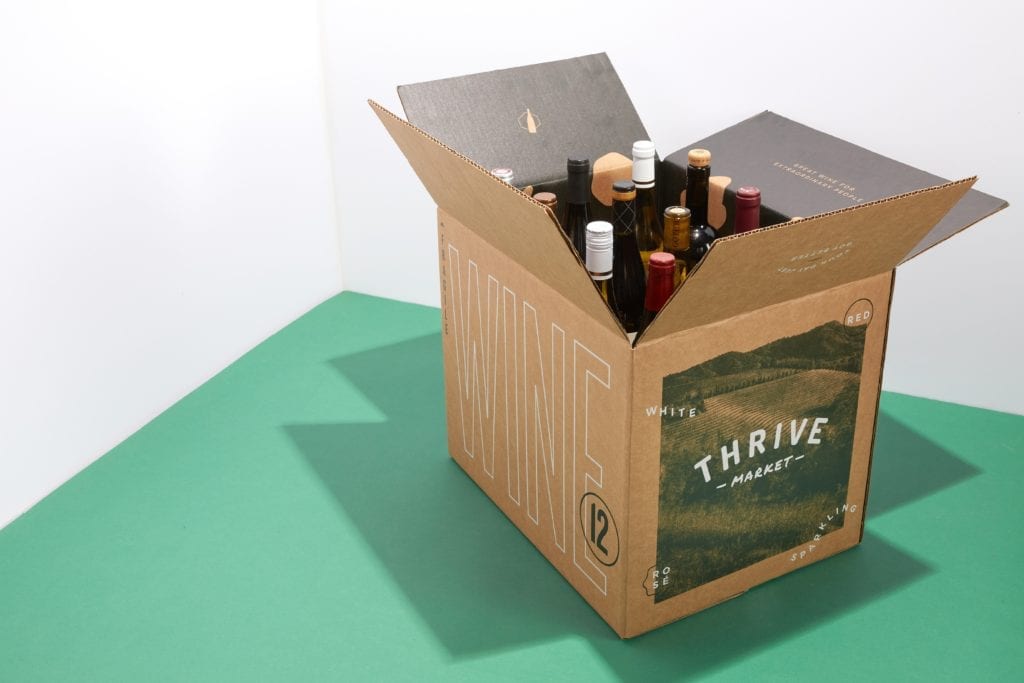 How does Thrive substantiate the verified claims? What does the vetting/testing process look like?
"To develop the clean wine standards, [Thrive] consulted natural wine experts from around the world, multiple master sommeliers, and [their] own merchants internally to develop the Thrive Market Wine Charter," shares Nadel.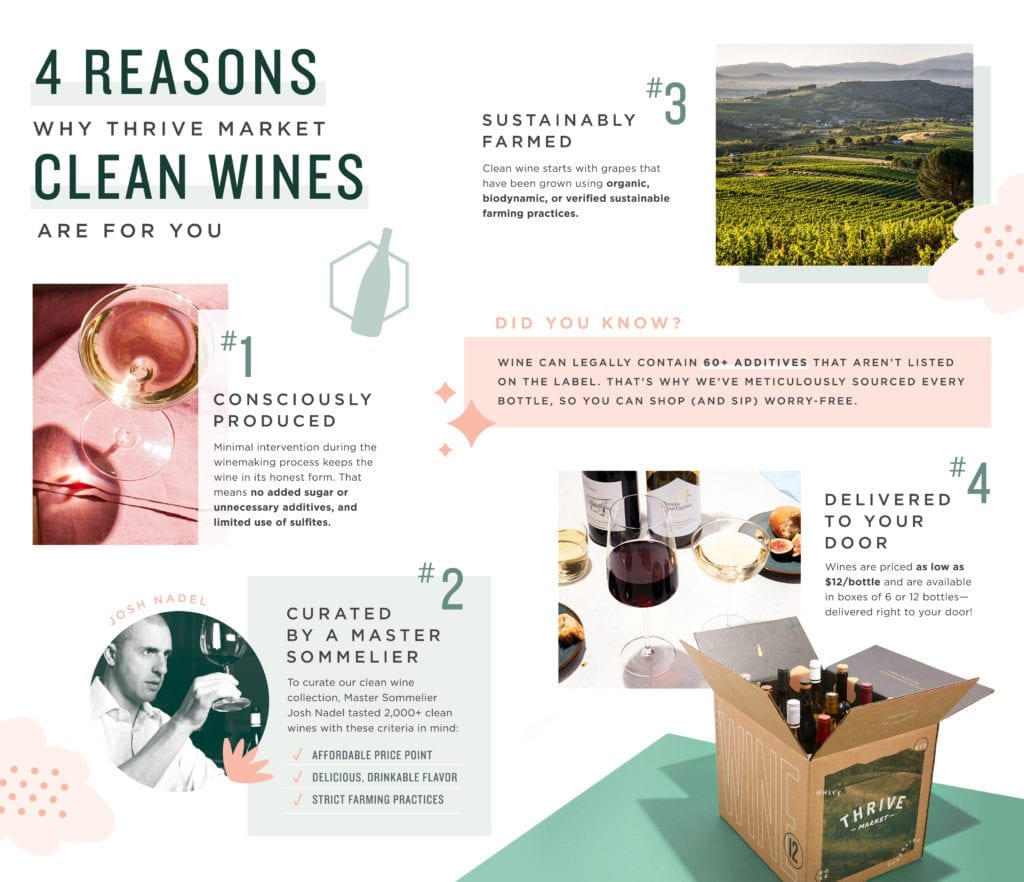 Before any wine is tasted, Thrive first makes sure it meets the highest farming and winemaking standards. This prevents any wines made with grapes treated with chemical fertilizers and pesticides to slip through.
Then, their charter "outlines certain winemaking practices that we don't allow — from over-filtration, to use of certain chemical additives, flavorings, or correctives." This results in wines made by artisanal producers in small batches from healthy grapes.
"Each wine has been handpicked for flavor, complexity, and approachability." Nadel has tasted the best wines in the world, created award-winning wine lists, ad partnered with Thrive because they share his vision of "broadening access to affordable, delicious, and clean wine."
Thrive's clean wines are available for purchase, as of October 11th.
Let us know!
Did this post help you get closer to achieving one of your goals?