No B.S. Dry-Tri with RXBar at Equinox Gold Coast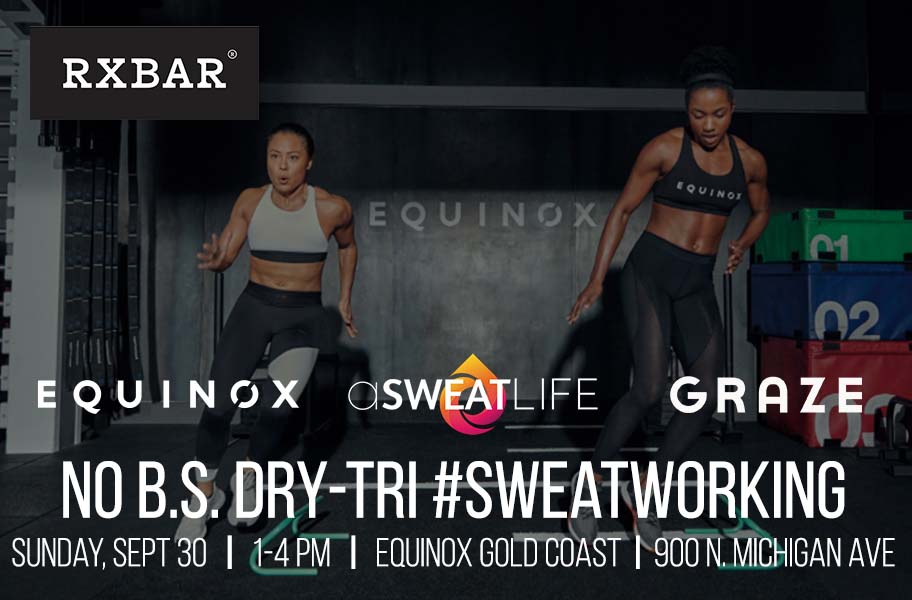 (Grab your ticket to #Sweatworking with RXBAR and aSweatLife now)
Every time we host #Sweatworking we ask ourselves, how can we make it special? How can we make it different? When partners like RXBAR and Equinox come together to work us out and fuel us up, it's a no-brainer.
RXBAR asked to fuel a tough workout with their bars as well as their new, delicious nut butters. These protein-packed pouches are perfect on their own (don't forget to knead the pouch), and they're also delicious mixed into things. Cue the blenders: we'll have smoothies post-event created by Graze featuring RX Nut Butter.
We're working with Equinox to feature a variety of fitness offerings to try from across the club. This experience – a No B.S. Dry-Tri, we're calling it – will feature 30-minute versions of three workouts: an outdoor run, TRUE ATHLETE and ANTHEM™. The run will be in a group and will be at conversation pace, guided outdoors (weather permitting). You'll move differently in the new class format TRUE ATHLETE, which utilizes RMT® clubs – the same equipment used by professional athletes to challenge conditioning, coordination, and range of motion. You'll spin to the beat in the rhythm-driven cycling class ANTHEM™. We're working with the team there to create a fun, inclusive experience you'll talk about for weeks.
But don't worry, you don't need any prior training to tackle this three-part workout, and there are no score cards, no winners (or losers), and of course, no B.S. Just fun, sweat, and a lot of chances to meet new people – the reason why we wanted to start hosting #Sweatworking in the first place.
RXBAR will be there with extra goodies that you won't want to miss.
Here are your three workouts in the No B.S. Dry-Tri:
"ANTHEM," the indoor cycling class in Equinox's in-house spinning studio, led by Michael Wollpert
TRUE ATHLETE, Equinox's newest signature class, led by Julie Bellis
Outdoor excursion run along the lakefront to mirror the Precision Running class you can only find at Equinox, led by Anthony Fleming
Here's what to expect after the workout:
Stick around and refuel at the RX 'Bar' where you'll get to top off a smoothie bowl from Graze with your choice of RX Nut Butters.
Plus, the Spa at Equinox will be on site with mini chair massages and face refreshers to help you turn your afternoon into instant self-care Sunday. And feel free to use the club for its steam room and showers for the rest of Sunday. You'll also be receiving a discount to the Shop at Equinox which you'll be able to use post-workout too.
Here's everything you need to know for the day:
What's the workout? A three-part workout fueled by RXBAR where your best effort and your Instagram account is all you'll need – no B.S.
What do you need to wear? Your favorite workout clothes and running shoes (you'll be able to wear your regular shoes on the bikes at Equinox). If you'd like to bring a change of clothes for after the event, you'll be able to use the showers at Equinox too.
What should you expect from each workout? Expect to be challenged if you want to be, but know that this will be accessible for all fitness levels – you'll have buddies alongside you the entire time.
Will there be snacks? RXBAR will have you covered from start to finish with all the fuel you'll need.
Where do I buy tickets? Right here!