How Bob Moore Made "Wholesome" the Driving Value of Bob's Red Mill
"Passion for health and belief in taking care of one another;" "enthusiasm and 'honest-to-goodness' approach;" "friendly face;" … These are all phrases you can find to describe Bob Moore, Founder of Bob's Red Mill, on the company website. I read through the touching story of how Bob Moore and his wife, Charlee, took a passion for healthy eating and created a thriving business. I looked through the posted family photos. And with a smile, I created a list of questions to ask a representative from the company, not knowing I would actually receive responses from Bob Moore himself.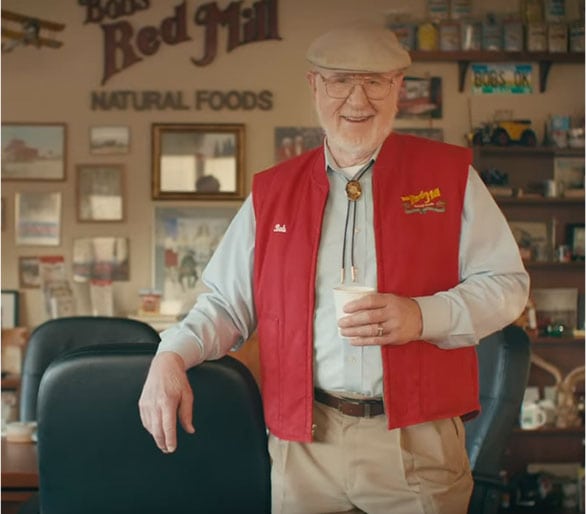 But that actually aligns perfectly with the employee-owned business that, as Moore stated, was built from his passion for health and a belief in taking care of one another.
"When we first started out in 1978, whole wheat flour was practically considered a flour alternative itself – there really wasn't a worldwide focus on whole grains at the time," Moore explained to me. "But my wife, Charlee, was very interested in nutrition and health, and that led us to release a line of gluten-free products in 1983. We were one of the first companies in the health industry to do that."
Today, they offer a wide-range of alternative flours, including stone-ground whole grain and bean flours such as quinoa flour, sorghum flour, brown rice flour and garbonzo bean flour. On top of that, the company also offers a whole selection of gluten free starch, baking powder, and baking soda. Yes, Bob's Red Mill take pride in their alternative selections, but they also take it very seriously.
"Bob's Red Mill was the first mill to build a separate gluten-free dedicated facility, in 1991," Moore explained. "Today, that plant has one of the most stringent testing protocols in the county, including an in-house lab."
Scrolling through the hundreds of delicious recipes on the Bob's Red Mill website makes it evident that cooking and baking with these alternative products isn't just for those with dietary restrictions, but for anyone with a sweet or savory tooth! Moore assures everyone that experimenting with alternative products can be fun for everyone and has some advice on how to get started.
"We have hundreds of recipes on our website that are specifically designed for gluten-free baking, and the process really isn't any different than traditional baking," Moore began. "We would recommend starting there and trying out a few new flours. We also have a line of gluten free mixes for bread, muffins, and cakes that are wonderful, convenient products that are easy to use. Once you get a little more familiar with gluten-free baking, then it's a great time to start experimenting."
Moore specifically pointed out three recipes that are must-try and gluten-free: Paleo Lemon Blueberry Muffins, Blueberry and Feta Quinoa Salad, and Coconut Flour Brownies. If the titles of these recipes don't have your drooling, I'm not sure what will.
Although the taste will be nothing short of delicious, those new to using alternative baking products should be aware that the process may feel a little different. "The main challenge is learning about ingredients and how best to use them," Moore explained. "The dough may be a different consistency than traditional baking, the texture may be a little different. But once you get started, a whole world of delicious gluten-free baking goods opens up."
Moore assures that different doesn't always mean challenging, especially when using Bob's Red Mill's Gluten Free 1-to-1 Baking Flour. Additionally, the customer service team is always ready to help with any questions, comments or concerns.
And that might just be the very best part about Bob's Red Mill: the team of people behind the company and their mission. "It doesn't matter how large we grow – at the heart of Bob's Red Mill, our mission remains unchanged: to bring simple, delicious whole grain nutrition to your table," Moore described. "We stone grind our flours and meals using centuries-old techniques that retain the vital nutrients of the grains, just as nature intended. And we treat our employee-owners, partners, and customers with respect."
Every single question I asked Moore was answered with thought, care, and passion, and without even knowing it at the time, I saved the best question for last.
When asked to describe Bob's Red Mill with just one word, he replied, "Wholesome. If you look up 'wholesome' in the dictionary, you'll see it refers not only to good health and physical well-being, but also well-being of a person as a whole. At Bob's Red Mill, we work hard to embody this idea every day, through the quality of our products and our relationships with others."