Five Ways to Stay Healthy on a Cruise (or Any Vacay) This Winter
Midnight buffets, all-you-can drink packages and desserts after every meal – cruise vacations aren't exactly set up for guests to obtain their perfect picture of health. Instead of writing off every bad decision with "but I'm on vacation!" make a plan to conquer the trip so you're able to have fun and enjoy indulgences without sacrificing your healthy lifestyle completely.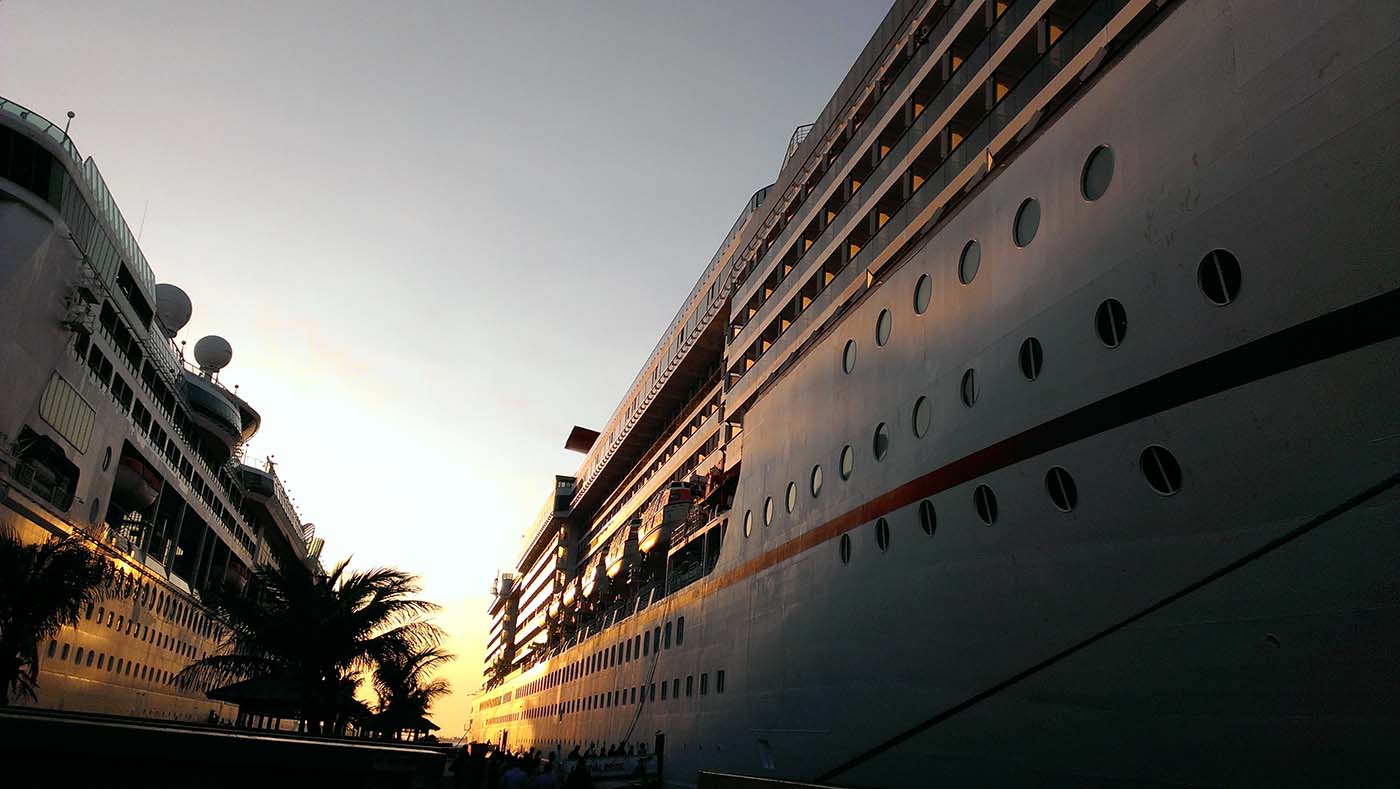 I went on a 7-day cruise with my family earlier this month and followed my own advice, leaving the vacation feeling relaxed and refreshed instead of bogged down and lethargic. Here's how you can do it too. 
1. Add a workout to your agenda
One of the reasons people love cruises is for the daily schedule of fun activities that gets delivered to your cabin every evening. With everything the activity director packs in, there isn't always time to do everything, so it is important to prioritize. On our recent trip, we managed to exercise on four of the seven days – some of our busier days only had time for a quick workout in the ship's gym (overlooking the ocean, no big deal!) but it was great to get moving before the day got started.
Your ship may also offer group fitness classes on board – I loved the opportunity to take a Zumba class – something that's not part of my normal routine. If your ship doesn't offer classes, try mimicking workout from your at-home routine, or try one of our body or free weight workouts. If you listen to music while you work out, download a playlist to your phone prior to setting sail; streaming can be tough at sea.
2. At dinner, indulge in only what you really want
Dining rooms on cruise ships are well known for going all out for their dinner guests – you want three starters, two entrees and four desserts? You got it. You're not into tonight's menu? No worries, they'll make you something else. The key to leaving the dining room feeling satisfied but not stuffed is to be choosy with what you order.
A good rule of thumb is to choose to enjoy just one item between the bread basket, a drink and dessert. If you're not a carb lover, don't fill up on bread before your entree arrives. If you can't live without bread, get after it, and think about skipping or splitting dessert. In the same vein, don't look at every meal as an all-you-can eat extravagance. Breakfast and lunch are a good time to take it a bit easier and nosh on food more similar to what you'd normally eat at home, like yogurt and fruit instead of pancakes and bacon.
3. Embrace empowered ordering
Use the generosity and flexibility of your dining room team to your healthy advantage by creating your perfect meal. There is no rule that requires you to start with an appetizer, followed by an entree, and then topped off with dessert. On my trip, there were some nights when the entrees weren't speaking to me, so I didn't order any. Instead, I went the route of ordering a few of the healthier starters to make up the meal I could enjoy and that my body was craving.
Listen to what you're really craving and ask for it. When you're eating, stop when you feel yourself getting full. It may sound simple, but just listening to yourself is going to help you succeed and feel good about your choices.
4. Go easy on yourself
Cruises are pretty hectic between ship activities and running around in port trying to soak up everything the city has to offer in the short time you have there. It's easy to get overwhelmed by trying to do too much. Instead of packing each day full to the brim, schedule some time to sleep in, relax in the hot tub, catch up on some reading or just sit and watch the waves go by.
Try not to pressure yourself to make every moment count or see every sight – sometimes, the best way to travel is to slow down to take it all in.
5. Drink plenty of water
Traveling puts stress on your body and not drinking enough water only exacerbates the issue. Pack a water bottle that's easy to tote with you and stay committed to drinking your daily water requirement. You may also consider upping your water intake while you're traveling – starting from the day of your flight out – to help keep your body functioning properly.