How to Host a Girl Power Retreat
What happens when you get 37 women together in a room to discuss dreams, obstacles, goals, action and kicking ass? In my experience, you get motivation, inspiration and new acquaintances who just may turn into friends.
Earlier this month, I participated in the annual Be More Awesome summit, which was started five years ago by three friends in Chicago who wanted to set some tangible goals for the year(s) ahead. I've been lucky enough to attend all five of the sessions, and it's no exaggeration to say that I look forward to this day for months.
Interested in hosting your own girl power retreat? Follow the guide below.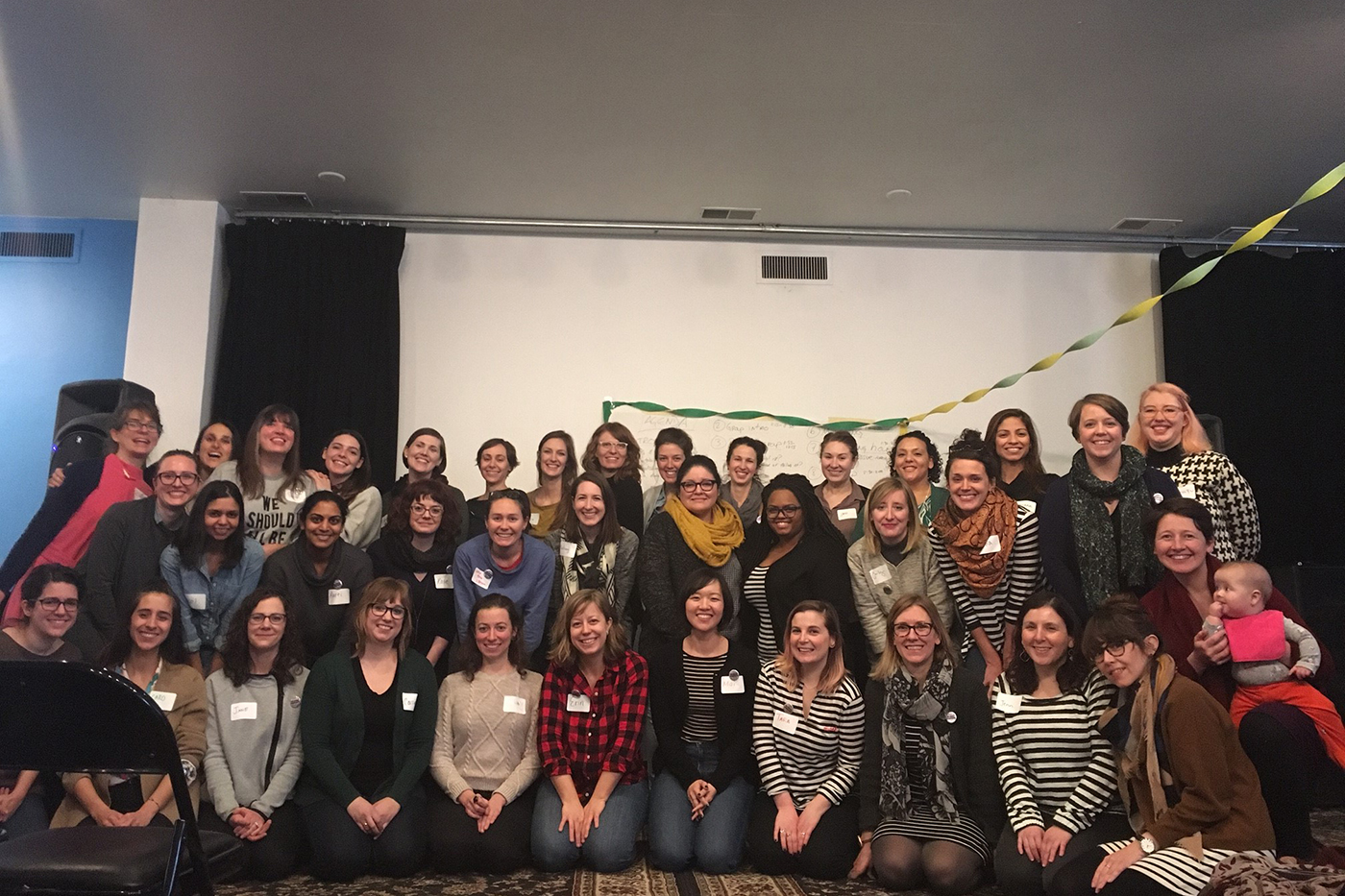 Prep Work
If possible, find a friend or two to share organizing responsibilities. Pick a date, location (we've gone to the homes of generous participants, as well as rented this awesome arts space in Chicago's Logan Square neighborhood) and invite as many of your female-identified friends as you desire. Encourage those friends to invite their friends as well.
Life Lists
In your email invite, ask each attendee to arrive that day with a life list of goals and dreams – the more, the better. Encourage folks to go all out. Goals can be big or small, silly or serious, scary or practical. The main point is that it's your personal list; it won't look like anyone else's list. Each person should also select 3-5 goals to focus on in the year ahead.
Still stumped? Here are a few goals from some of the women who attended this year: live overseas for a significant amount of time, get good at bike maintenance, throw a family reunion, learn to make a dress with a zipper from a pattern, record an album of my favorite covers, host a niece/nephew for a weekend in Chicago without their parents, learn to ice skate backward, run 10 miles, buy a home/condo, say "thank you" when told a compliment, summit a mountain (even a small one), regain near-fluency in Spanish, read more adult fiction instead of young adult fiction.
Set a Theme
Choose a theme to help guide the day. For example, we've tackled the big "F's" – fear and failure – at two of our past retreats. We asked ourselves to think about how fear might be holding us back ("What could you do if fear wasn't an obstacle?", "Which goals are you able to accomplish solo, but you're too scared to try alone?") and analyzed our past failures in a thoughtful and kind manner ("Who could you have called on for help?", "Why didn't you?", "What did you learn?").
Introductions
Our day typically starts with some noshing; we make it a potluck. This gives folks time to meet each other and fuel up for the emotional work ahead. Then the organizers give a brief introduction and outline the day's schedule. After that, each attendee introduces herself and shares one goal that she's proud to have accomplished last year, as well as one goal she's working toward in the next 12 months. I've found this part of the day to be truly inspiring; I love hearing that friends have paid off all their student loans, cooked more, performed in a band or successfully negotiated for a raise, and it's equally thrilling to hear what members of our Be More Awesome community intend to accomplish in the coming months.
Breakout Sessions
Next, hold 2-3 small breakout sessions. These can be done in a variety of ways. We've separated into small groups based on goal themes, such as career, travel, relationships, financial, volunteering and fitness. We've also counted off into random groups to discuss the day's overall theme as it relates to one of our goals or to really dissect one of our goals by asking the "5 Whys." Another option is to separate into groups based on whether you can accomplish the goal alone or whether you'll need assistance. Feel free to be creative here.
Mingle
In between sessions and/or afterward, set aside 15 minutes for people to mingle, introduce themselves to those with similar goals and drink more coffee/eat more food.
Group Applause
Wrap up the day in whatever way feels right for your group. That might mean asking everyone to share one of their major takeaways, it might mean asking one or two people to volunteer to talk about their small group sessions or it might mean simply applauding everyone and sharing a few hugs. This is a great time to remind everyone that this day is designed to create a community of supporters you can rely on for resources and advocates as you reach for your goals.
Keep the Momentum Going
We usually only meet once a year in person, but we keep the energy going in various ways. In the past, we had people write their strength areas on a poster board, and the list was then emailed out to the group. If you were thinking about buying a house but weren't sure if you were ready financially, there were bound to be a few women on the list who could guide you. If you wanted to get smarter about nutrition and fitness, you could turn to the list for help. If you needed assistance learning Spanish, there was at least one native Spanish speaker on the list.  
This year, we also added our names to a list if we wanted to be and/or needed accountability buddies. We'll be partnering up by neighborhood to have a local person available to talk to about obstacles or success and encourage us on our journeys.
You can also consider starting a Facebook or LinkedIn group to keep the community connected. I love seeing posts in our private Facebook group from people who have completed a goal. It's also a great way to announce job opportunities and other resources; we've shared book recommendations, homeowner tips, community activist action plans, lists of doctors and dentists, babysitters, apps we love and more.
Bonus Session
This year, due to the political climate, we added an extra session deemed "the organizing hour." About half the group stayed to talk about concrete actions we can take to support causes we believe in and get our voices heard. People discussed upcoming rallies, nonprofits they support either financially or through volunteer work, fundraising ideas, etc. I'm excited to see what our group of smart, savvy and dedicated women will do next in this area!
Additional Tips
Don't get too hung up on creating your list.
I call mine "Kelsey's Evolving Life List" to reflect that it's a work in progress. We ask attendees to never remove a goal but to simply move it to an "old goals" section if you decide to retire one. When I do that, I always include a little note to myself about why the goal isn't relevant to me anymore.
For example, I had a goal to run a half marathon. That's just not something I'm interested in now. First I changed the goal to "run a 5K every year." After a few years of doing that, I realized I didn't even want to run a 5K every year. My fitness goals have changed. There's nothing wrong with that, but I like keeping my old goals on the list as a record of that time in my life and as a marker of how things change and evolve.
It's totally fine to have a variety of goals in terms of difficulty level and even realistic-ness.
I may never write a book, but it's staying on my list. One year, I had a goal to buy and wear a statement necklace. I didn't wear a lot of jewelry at the time, but I wanted to put myself out there wearing something a little gaudier, a little more attention grabbing. Is that goal as lofty as volunteering once a week at a food pantry? Maybe not, but at Be More Awesome, we are firm believers in setting all kinds of goals, for all kinds of reasons. That said, my goals have generally gotten more "serious" as I've gotten older. Maybe it's time to add some lighthearted goals back into the mix.
You won't accomplish your annual goals every year. That's okay too.
We get it. Life happens. Shit gets complicated. That's why I like to think of my goals less as "Okay, now I can cross that off" and more as "Wouldn't it be cool if I did write a book?" I also think it's fine to have goals that are never fully done. I may never be comfortable with uncertainty, but I'm working on it. I want to go on one "big trip" annually, so I'm not going to cross that off the list because it renews each year. Same goes with my goal to make a new friend each year or become more knowledgeable about nutrition and what my body needs. Those goals don't have clear endpoints.
At the same time, I also admit that it's a lot of fun to go through my list each January and see what I accomplished, often unintentionally, the year before. Host a dinner party? Check. Do my own taxes? Check. Pitch to a publication? Check. Do a wine tasting in Napa? Check. A friend and regular Be More Awesome participant summed up this feeling of success and excitement a few days before this year's meeting: "I was so pleasantly surprised to see how many [goals] I achieved from 2016. Also such a great way to refocus my energies to the year ahead. Can't wait for Saturday!"
Get ready to be vulnerable.
This type of gathering isn't for everyone. It can be really scary to confront your dreams and goals. Don't be surprised if people cry. We're digging deep here, and things can get emotional. Embrace it. Be kind to yourself. And remember: you are surrounded by people who will help you on your journey, wherever it may lead.