Tough Lotus Brings the Bungee Workout to the US
Like many people who saw the viral video out of Thailand last year, I couldn't wait to try the Bungee Workout. Unfortunately, I couldn't find a studio that taught it in the U.S.
That changed by 2016's end when a handful of studios started offering the class, namely Tough Lotus in Chandler, Arizona. Studio owner Amanda Paige went to Thailand to not only become the first U.S. instructor certified to teach Bungee, but train other instructors as well.
As luck would have it, Tough Lotus is literally down the street from my parent's place, where I go every year for Christmas. Though she didn't start offering classes until January 2017, Paige agreed to give me a private lesson while I was there in December.
For 75 minutes, I leapt, dove and learned choreography, all while trying to keep a low squat, which was harder than I expected. Not only was I trying to combat the bungee cord from pulling me to the ceiling, but the lower my squat, the more the harness dug into my upper thighs, resulting in some serious bruises afterward.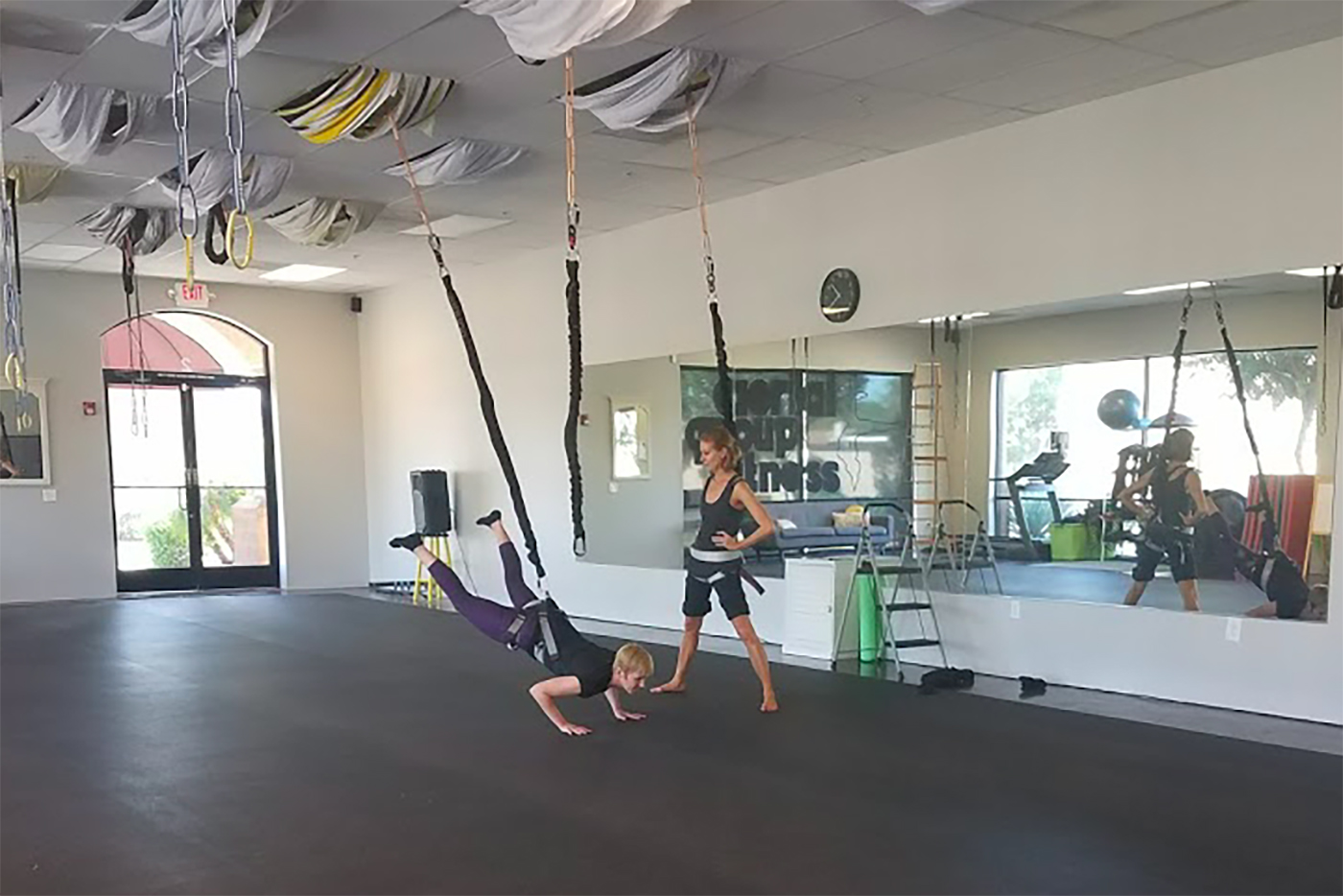 No matter how painful, I didn't let it stop me from performing graceful and coordinated movements, while leaping high into the air.
At least that's how I felt. In reality, I looked a little more awkward and I barely got off the ground, but at least I had a blast doing it.
For more details on the Bungee Workout, Paige answered a few questions I had on the fitness phenomenon.   
What has the reaction at your studio been to the workout so far?
The reaction to the first Bungee Workout in the U.S. has been incredible. People say that it is everything they hoped it would be and more. Full classes all week long and quite a few people came twice in one week. I couldn't be happier. I am thrilled that people love it as much as I do.
How did the workout originate?
The workout originated in Bangkok, Thailand and was created and designed by Joey Raywadee and Artino Sivavut – two incredible human beings with a creative vision and amazing work ethic. It is a combination of fitness training, dance skills and acrobatic performance geared for the everyday person.
What drew you to it and how did you become the official U.S. training facility for the Bungee Workout?
I was immediately interested when I saw the Facebook video that went from 2 million to 48 million views in five days. Luckily, I had already reached out to them and developed a relationship. I didn't just want to be a trainer at my studio, I wanted to be a part of this amazing creation because I believe in it so much, which is why I applied for a Master Trainer. I wanted to learn everything I possibly could and be able to train others here in the states. It was a very difficult training process, which I did in Thailand, and was able to learn from the creators for which I am eternally grateful. 132 hours in 14 days and I wouldn't have had it any other way.
I came back to my studio prepared and more in love than when I first saw it. My background is in dance; I was in NYC as a professional dancer for 16 years and have credits on Broadway and in Featured Films so the transition was a fairly smooth one for me. This brings me back to my roots where I can create movement again and I love that.
What are the benefits of taking a class from a certified bungee workout studio as opposed to taking it from a non-certified studio?
The Bungee Workout is less than a year old and because of all the buzz, there are already spin-offs that are trying to open and piggyback off the success of the original. There is no comparison. Joey and Art spent over a year creating the perfect combination of technique and comfort to bring to clients. Our equipment is top of the line and has been built and created specifically for this and safety is of the utmost importance to us. We want a safe, effective and fun workout for our clients and that doesn't happen overnight. The creators of The Bungee Workout have put a lot of time and effort into perfecting this and it is what will set it apart from others in the future. The name and product will hold the test of time because of the care that was put into its creation.
What are the main areas/muscles the workout targets?
First and foremost, the workout is fantastic cardio. You are dripping sweat by the end but you don't realize how hard you have worked because it is so much fun! It is great for the core and legs because you are constantly having to pull the bungee down and as you get more advanced, you're pushing off the floor using your triceps as well.
Will beginners be able to jump into any class? Are there pre-requisites or conditions upon registering for a session?
You need to make sure you have no current injuries or recent surgeries and are under 250 lbs. It is available to ages 18 and up and for right now, all classes are Bungee One and will be for at least 3 months. Then we will add a level two. No intro needed, just go to Tough Lotus or download our Tough Lotus app and register for your first Bungee One class. There is a new combo fused with new technique every week so it always remains fun and keeps you growing.
What's your favorite thing about the bungee workout? Why should people try it?
My favorite thing about the Bungee Workout is that it is cardio exercise like no other. You work so hard, using so many muscles and you don't realize it until you are sore the next day. When I was in Thailand I met students who took [the class] on a regular basis and lost a lot of weight in the process. If you are wanting to mix things up a bit and are bored with your current workout, this is a great alternative. You feel like you are flying … a superhero in the making and we laugh and smile the whole way through. I am so honored to be a part of such an amazing company and look forward to sharing it with as many people as I can.