Vital Proteins Makes Whey Easy to Stomach With Its Gut-Friendly Blend

I've been avoiding some of the most widely sold forms of protein, whey, for years. Tummy troubles made whey protein a big no-go for me and I know I'm not alone.
So I've been searching for a protein powder that didn't upset my sensitive stomach. In August, after I started taking Vital Proteins Collagen Peptides, I noticed a real improvement in my gut health. Less bloating and a generally happier stomach were welcome side effects of the ethically sourced powered protein that I put in my coffee every morning. Café au collagen protein.
And when I mentioned how my stomach felt after regularly taking the collagen peptides to our friends at the brand, they explained why it's a great time to give their Collagen Whey products a shot.
This blend – 50 percent collagen peptides and 50 percent whey protein as well as a probiotic blend – is a different kind of whey protein. Not only does it pack a high-protein punch at 27 g of protein per serving, it still serves up all of the benefits of collagen proteins like improved gut health, as well as improvements in hair, skin, nail and joint health. And it's free of added sugars, artificial sweeteners and other additives – stuff that my stomach hates anyway.
Outside of all of the benefits of protein for your body – like appetite satiation and helping to build lean muscle mass – there's a reason that Vital Proteins chose the word "vital" for it's name. As you age, your body produces less collagen, which along with elastin, helps to keep your skin looking young, plump and wrinkle-free.
But, according the Darmouth Undergraduate Journal of Science, "after the age of 20, one percent less of collagen is produced in the dermis each year," which is about the time I started to have to invest in an under-eye cream.
Vital proteins, helps to replace the collagen your body isn't producing – and collagen is the basic building block of skin, hair, nails, bones and joints.
Science.
So if you can get both the collagen with that laundry list of benefits and you can easily digest protein-packed whey, what could possibly make it better? If it was delicious, maybe?
Win-win-win.
If you want to try the Collagen Whey, the Cocoa flavor gives the chocolate addict hiding within a healthy person reason to come out. Grab a tub of the Cocoa Collage Whey, which you can get online or at these stores, put this into your blender and enjoy.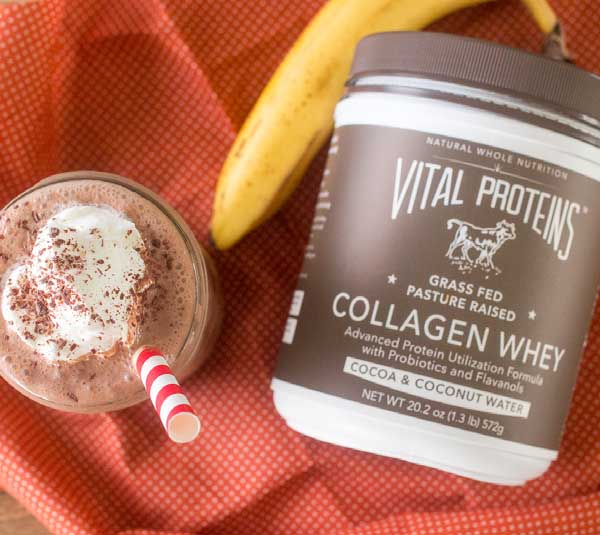 Peanut Butter Cup Protein Smoothie
1 c. almond milk
3 tbsp. organic peanut butter, sunflower butter, or almond butter
2 tbsp. cacao powder
2 scoops Vital Proteins Collagen Whey (Cocoa + Coconut Water)
1 banana, frozen
1 tsp. vanilla extract
Pinch of sea salt
4-6 ice cubes
Optional for extra sweetness: dollop of honey or a few drops of stevia