Blender Soups: A Quick and Healthy Way to Eat Your Veggies This Winter
The temperature outside is dropping and that chilly wind is blowing in. Winter can be a tough time to get your servings of vegetables in – it's hard to dig into that cold, raw salad when it's freezing out.
When the cold season sets in, veggie-heavy soups can be nourishing, grounding and an excellent way to get those servings in.
Using a blender to make pureed vegetable soups is a great way to get a creamy consistency without using cream, cheese or other higher-fat dairy. It also provides a quick and easy way to serve up a variety of combinations.
Want to get creative? Follow the tips below to create your own veggie combinations for tasty and healthy soups:
1. Choose your blender wisely! Using a high-powered blender is best. If you have a Vitamix, it's even easier, as it will heat the soup while it purees, making it ready to eat right away. An immersion blender also works if you decide to cook and combine the ingredients in a large pot.
2. Choose the vegetables to develop the flavor profile.
For a base, use a vegetable in the allium family: onion, shallots, scallions, leeks, garlic, chives.
Pick your veggies: carrots, broccoli, butternut squash, pumpkin, mushrooms, zucchini, peas, spinach, kale, sweet potatoes, white potatoes (be careful not to over blend white potatoes, they can become gummy), tomatoes, parsnips, asparagus – the possibilities are endless!
3. Chop your base vegetable and sauté in a pan with your preferred cooking oil. You can use olive oil or coconut oil to add some great flavor. Just sauté for a few minutes as the veggies softens. Chop up your additional vegetables and add them to the pan to cook for a few more minutes. Add a little salt as you cook, if preferred. No need to chop the vegetables perfectly, as they will be pureed in the blender later.
4. Round out the flavor with something sweet. To add some sweet notes to your soup, include an apple or pear, or try fresh lemon or lime juice for a citrus flavor.
5. Spice it up. Add spices or aromatics such as rosemary, thyme, curry powder, ginger, cumin, or red pepper flakes.
6. Move your veggies from the pan to the blender. Place the cooked vegetable mix into a high powered blender.
7. Make is creamier. To develop even more of a creamy consistency, add beans, cashews (soaked for 2-3 hours and rinsed), silken tofu, canned coconut milk, or avocado to the blender. Adding beans, nuts, or tofu is a great way to add some extra protein and fiber to your soup!
8. Add liquid. To make your soup soupier, choose a liquid such as vegetable or chicken stock, water or canned coconut milk, to the blender.
9. Cover the blender start slow. Blend on the low setting at first, gradually increasing the speed over 1-2 minutes. Blend on the high speed for another 4-5 minutes until smooth. Some high powered blenders, such as a Vitamix, will heat the soup as it blends. If the soup is not heated as it purees, place the blended soup back in the pan to heat, or store the soup for reheating later.
10. Garnish. Try toppings like toasted nuts, fresh cracked pepper, roasted or steamed veggies (chopped or shaved), or crackers.
Not sure where to get started? Try one of these soups below – each one is packed with vitamins, minerals, and antioxidants, and both are dairy- and gluten-free!
Creamy Broccoli & White Bean Soup
Ingredients: 
1 head broccoli (1 pound), cut into florets
2 Tbsp olive oil
1 yellow onion, diced
2 garlic cloves, thinly sliced
1- 15-ounce can cannellini beans or great northern beans, drained
2 1/2 cups vegetable stock
Salt and freshly ground black pepper
Pine nuts or slivered almonds (optional)
Directions:
Steam broccoli florets until tender and bright green, about 3 minutes. Let cool slightly.
Reserve a few small florets for a garnish topping.
In a medium-sized pot, heat the olive oil over medium heat. Saute onion and garlic until translucent, about 5-6 minutes.
Remove pan from heat and place the onion garlic mixture into a blender. Add beans, stock and steamed broccoli in a blender, then puree starting on the low setting and gradually increase the speed to the high setting for about 5 minutes or until the soup is smooth.
Season to taste with salt and pepper. Top soup with the leftover broccoli florets, fresh cracked pepper, or a few toasted pine nuts or slivered almonds.
Coconut Carrot Ginger Soup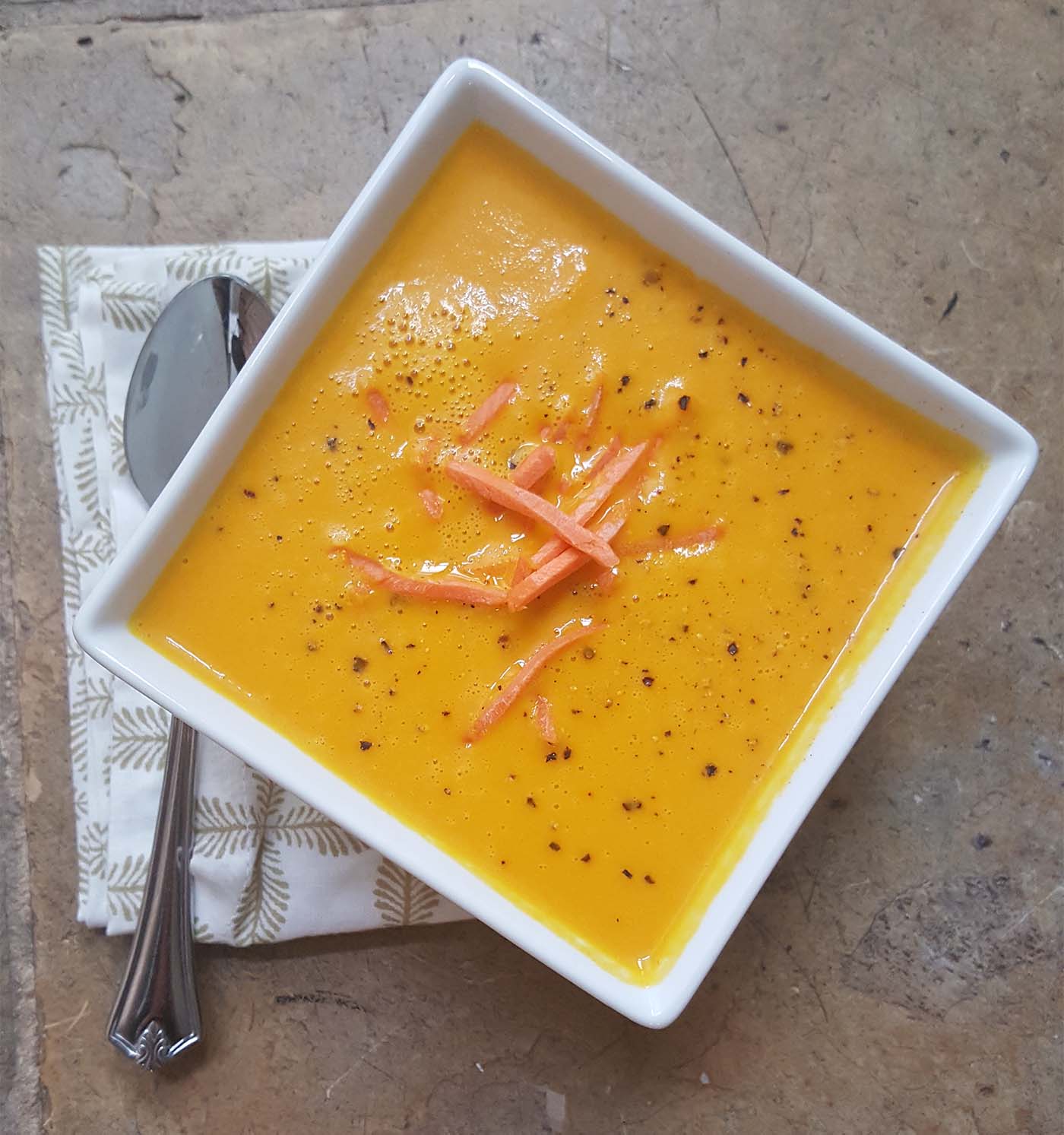 Ingredients
1 Tbsp coconut oil
1 onion, roughly chopped
5 carrots, roughly chopped
2 inch piece ginger root, peeled and roughly chopped
2 cloves garlic, minced
2 cups vegetable stock
15 oz can coconut milk
1 tbsp honey or agave
1 tsp cumin
Pinch of red pepper flakes
Directions
In a medium-sized pan, heat the coconut oil over medium high heat. Sauté the onion, carrots, ginger, and garlic until soft, about 5-7 min.
Transfer mix to a high-powered blender and add the vegetable stock, coconut milk, honey, cumin, and red pepper flakes. Blend on lowest setting, gradually increasing speed to highest setting for about 5 min.
Top with freshly cracked pepper, carrot shavings, cilantro, or a squeeze of lime.