Catching a Wave: What I Learned From Surfing
I grew up in the Land of 10,000 Lakes. But to Midwesterners like me, surfing unsurprisingly seemed like a mysterious hobby reserved for "bros," the characters in the show Rocket Power and people who said things like "Hang ten, dude!" It was never something I imagined myself doing. But in my 23 years of life, I've already surfed — twice.
I can't deny there were butterflies whizzing around in my stomach the first time I surfed. Can you blame me, though? I was mentally preparing to head out into the deep water, quickly jump up onto a board and then ride a wave back to shore. It took physical strength, it took balance, it took timing. They made it look so easy in the movies, but when I was faced with the task, it suddenly seemed daunting.
The first time I surfed was in March of 2013. I was on a spring break trip to Costa Rica and my mom's friend arranged a surfing lesson for four of us — my younger brother Ethan, my "second brother" Michael (an exchange student from South Korea who lived with my mom and Ethan), my then-boyfriend (now husband), Luis and me. After donning our wetshirts, we met on the beach for a short lesson. Our instructor gave us a run-down of surfing 101 which included when to jump up, where to place your feet and how to angle your arms. And off we went into the ocean.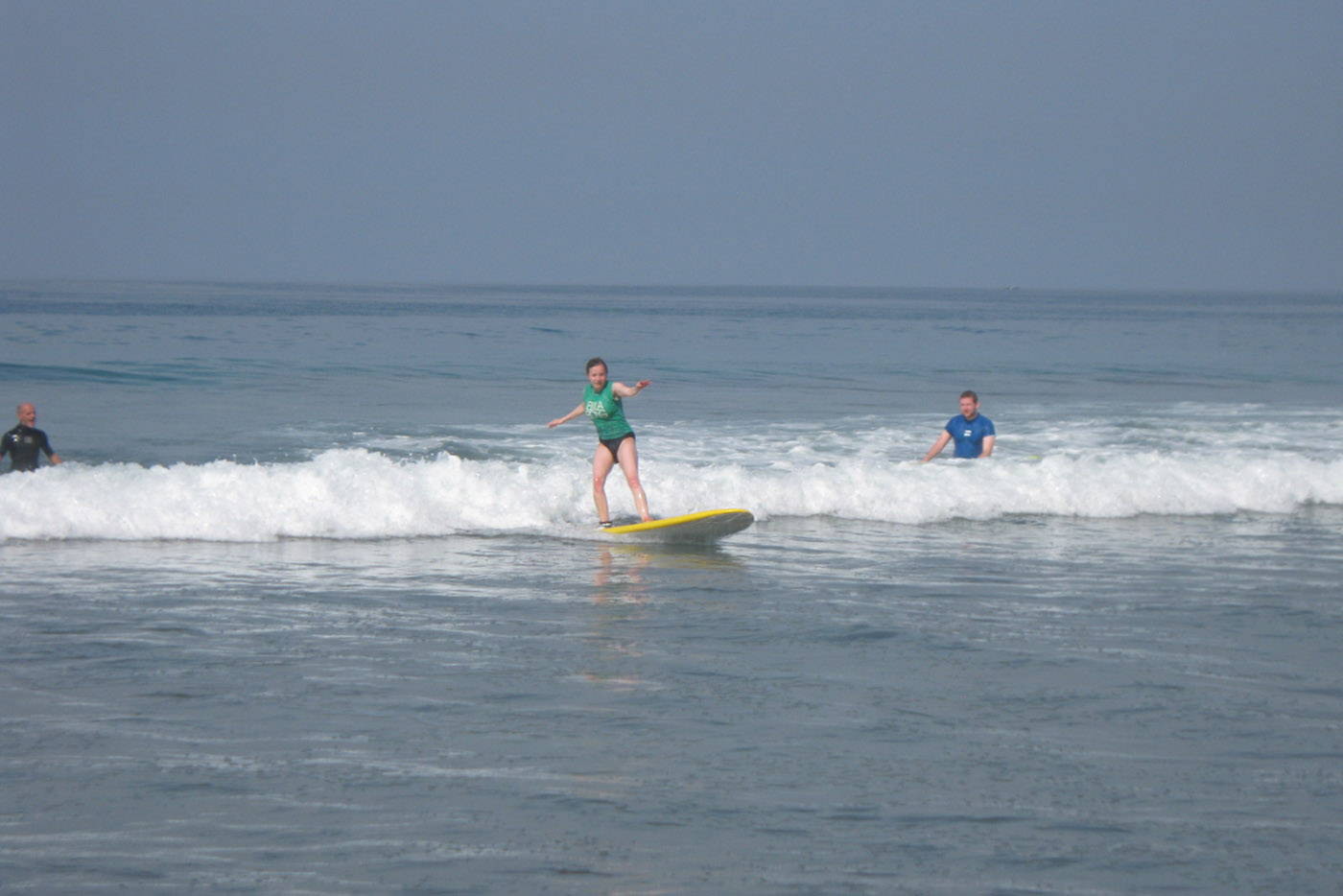 (My mom took this picture of me riding a wave during my first time surfing.)
After many attempts at standing up, I finally timed it right and found myself cruising through the water. "I've done it!" I thought for a split second before I plunged into the blue sea. When I came up to the surface, I felt coated in salt. My eyes stung, my ears and nose were slightly plugged and my lips tasted like someone had poured Morton Salt all over them. But I had done it — I actually stood up on my surfboard. I was determined to do better the next time, so my fellow surfers and I tried again. And again. And again. We left the beach feeling tired but elated by what we'd just accomplished.
I had nearly the same experience this past June when I went surfing for the second time. Luis and I were in Costa Rica again, but this time we were on our honeymoon. Once again, I felt nervous. It'd been more than three years since the last time we surfed, and the prospect of failing tugged at my gut.
Just like before our first surfing experience, our instructor gave us a short briefing on the essentials of surfing before we set out onto the water. The sun was hot on my back and the water was cool as I lay on my stomach on my surfboard, preparing to jump up and catch the wave. When our instructor called out for me to stand, I did. I used my arms to push myself up, positioned my feet, angled my arms, balanced — and rode the wave.
The rest of the lesson was filled with more successful attempts as well as failures. As it turns out, surfing's a little like riding a bike — it's hard to forget how to do. After we emerged from the salty ocean at the end of the lesson, I was drained, thirsty and sunburned. I'd fallen down and been flipped around under water, yet I felt completely overjoyed. Not only was it a blast, but I'd also conquered my fears and stood up on my first try! Luis felt the same way, due in part to the fact that we had more successes than failures during the course of our lesson.
It's no surprise that we felt as content and excited as we did. As LIVESTRONG.com points out, a 2010 study by a California State University researcher examined 107 surfers to identify "how surfing can improve a person's mood and prevent depression and stress." The results? People "described as depressed, angry or stressed become more calm, relaxed and happy after going through a surfing program for a few weeks," and surfers "feel a deeper sense of tranquility, which boosts psychological balance as a whole."
Surfing's benefits also serve as a larger metaphor for life's challenges. "When the conditions of the ocean change, a surfer has to adapt quickly to stay on the board," LIVESTRONG.com claims. "So, surfing is also a mental exercise that can teach a person how to deal with different and changing scenarios."
The physical health advantages of surfing are undeniable, too. Catching a wave is a perfect example of a full body workout. "Your shoulders and upper body get their workout while you're paddling, while your legs get their turn while you are balancing and guiding your board; your core muscles are working hard throughout," according to SurferToday.com.
In addition, "[s]urfing can help to improve your balance, flexibility and stamina." SurfingHandbook.com also notes that surfing can help improve one's cardiovascular health.
For me, surfing was magical. Standing alone atop a surfboard, letting only the ocean water below carry me back to shore, I felt as though I was in a dream. Through my two surfing lessons, I overcame my nerves, acquired a physically and mentally healthy new skill and learned how to ride the waves of life.