Active City Guide: San Francisco and the Bay Area Part Two
Hold up. Have you read part one of our Active City Guide: Bay Area Edition? Make sure you check it out for even more ways to get sweaty in and around San Francisco!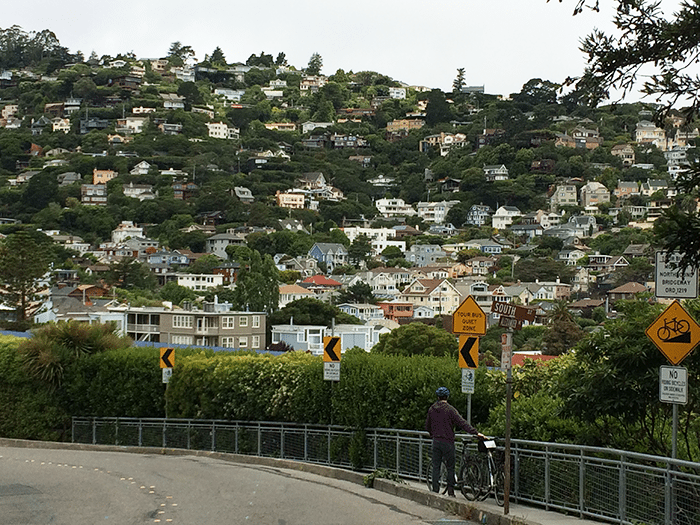 I was lucky enough to visit the Bay Area again recently, and of course, I wanted to try some different fitness activities than last time. Apparently, I forgot that a simple one-mile walk in San Francisco often means summiting an insane hill. When I wasn't panting up the steep slopes or gorging at delicious restaurants (cc: Farmhouse and Gracias Madre), I put my body through its paces with these fun workouts.
Basecamp Fitness
My bestie, who also happens to be my former roommate and early morning workout partner back in the day, had been raving about Basecamp Fitness for months. While I was loath to wake up earlier on my vacation than I normally even do for work, I couldn't pass up the opportunity to re-live the glory days of roommate bonding. Honestly, we were both a little giddy about it – or maybe that was the lack of sleep.
Basecamp Fitness gets you in and out the door in approximately 35 minutes. That's a huge win already. But you better believe you will be working your butt off the entire time. The fast-paced circuit training class targets a different body region or fitness goal each day – think arms and shoulders, chest and back, power, core, legs, etc. – which makes it highly addictive. Mentally, it made me believe that a) I needed to get back into the studio to even things out and b) how bad could today's workout really be? At least it's not legs again!
Ha.
The truth is, every class is a full-body workout because each one-minute strength and cardio portion is interspersed with one minute on the Air Assault Bike, whose special brand of torture Kristen breaks down for us here. It was my first time on an Air Assault Bike, and I kinda liked it, even though the harder you work, the more resistance you encounter. Once I learned about Basecamp's five, six and seven-mile distance goals, I had concrete motivation to push myself. (As a three-day free trial visitor, I wasn't eligible for the mile club shirts, but I made it to five miles anyway, thank you very much.)
After those brutal 60 seconds on the bike, you quickly switch to the floor for a minute of strength training. Who knew 60 seconds could feel so long? There were TRX exercises, squat jumps, ball slams, burpees, chest presses, bicep curls, pushups and about a million other muscle-burning blasters. Then, bam, it was back to the bike. And on. And on. And on.
But only for 30 minutes, which means the pain has an endpoint. Plus the constant moving around makes the workout go quickly. Each class concludes with five minutes of abs and core, and you're done – until the next day.
Start your free trial here. Then join me in petitioning Basecamp to expand to Chicago!
Blazing Saddles
I always assumed biking in San Francisco was a big no-no because of those aforementioned hills. This past trip, I was happily proved wrong. Down on the pier, you can rent bikes from Blazing Saddles, Bike and Roll, Outspoke'n Bike Rentals or Basically Free Bike Rentals. Is this a tourist trap? Maybe. So snap on your fanny packs, grab your cameras and join the hordes of tourists heading to the Golden Gate Bridge two wheels at a time.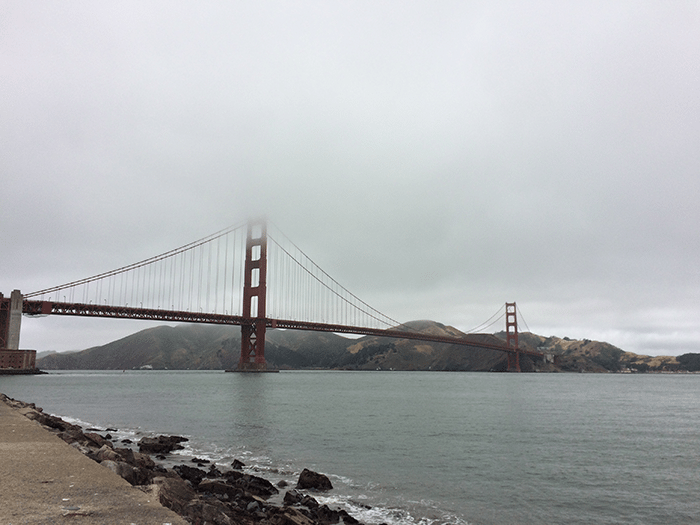 Pro trip: Rent a bike on a weekday if possible. The bridge is (even more) clogged with bikers and pedestrians on the weekends.
Blazing Saddles outfitted us with bikes, helmets, locks, handlebar bags, maps and ferry tickets, and sent us on our way with a merry wave. After an early steep hill that forced me to get out and walk (a consequence of not reducing my gears quickly enough), the rest of the ride was mostly flat or downhill. We stopped often (with many tourist friends) to take selfies with the bridge and snap artsy pics of the bridge and zoom out for panoramic shots of the bridge until finally we were actually on the famous bridge itself. Where, naturally, we took more photos.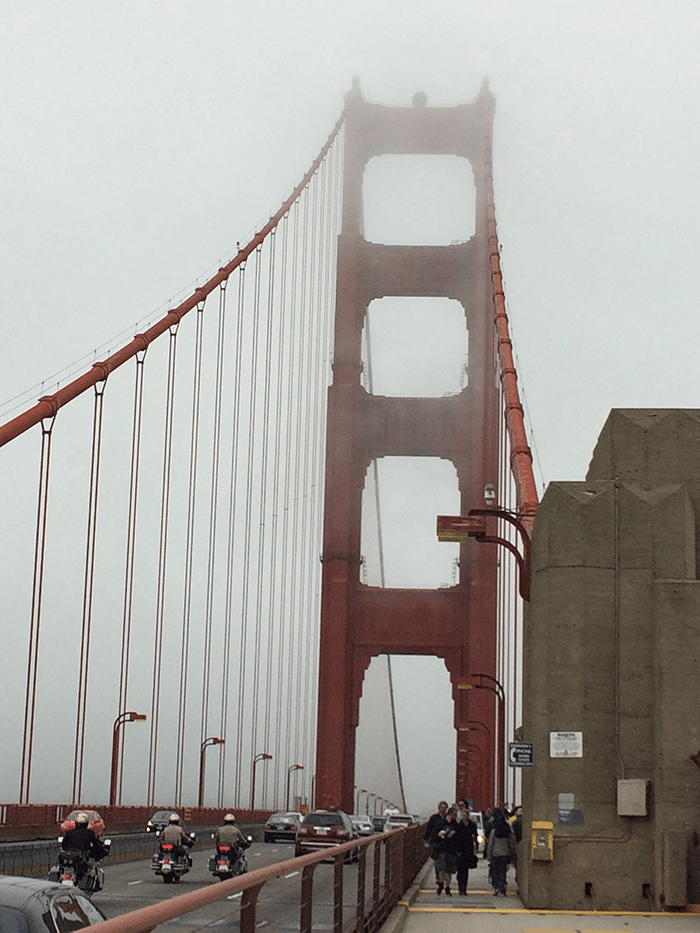 The bridge deposited us in Marin County, where we cruised to a pit stop at Bar Bocce in Sausalito. With pizza-filled stomachs, we rolled forth a bit more slowly, and got a teensy bit lost, but eventually ended up back on the correct path. A detour onto the road brought us all the way into the cute enclave of Mill Valley and the shady turnaround point of Old Mill Park. Such majestic trees!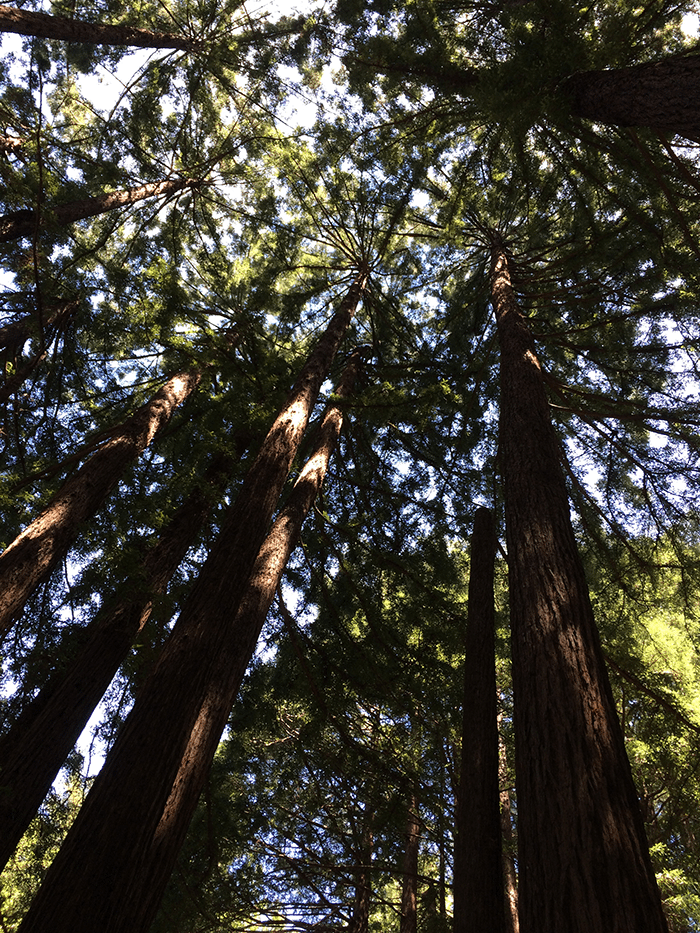 By this point, my legs were really feeling it (I blame Basecamp), and I limped along after my husband, who slowed down so I could draft off him – except when he slowed down, I unconsciously slowed down even more, not realizing he was trying to give me an assist. Anyhow, we made it to the ferry in Sausalito, and from there, it was just a few more miles back to Blazing Saddles, for a grand total of 20 miles. Bay area bike tour complete!
Dance Practice
I'm throwing dance practice into this guide even though it's not specific to San Fran. While in town, I had to learn/practice two dances for my dear friend's baraat, one of the best parts of Hindu weddings. Turns out dance practice at 10 pm on a Tuesday evening tends to rankle the neighbors (who used a broom to bang on their ceiling aka my bestie's floor) and also results in more sweat than you'd think from a few spins, jumps and hip thrusts.
If you're ready to shake your own tail feathers in San Fran, sign up for a class at ODC Rhythm & Motion, Symbolic Dance & Fitness, City Dance Studios or Alonzo King LINES Dance Center.
You'll be ready for "So You Think You Can Dance" in no time.
What's your favorite way to sweat in the Bay Area? Share your suggestions below, and don't forget to read part one of our Bay Area Fitness Guide before your next visit!