Amp up Nutrient Absorption With These Food Combos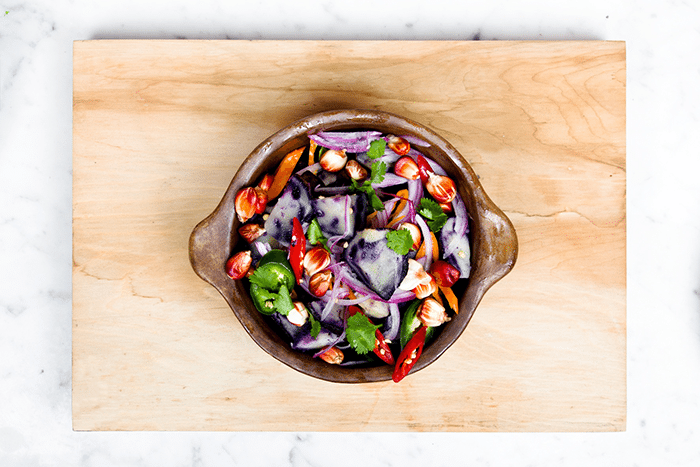 I got a text today from my littlest sister. It was a photo of a package of Trader Joe's Chocolate Coconut Almonds and this photo teaser got me thinking about my favorite food combos. The chocolate with coconut and almond is certainly a trifecta of flavor … then there is beer and cheese, pesto and scrambled eggs, onion and garlic, pepper jelly and cornbread … it's still five hours until lunchtime, and I'm already thinking about dinner.
My tongue certainly knows what it loves most, but what is best for my tummy? What foods pair best not just for my tastebuds, but for my health as well? I did some scrounging, and found some ways to pair nutrients that will get your tastebuds to shimmy while also helping your body to absorb the vitamins and minerals most efficiently …
Vitamin C and E: Foods with Vitamin C (such as broccoli, bell peppers, kiwi and dark leafy greens) and Vitamin E (such as almonds, hazelnuts and sunflower seeds) paired together help slow the oxidation of cholesterol, arming you against heart disease. Check out the Food Network's Sunny Anderson's Sautéed Broccoli and Almonds or The Roasted Root's Spring Green Salad with Kiwi for a couple of great options to marry the two vitamins.
Folic Acid, B6 and B12: You've got a triple threat when you combine folic acid (making a reappearance are dark leafy greens, broccoli and we're adding asparagus), B6 (think tuna, turkey, beef and chicken) and B12 (shellfish, liver and smoked salmon) as the three work together to protect the linings of your arteries. The Bs are also essential for boosting your energy; check out these recipes from Daily Burn.
Vitamin C and phytoestrogen: If you are watching your LDL (that is, your "bad" cholesterol) you may pay special attention to making a duo of foods with Vitamin C and phytoestrogen (found in foods like whole grains, pistachios, flaxseed and peaches). This Flax Seed Smoothie from allrecipes is a winner. I encourage you to put a scoop of flax seed in your smoothies often; with other fruity flavors, you don't even taste it, and in addition to the phytoestrogen you get a good dose of Omega-3s.
Iron and Vitamin C: It is common knowledge for many, but I just learned last year how important it is to pair iron (found abundantly in red meat, spinach and raisins) with Vitamin C. This Stuffed Bell Peppers recipe from foodiecrush is where it's at for dinner tonight in my casa. (The bell peppers are boasting all of the Vitamin C here.)
Vitamin K and healthy fats: We don't hear much about Vitamin K, but it is important in bone formation and blood clotting and it needs healthy fats to do its job. If you're looking for a kick of K, pick up some kale, asparagus or green beans, and then pair it with nuts or seeds. This Kale Salad with Butternut Squash, Pomegranate and Pumpkin Seeds is the perfect refreshing spring salad for that Memorial Day BBQ.
While I am of a literary mind, I find food science fascinating. If you are a foodie interested in reading more about the chemistry of various nutrients, check out WebMD's "Food Synergy: Nutrients That Work Better Together." Registered Dietician and Nutritionist Emily Cope at Casa de Karma also details even more dynamite food duos on her blog. Finally, Karen Olson for Experience L!fe has written an engaging and informative article entitled "Questionable Food Combos" about what to do and not to do to aid in better digestion, especially if you are dealing with an inflammatory disease such as ulcerative colitis.
And with that, friends, I find myself at snack time. I'm rocking the C and E with a fruit and nut fusion. Bon apetit!