Noodle-Free Kugel Recipe for a Healthy Hanukkah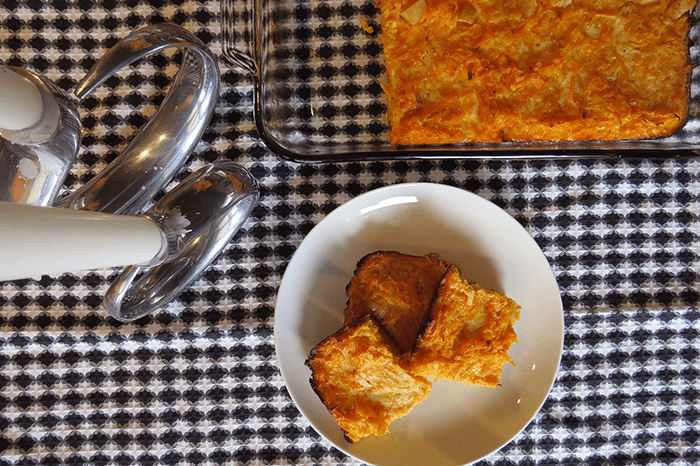 When I started dating Hubs, I suddenly was pulled into a second set of holiday traditions. Now, I get to enjoy the flavors that come along with Jewish traditions along with everything I grew up with. Double the food, double the fun. Some favorites include matzo ball soup, beef brisket and kugel, a sweet noodle-based pudding that my bonus mom (known to some as a mother-in-law) makes a crave-able version of.
As I thought about the Hanukkah dishes that I could attempt to put a healthier spin on this holiday season, I knew that I couldn't touch the soup and the brisket is STRICTLY off limits. So, I went in search of a kugel that was whole-foods based and noodle-free. I found a delicious, time-tested noodle-free Kugel Recipe in The New York Times and adapted it to fit my pan and what I wanted.
As I explained to the Hubs that I was changing the kugel, I had a near in-kitchen revolt on my hands.
"Kugel has noodles," he explained.
"This kugel does not," I offered as I grated a sweet potato into a mixing bowl.
"If we have kids one day, they need to have a chance to try the traditional version of these recipes," he begged.
"They'll be fine."
When this version made it out of the oven and I cut through the crispy top layer (Hubs loves anything with crispy edges or crust), I saw his ears perk up. It was love – or at least acceptance of this alien dish – at first bite.
As you read through the ingredients, remember, this recipe does still have butter for three reasons: 1. it's a healthier version, 2. butter is delicious and 3. It's fine in moderation.
Enjoy!
Ingredients:
6 eggs
Salt to taste
3 large sweet potatoes peeled and grated
3 slightly tart apples, (I went with Granny Smith), peeled, cored and grated
1 pear, cubed (you can use your favorite fruit here – Bonus Mom adds maraschino cherries to hers)
2 tablespoon fresh lemon juice
2 tablespoon honey
3 to 4 tablespoons melted unsalted butter, as needed
Directions:
Pre-heat oven to 375 degree Fahrenheit
Use butter to grease a 3 quart baking pan and set aside
Grate peeled sweet potatoes and peeled and cored apples into a mixing bowl, also add the cubed pear
In a separate bowl, beat eggs with salt (I used about 1 1/2 TBS)
Melt butter and mix 2 TBS of melted butter with 2 TBS honey
Add egg mixture and butter mixture into the grated mixture. Mix well.
Cover the pan with foil and cook for 45 minutes. After 45 minutes has passed, remove the foil covering brush the top with butter and cook an additional 20 minutes. Brush the top with butter every 5 minutes.
Enjoy!