Independence Day Recipes for Healthy Entertaining
Backyard. BBQ. Friends. Family. American flags. Picnics. Sunshine. Lakeside. Red solo cups. Pontoon boat. Dips galore. Beer. Parades. Hot dogs. Corn on the cob. Jean shorts (jorts!). Warm weather. Brownies. Music. Cornhole and yard games. Fireworks. Red. White. Blue.
The Fourth of July is absolutely one of my all time favorite holidays of the year. Listing the words above immediately sends me to my happy place. It is a time of celebration, a kick off to summer, and a day to ultimately relax and enjoy the outdoors with your friends and family – wherever that may be! However, on that light note, holiday's past have not done wonders with my stomach. Rib eating contests, one too many hotdogs and taking on eating a tray of mini brownies results in me waking up the next morning feeling bloated, tired and in dire need of a major detox.
A great lesson I've learned through my years of splurging on July fourth is that we absolutely do not have to eat these tempting, unhealthy foods in order to enjoy ourselves! There are so many alternatively healthy options that will have your friends running towards your dish because it looks colorful, vibrant and delicious. This year, stay clear of the cold artichoke dips and room temperature chicken salads … go for these Independence Day recipes that are both appealing to the eye and are going to make you feel good and energized all day long!
I believe I've already mentioned brownies twice thus far and there is a good reason for that. I associate this holiday with all of the foods above because they're what I grew up knowing. Simply because of the occasion, it is still really hard for me to see a platter of brownies and pass them up. Insert – healthy sweet potato brownies! I found this recipe on Deliciously Ella and started jumping up and down with joy.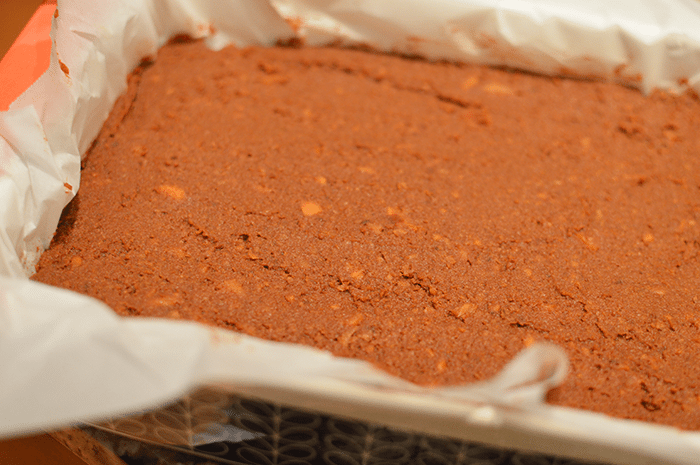 With only six natural and healthy ingredients, these "brownies" are both vegan and gluten-free, a treat that my entire family can enjoy. The texture is dense and gooey, with a chocolately sweetness from the cacao. Not only are you getting enough vitamin A to last you an entire day, but the fiber will keep you too full to munch on the other desserts. AND the cacao powder is packed-full of antioxidants! Most importantly, did I mention that they are down right scrumptious? Cut the brownies into small cubes and skewer with blueberries and strawberries for a Pinterest worthy holiday treat. #winning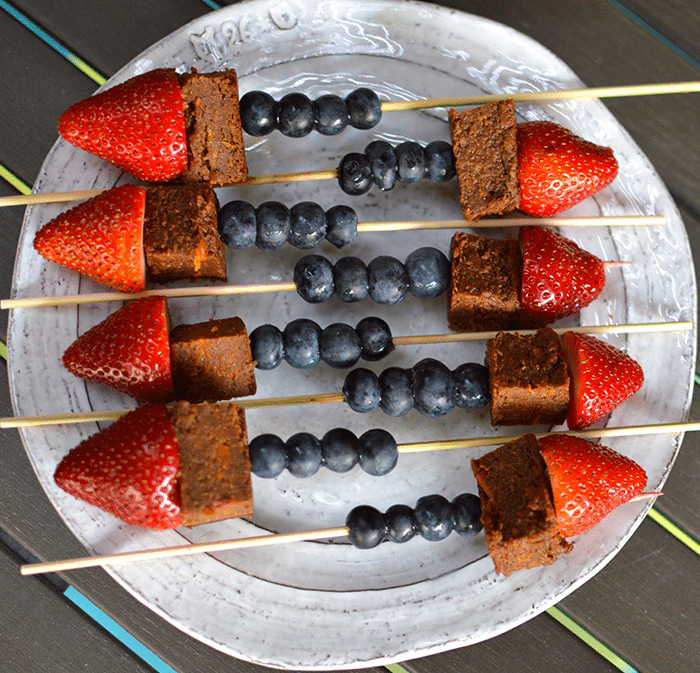 My other favorite food on July Fourth is fresh tomato, corn and bean salsa. My mom and I originally created this when thinking up a festive red, white and blue dish for a patio party. It is simple, fresh, colorful and all the vegetables can be bought at your local farmer's market for less than 8 dollars.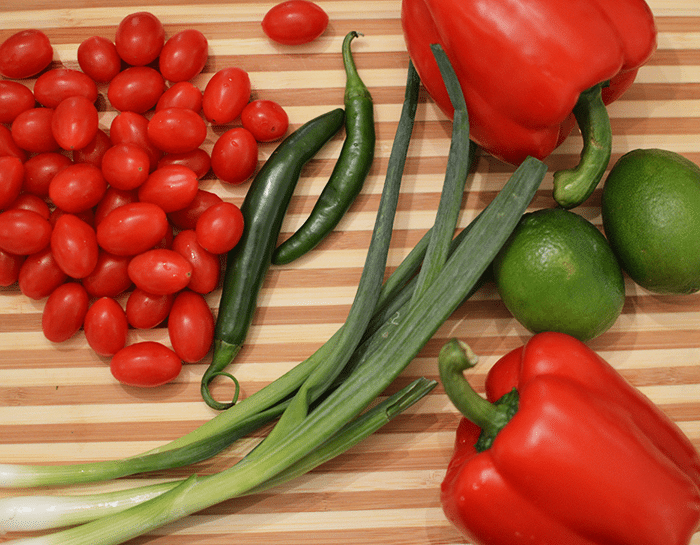 It is an immensely flavorful salsa that will keep your friends coming back for more. And don't worry; this recipe makes a HUGE bowlful, enough to accommodate the hungriest of parties.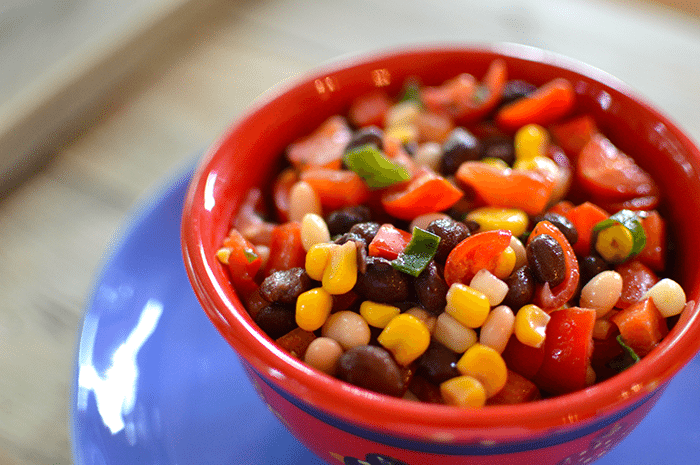 Healthy eating never tasted so good.
Sweet Potato Brownies 
Ingredients:
2 large sweet potatoes
2/3 cup almond flour
½ cup brown rice flour
14 medjool dates, pitted
4 Tbsp. raw cacao powder
3 Tbsp. pure maple syrup (or substitute with agave)
Pinch of salt
Optional: Dark cacao chips, crushed walnuts, or powdered sugar to top
 Directions:
Preheat the oven to 400 degrees. Bake the sweet potatoes for about 45 minutes, or until tender when you can piece with a fork.
Peel sweet potatoes and cube into 1-2 inch squares.
Pit the dates and add to a food processer. Blend the sweet potatoes and dates until a smooth, creamy texture is formed.
In a large mixing bowl, combine the flours, cacao, salt and maple syrup. Stir well.
Add the date/sweet potato wet mix to the dry ingredients and combine until all wet.
Optional: Fold in cacao chips or crushed walnuts. Dust with powdered sugar when cooling.
Line a 9×11 or 8×8 baking dish with parchment paper and spread "brownie" mix evenly throughout.
Cook for 30-40 minutes at 350F, or until a fork comes out dry when pierced.
Allow to cool for 15-20 minutes (in order to settle and stick together).
Fourth of July: On a skewer – stack blueberries, a brownie bite and strawberry for a festive treat!
Fresh tomato, corn & bean salsa
Ingredients:
2 large red peppers, diced
2 Serrano peppers, diced
1 jalapeño (optional), seeded and minced
2 cups fresh corn
1 pkg. (8-10 oz.) cherry tomatoes, quartered
2 cans black beans, no salt added, rinsed and drained
1 can white beans, no salt added, rinsed and drained
Scallions (small bunch), chopped
2 Limes
Salt and pepper
Directions:
Chop all fresh ingredients.
Mix together in large mixing bowl, adding beans last.
Squeeze the juice of two limes over salsa and stir.
Season with salt and pepper, to taste.