The Lunch Bunch: Mexican Casserole Recipe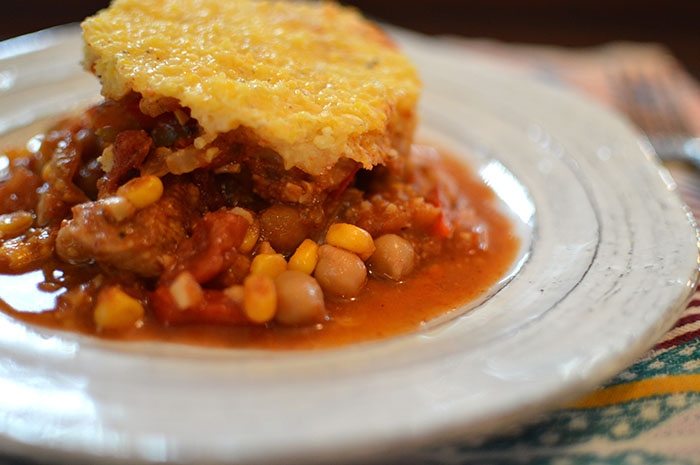 Cinco de Mayo is on my brain. With this week full of Mexican-inspired cuisine, fresh guacamole, corn chips and margaritas, I was craving another flavorful Mexican dish for our Lunch Bunch. Now, I hope you won't be tired of all these foods by the time you make this recipe on Sunday and I promise you that I'm not! This Mexican casserole recipe is so good I could eat it twice … or thrice for next week's lunches.
By now, I think you all have a sense of what types of foods I enjoy making in my kitchen (if not, get a taste in previous Lunch Bunch guides). The labor intensity scale is a big deciding factor, as I love simplistic meals and one-pot wonders for my own meal prep. I also love Mexican food! Maybe it's the fragrant spices that fill my kitchen or the versatility that comes with the recipes … but there is always a way to mix up the meal. I dubbed this recipe a casserole since I made it all in one pot and then poured it into one big baking dish. Easy as pie.
Another trick to meal planning is to make recipes with ingredients that you have on hand. Let that beautiful pantry that you've worked so hard to build be your partner, not enemy! For me, it's not so economical to be splurging each and every week on new one-off ingredients that I've never used before. If I can get away with picking up simply 3-4 fresh ingredients for my new recipe (what I did this week) since I already have everything else on hand, I save a huge amount of time and money!
I don't want to discourage creativity, because I enjoy nothing more than trying something new in my kitchen (that's how we learn, right?), but as far as meal prep goes – we want a recipe that is quick, simple, budget-friendly and produces a high quantity of meals.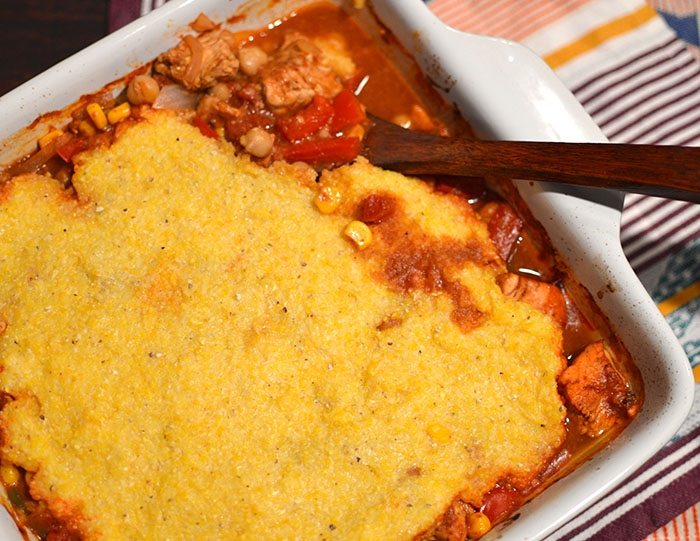 I made this Mexican casserole gluten-free and dairy-free due to my own food sensitivities, but feel free to add a bit of cheese on top to "gild the lily" if you'd like. Polenta makes for a wonderful gluten-free, healthy alternative to any piecrust and really lightens up the dish for springtime. This meal packs a ton of flavor, protein and fiber with very little fat and few calories.
May is here. It's time to stop hibernating, get outside and take advantage of this gorgeous weather, outdoor patios and the farmers' markets coming our way very soon! So grab the printable shopping and packing guide here and don't spend too much time inside at the grocery store on Sunday!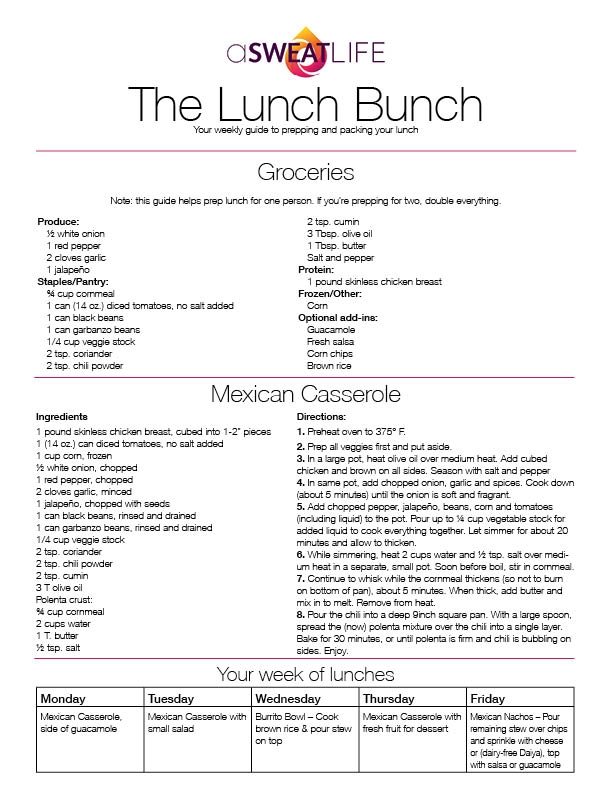 Grocery List:
Produce:
½ white onion
1 red pepper
2
cloves garlic
1 jalapeño
Protein/Dairy:
1
pound skinless chicken breast
Pantry:
¾ cup cornmeal
1 can (14 oz.) diced tomatoes, no salt added
1 can black beans
1 can garbanzo beans
1/4
cup veggie stock
2
tsp. coriander
2 tsp. chili powder
2 tsp. cumin
3
Tbsp. olive oil
1 Tbsp. butter
Salt and pepper
Frozen/Other:
Optional add-ins:
Guacamole
Fresh salsa
Corn chips
Brown rice
Recipe:
Ingredients:
1
pound skinless chicken breast, cubed into 1-2" pieces
1 (14 oz.) can diced tomatoes, no salt added
1 cup corn, frozen
½ white onion, chopped
1 red pepper, chopped
2
cloves garlic, minced
1 jalapeño, chopped with seeds
1 can black beans, rinsed and drained
1 can garbanzo beans, rinsed and drained
1/4
cup veggie stock
2
tsp. coriander
2 tsp. chili powder
2 tsp. cumin
3
T olive oil
Polenta crust:
¾ cup cornmeal
2
cups water
1
T. butter
½ tsp. salt
Directions:
Preheat oven to 375° F.
Prep all veggies first and put aside.
In a large pot, heat olive oil over medium heat. Add cubed chicken and brown on all sides. Season with salt and pepper
In same pot, add chopped onion, garlic and spices. Cook down (about 5 minutes) until the onion is soft and fragrant.
Add chopped pepper, jalapeño, beans, corn and tomatoes (including liquid) to the pot. Pour up to ¼ cup vegetable stock for added liquid to cook everything together. Let simmer for about 20 minutes and allow to thicken.
While simmering, heat 2 cups water and ½ tsp. salt over medium heat in a separate, small pot. Soon before boil, stir in cornmeal. Continue to whisk while the cornmeal thickens (so not to burn on bottom of pan), about 5 minutes. When thick, add butter and mix in to melt. Remove from heat.
Pour the chili into a deep 9inch square pan. With a large spoon, spread the (now) polenta mixture over the chili into a single layer.
Bake for 30 minutes, or until polenta is firm and chili is bubbling on sides. Enjoy.