The Lunch Bunch: Mediterranean Tuna Salad Recipe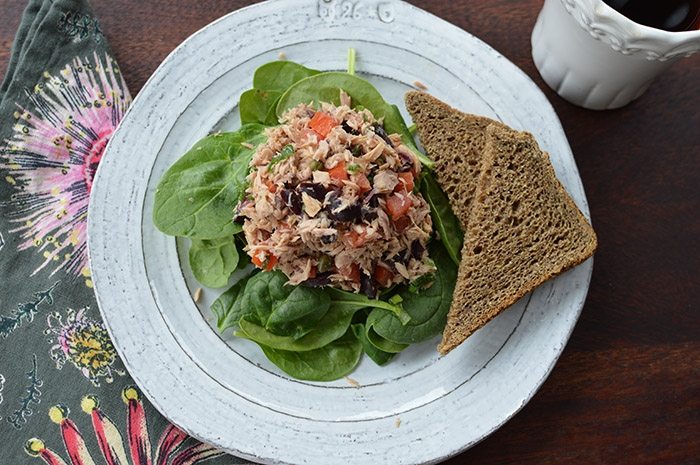 "Time is what we want most, but what we use the worst." Do you ever feel like you're counting down to that day or afternoon off when you can finally knock out that entire to-do list … then suddenly it comes and goes with only about 50 percent of those things checked-off? Having a healthy, balanced lifestyle that allows you to work hard, play hard AND have time to relax can be a challenge at times. It can be tough to learn how to use your time wisely (I'm seriously still taking tips), but why don't we first start by making food prep as easy as possible. Having brain food on-hand always help me tackle everything else on my to-do list with much more ease … and at the very least, keeps me from being hangry!
My biggest challenge on a busy day is that I try to take on too much in too little time. For instance, I have only one hour before work, but I think it's a great idea to attempt to bake something new in a hurry … well, that almost never turns out well. All I'm left with is a dirty kitchen and an empty stomach! For this week's lunch bunch, I'm taking it as easy as possible and being realistic with the busy week ahead. This Mediterranean Tuna Salad recipe took me all of about 20 minutes to make and gives me little excuse not to have lunch prep ready for my meals to come!
A few weeks ago I also mentioned that I was making a big change in my diet by cutting out dairy and soy. It turns out that I have food sensitivity to both soy and casein (the protein found in most dairy) and this has been giving me a lot of trouble the past six months. Well, I'm happy to say that I'm already feeling SO much better by eliminating my trouble food! This change has not come easy though…especially when my quick morning grabs use to involve Greek yogurt or other items on my current "no" list. I had to start re-thinking positively and focusing on of all my YES foods that I can also make on the fly. This dairy-free tuna salad, adapted from Factor 75, is not only a perfect change, but is a delicious recipe that I'm so excited to share!
In this Mediterranean tuna salad, we're eliminating the mayonnaise and substituting this with lemon and heart-healthy extra-virgin olive oil. I know it doesn't sound like much, but with the salty capers, olives and fresh tomatoes and onions … the flavors will not disappoint. The recipe yields about three to four servings, perfect for a week when you're traveling or when you have other lunches scheduled. The tuna salad is not only light on calories and free of the common food allergens, but it's extremely easy on your wallet.
Start next week off right by saving both time and money on this healthy, protein-packed lunch bunch. Get the downloadable packing a prepping guide.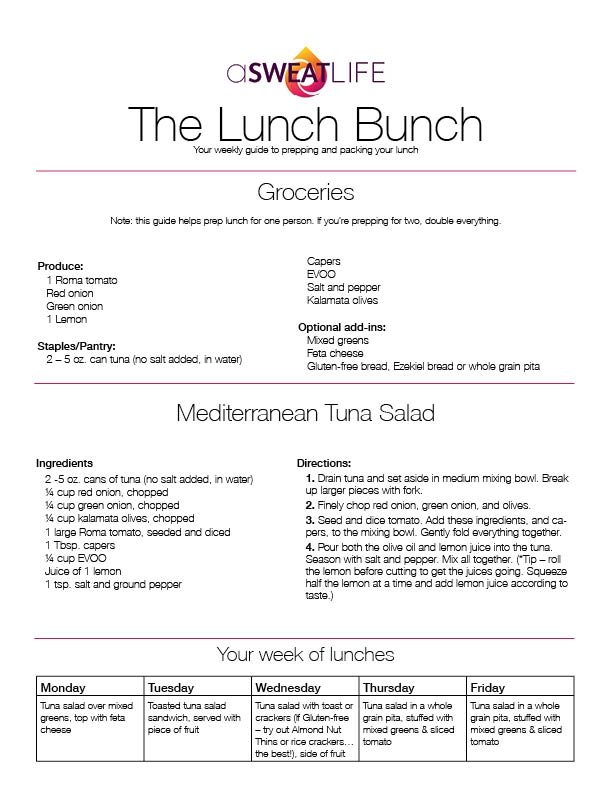 Grocery List:
Produce:
1 Roma tomato
Red onion
Green onion
1 Lemon
Pantry:
2 – 5 oz. can tuna (no salt added, in water)
Capers
EVOO
Salt and pepper
Other:
Optional add-ins:
Mixed greens
Feta cheese
Gluten-free bread, Ezekiel bread or whole grain pita
Recipe:
Ingredients:
2 -5 oz. cans of tuna (no salt added, in water)
¼ cup red onion, chopped
¼ cup green onion, chopped
¼ cup kalamata olives, chopped
1 large Roma tomato, seeded and diced
1 Tbsp. capers
¼ cup EVOO
Juice of 1 lemon
1 tsp. salt and ground pepper
Directions:
Drain tuna and set aside in medium mixing bowl. Break up larger pieces with fork.
Finely chop red onion, green onion, and olives. Seed and dice tomato. Add these ingredients, and capers, to the mixing bowl. Gently fold everything together.
Pour both the olive oil and lemon juice into the tuna. Season with salt and pepper. Mix all together. (*Tip – roll the lemon before cutting to get the juices going. Squeeze half the lemon at a time and add lemon juice according to taste.)
Recipe adapted from Factor75