The Lunch Bunch: Veggie Polenta Lasagna Recipe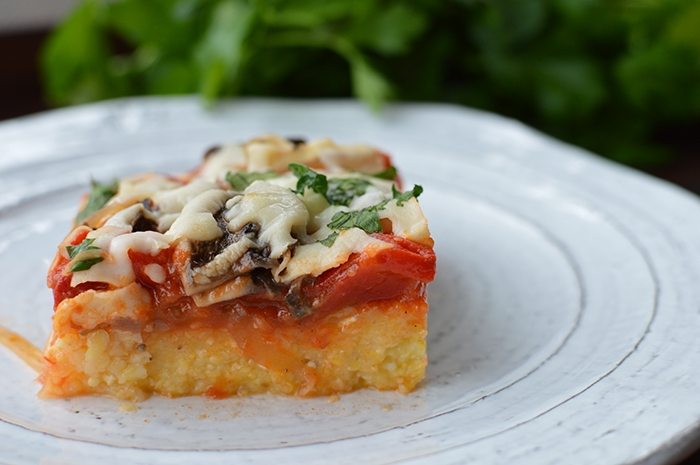 My biggest hurdle to overcome after returning from vacation is getting back on a food plan. During my week in Florida, I was indulging in fresh seafood each and every night paired with delicious salads and colorful veggies from the farmers market. (Sounds delicious, right?!) Well, you can imagine my disappointment when I returned back to a chilly Chicago after eight days and opened my fridge to see the vast empty space … just a few Greek yogurts, green tea and almond butter aren't going to make the cut!
The first few days back from vacation can seem very hectic with a packed work and social calendar. Does anyone else believe that we should get a day off from our vacation to get prepped for the week? Sounds like a perfect life plan to me.
In my holiday daze, I didn't have time to do much grocery shopping and thus needed a quick, easy meal. I found an idea for this veggie polenta lasagna recipe and it was exactly what I needed. With only seven ingredients, many of which I already had on hand, I was able to gather everything I needed in no time!
With the four layers of cornmeal, marinara sauce, vegetables and cheese – this Italian inspired recipe takes on a similar assembly as lasagna. I personally love it because it is gluten-free and such a light dish to pair with other protein or veggie sources for lunch. Stone ground cornmeal (or whole grain) means that this cornmeal contains both its kernel and germ and because of this, retains much of its fiber content. It is also significant to note that cornmeal is a great source of iron, a nutrient in which woman are commonly deficient.
I've made polenta by simply mixing the cornmeal with water and then boiling for a good 10-15 minutes to allow it to thicken. If you're on a time crunch like me, make the polenta the night before and allow it to thicken overnight in your refrigerator before finishing the rest of the recipe the following day. Polenta is a great alternative to processed grains and flours. Get creative, try out this grain as a substitute for pasta, pizza crust, muffins, or as a side with soup or chili – it is a simple and tasty gluten-free alternative to add to your list with quinoa, rice and the potato family!
Now, get cooking! Get a downloadable weekly planning and prep guide here.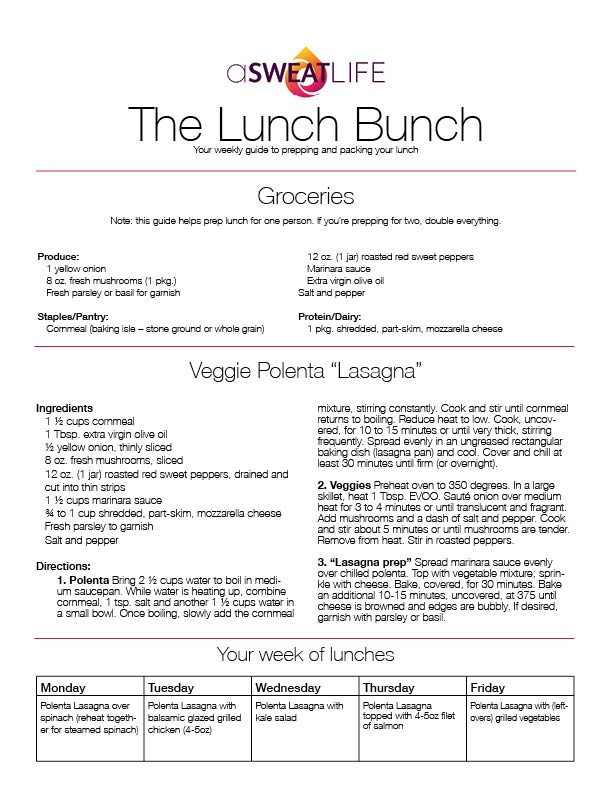 Grocery List:
Produce:
1 yellow onion
8 oz. fresh mushrooms (1 pkg.)
Fresh parsley or basil for garnish
Protein/Dairy:
1 pkg. shredded, part-skim, mozzarella cheese
Pantry:
Cornmeal (baking isle – stone ground or whole grain)
12 oz. (1 jar) roasted red sweet peppers
Marinara sauce
Extra virgin olive oil
Salt and pepper
Recipe:
Ingredients:
1 ½ cups cornmeal
1 Tbsp. extra virgin olive oil
½ yellow onion, thinly sliced
8 oz. fresh mushrooms, sliced
12 oz. (1 jar) roasted red sweet peppers, drained and cut into thin strips
1 ½ cups marinara sauce
¾ to 1 cup shredded, part-skim, mozzarella cheese
Fresh parsley to garnish
Salt and pepper
Directions:
Polenta: Bring 2 ½ cups water to boil in medium saucepan. While water is heating up, combine cornmeal, 1 tsp. salt and another 1 ½ cups water in a small bowl. Once boiling, slowly add the cornmeal mixture, stirring constantly. Cook and stir until cornmeal returns to boiling. Reduce heat to low. Cook, uncovered, for 10 to 15 minutes or until very thick, stirring frequently. Spread evenly in an ungreased rectangular baking dish (lasagna pan) and cool. Cover and chill at least 30 minutes until firm (or overnight).
Veggies: Preheat oven to 350 degrees. In a large skillet, heat 1 Tbsp. EVOO. Sauté onion over medium heat for 3 to 4 minutes or until translucent and fragrant. Add mushrooms and a dash of salt and pepper. Cook and stir about 5 minutes or until mushrooms are tender. Remove from heat. Stir in roasted peppers.
"Lasagna prep": Spread marinara sauce evenly over chilled polenta. Top with vegetable mixture; sprinkle with cheese. Bake, covered, for 30 minutes. Bake an additional 10-15 minutes, uncovered, at 375 until cheese is browned and edges are bubbly. If desired, garnish with parsley or basil.
Recipe adapted from Better Homes and Gardens.