The Lunch Bunch: Healthy Falafel Patties Recipe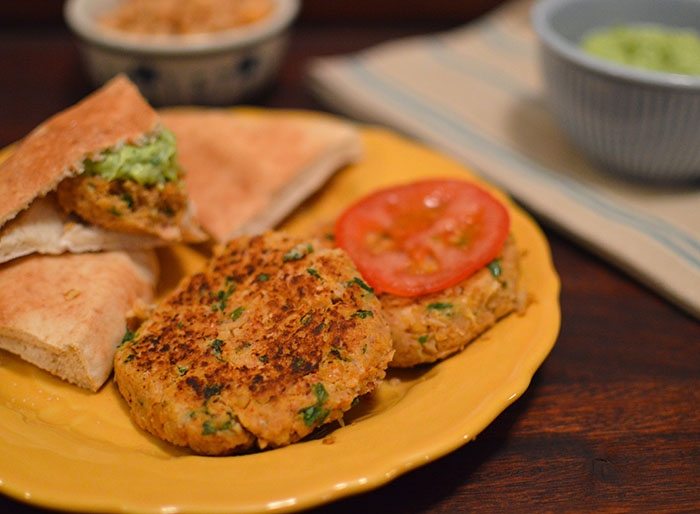 Take out food is one of the easiest ways to quickly go over your food budget. We run out the door in the morning with our coffee and granola bar in hand and quickly set ourselves up for the not-so-great decision-making come lunchtime. Not only did we miss our power breakfast, but our mid-morning blood sugar crash has the fast-food restaurants near work looking much more appealing and convenient. This is exactly why meal planning is so important. Once the convenience factor is taken out and we have our food plan in place, those fried empanadas or falafel are easy to say no to!
Yes, I said falafel … One my favorite types of take out food used to be Middle Eastern. A full vegetable platter of fried falafel, hummus, tahini and rice was hard to pass up, until 30 minutes later when my stomach started aching. When you have a clean diet and eat well, and feel better, throughout the week – fried food is hard to splurge on because of the inflammation it causes your GI system. If you ask any of my successful weight loss clients who ate fast food in the past, they will tell you that they no longer follow those unhealthy habits simply for the reason that, the food does not make them feel well. Crazy, huh?! That once we start eating clean we will continue wanting to do so?! Your gut is healthier and so are you! And you feel it with all the energy you have! With a healthy GI system that is accustomed to fresh foods and fiber-rich veggies, you quickly notice these inflammation causing foods as they cause damage and make you feel uncomfortable. Cue lifestyle change.
Okay, so now that we're all on the same page about clean eating, I've made falafel for this week's lunch bunch. I was missing this Middle Eastern flavor of chickpeas, olive oil, fresh herbs and spices, and came up with my healthy (non-fried), low calorie version! These patties are more like burgers and go well with a tangy spread, stuffed in a whole-wheat pita. (If you are gluten free, try making a wrap with a GF corn tortilla). Falafel is a great main dish for your lunch because it is packed full of plant-based proteins, heart healthy fats, fiber and carbohydrates. Feel free to mix it up with different sauces and veggies throughout the week to keep the meal exciting. I whipped up an avocado cream via Mckel Hill at nutritionstripped.com that I absolutely love! Enjoy this week's lunch bunch – a healthy falafel patties recipes.
Grab your lunch prepping tool here.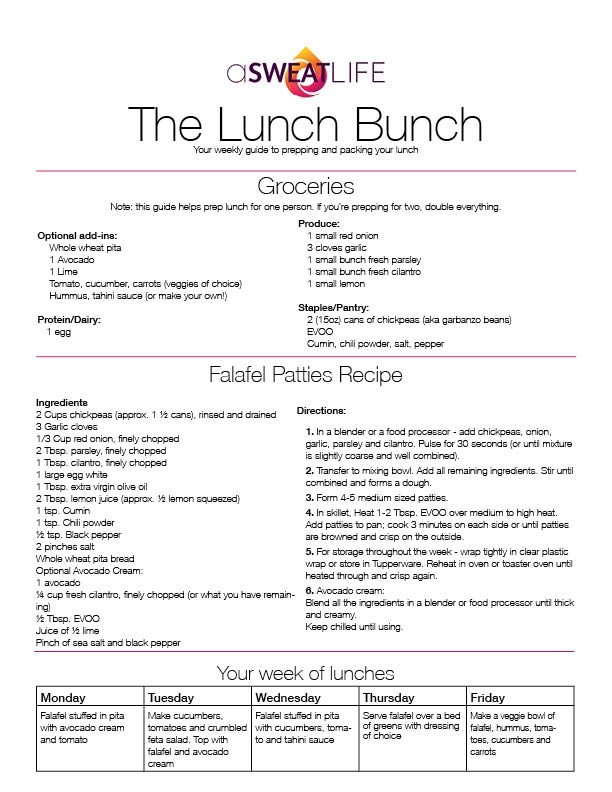 Grocery List:
Produce:
1 small red onion
3 cloves garlic
1 small bunch fresh parsley
1 small bunch fresh cilantro
1 small lemon
Protein/Dairy:
Pantry:
2 (15oz) cans of chickpeas (aka garbanzo beans)
EVOO
Cumin, chili powder, salt, pepper
Optional add-ins:
Whole wheat pita
1 Avocado
1 Lime
Tomato, cucumber, carrots (veggies of choice)
Hummus, tahini sauce (or make your own!)
Recipe:
Ingredients
2 Cups chickpeas (approx. 1 ½ cans), rinsed and drained
3 Garlic cloves
1/3 Cup red onion, finely chopped
2 Tbsp. parsley, finely chopped
1 Tbsp. cilantro, finely chopped
1 large egg white
1 Tbsp. extra virgin olive oil
2 Tbsp. lemon juice (approx. ½ lemon squeezed)
1 tsp. Cumin
1 tsp. Chili powder
½ tsp. Black pepper
2 pinches salt
Whole wheat pita bread
Optional Avocado Cream:

1 avocado
¼ cup fresh cilantro, finely chopped (or what you have remaining)
½ Tbsp. EVOO
Juice of ½ lime
Pinch of sea salt and black pepper
Directions:
In a blender or a food processor – add chickpeas, onion, garlic, parsley and cilantro. Pulse for 30 seconds (or until mixture is slightly coarse and well combined).
Transfer to mixing bowl. Add all remaining ingredients. Stir until combined and forms a dough.
Form 4-5 medium sized patties.
In skillet, Heat 1-2 Tbsp. EVOO over medium to high heat. Add patties to pan; cook 3 minutes on each side or until patties are browned and crisp on the outside.
For storage throughout the week – wrap tightly in clear plastic wrap or store in Tupperware. Reheat in oven or toaster oven until heated through and crisp again.
Avocado cream:

Blend all the ingredients in a blender or food processor until thick and creamy.
Keep chilled until using.