This page offers you the latest updates on job postings for fitness instructors, personal trainers, yoga teachers, studio managers as well as open studio space available for rent in Chicago. If you're a gym owner looking to hire instructors, staff or rent out your space, fill out this simple form.
Ready to check the listings?
Want to feature your gym or studio's opportunities? Fill out this short form!
Teacher, trainer and instructor job postings
ultiFIT – Group Personal Trainer

We are looking for trainers that can deliver an "A+" high energy workout, that can be modified to meet any clients' needs or limitations.
ultiFIT is the pioneer of H.I.I.T functional fitness meets obstacle training! We also offer Group Functional Fitness Classes in a high energy, positive, team environment in the evenings which is what we are currently hiring for.
The available position will not include obstacle infused workouts. Each workout is uniquely designed (daily) by Co-Creators, Brian Redard (NETFLIX's Ultimate Beastmaster & ANW Competitor Season 11) Tori Clement (ANW Competitor Seasons 9& 10). Each group workout will be 50 minutes long. The trainer will dynamically warm up the clients for 10 minutes, describe the workout of the day, and execute the workout while pushing each client to do their personal best.
ultiFIT is looking for trainers available between 4:30-7:30 pm on Tuesday and Thursday evenings. All employees receive free access to ultiFIT classes and Ultimate Ninjas open gym times!
To apply or ask any questions about the position, reach out to Brian Redard at [email protected].
SHIFT – Fitness Coach 

At SHIFT, we are looking for a Fitness Coach who is an exceptional provider, detail-oriented, comfortable being part of a small, fast-paced team, and confident in their ability to handle a wide range of responsibilities on a day-to-day basis.
Our mandate is to help Members build, expand, and maintain complete well-being—our integrated, relational healthcare model drives stronger physical performance, increased energy, improved mental acuity, and positive health outcomes.  
The Fitness Coach plays a vital role in healthcare services and provides our Members thorough fitness assessments including: VO2 max testing, DEXA scan (Body composition/Bone Density), Functional Movement Screens, and behavioral coaching. The Fitness Coach is responsible for working collaboratively with subject matter experts and the medical team to provide holistic, integrated care plans for our Members. At SHIFT, the Fitness Coach's role also involves leading group classes, 1:1 training, as necessary, developing educational materials, programming, and assisting in the organization, maintenance, and cleaning of fitness equipment. All applicants must be able to lift a minimum of 60 pounds and be on feet for long periods of time. Below are the details of the job description, and to learn more, send cover letters and resumes by email to [email protected]  with the subject line FITNESS COACH.
You are:  
Dynamic, enthusiastic, confident, and have a positive, can-do attitude 
Eager to support others to achieve objectives, big and small
A practical-minded, common-sense thinker 
Able to stay composed and professional under pressure 
Conscientious and reliable with an ability to exercise good judgement
Organized, responsive, and flexible to balance (changing) priorities in a fast-paced environment 
Experienced in supporting customers and/or a team  
Able to understand, and committed to following, processes and protocols  
A standout colleague who loves to support and work with a team  
A self-motivated, self-starter, who completes tasks independently and without prompts  
Meticulous, creative, and curious 
Interested in improving organizational efficiency and effectiveness  
Comfortable with change 
You will:  
Follow all state and Federal statutes, regulations, and laws related to privacy, Protected/Personal Health Information (PHI), and HIPPA   
Provide evidence-based fitness coaching and collaborate with other subject matter experts to ensure member safety and appropriate action and care plans are delivered in a clear, consistent, and coordinated manner
Provide expert fitness coaching to Members (in-person, by phone, and via email) 
Analyze and share results from fitness-related testing: DEXA Scans, VO2 max tests, Functional Movement Screens  
Use technology and templates to prepare and present data and test results  
Work collaboratively with all Fitness and other SHIFT staff to ensure high-quality, professional service delivery 
Assist Members with questions and needs Develop fitness education materials  
Perform administrative functions in support of day-to-day operations 
Support special events
You have:  
A bachelor's degree or master's degree in exercise science, kinesiology, or other related degree  
3 years of fitness, counseling, and programming experience A nationally accredited certification (ACSM, NASM, NSCA preferred)
Experience coaching group classes and in personal training
Exceptional interpersonal skills 
Excellent written and verbal communication skills  
An ability to provide auditory, visual, tactile, and kinesthetic instructional feedback
A desire to be part of, and to serve, a team 
A desire to acquire new knowledge and experiences 
A passion for integrated personal health and wellness
An ability to respond to emergency situations in a timely manner 
An aptitude for handling multiple concurrent assignments on time with a high degree of accuracy  
Experience and comfort with learning new online systems/software  Advanced knowledge of MS Office Suite and Adobe Acrobat
Midtown Athletic Club – Personal Training Manager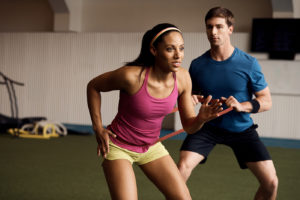 Midtown Athletic Club in Bannockburn, Illinois is hiring for the position of Personal Training Manager!
This person will be responsible for overseeing the Personal Trainers, Coach on Duty, paid Small Group Training, and all aspects of the Fitness floor experience within the club. A key component of this role is ensuring the recruitment and onboarding of Coaches.
Read about all the details of the position, requirements, and apply right here.
Responsibilities:
Oversee the Coach on Duty / Fitness Instructors position within the Club. This position is integral to the overall Fitness experience & a developmental opportunity for new Personal Trainers
Oversee Start Strong – Our new Member onboarding program
Recruit and onboard Coaches to ensure we have enough Coaches to meet the membership & financial demands of the Club.
Routinely evaluate the performance of the Coaches. Offering ongoing support and training.
Overseeing the biannual evaluation of the coaches in alignment with the Coaching Criteria
Supporting the Program Director in annual department budget preparation
Author financial variance reports monthly for your Program Director
Ensure Fitness floor is organized and clean at all times.
Establish/ manage fitness equipment preventative maintenance program. Ensuring all fitness equipment in good working order.
Attend required meetings
Follow all club/company policies and procedures as outlined in Employee Manual(s)
Accept and complete any special assignments as deemed appropriate by the Program Director
Atlas Performance – Group Fitness Instructor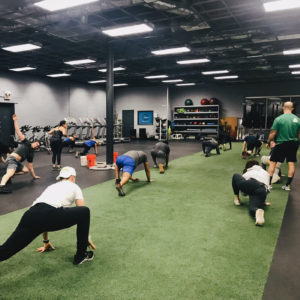 Atlas Performance is seeking experienced group fitness coaches, specializing in HIIT and/or sports performance.
Atlas Performance provides high-intensity classes in several different formats, maximizing variability. Further, we empower our trainers with the freedom to utilize their own creativity, within the framework of these formats, by programming their own classes. This requires a requisite knowledge of exercise biomechanics and full understanding of the modalities involved in increasing strength, stamina, and endurance.
Also required is a current CPT or Group Fitness certification from a nationally accredited organization (ACE, NASM, NSCA, ACSM, etc.) and CPR/AED certification. Trainers will need to be proficient in demonstrating movements, corrective techniques, efficient cuing, and time management.
Management will work with the right candidates over the first several weeks of employment to hone their programming. Trainers will also have the opportunity to train their own clients at the gym for an extremely discounted rental rate.
Preference will be given to candidates that:
Can work mornings or middays
Have a CrossFit L1 certificate
Have 1+ year experience leading group classes
Have experience with Atlas' class formats as an athlete
To apply or ask more questions, reach directly to Tom at [email protected]
GOAT Climb and Cryo – VersaClimber Instructor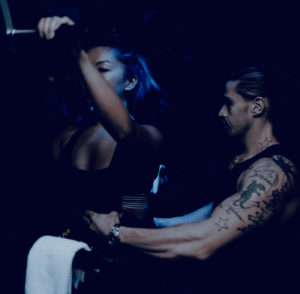 Chicago fitness enthusiasts no longer have to endure the pain and exhaustion of a 60-minute high intensity class to get their desired results. GOAT Climb and Cryo is opening at 300 W. Ontario St. to bring Chicagoans the only studio in the city fully equipped with VersaClimbers – a combination of a stepper and a climber that provides a highly efficient, effective full-body workout in just 30-minutes.
GOAT Climb and Cryo is looking for talented, high-energy instructors to teach 30-minute Cardio Climbing classes on the VersaClimber. Experience is not mandatory, we'll fully train you to be a greatest of all time VersaClimber instructor! The only requirements are to have a passion for fitness, enjoy teaching, have a positive attitude, enjoy a nightclub setting, and listen to great music.
Perk: Instructors will receive a discount on recovery services (cryotherapy, cryoskin, infrared sauna, NORMATEC, etc).
To apply or ask questions, please reach out to Lindsey Williams at [email protected]
Shadowbox – Boxing instructor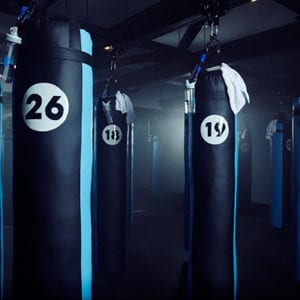 We are seeking leaders who are passionate about teaching our authentic boxing workout built to deliver an accessible, approachable + challenging experience. Our instructors are brand leaders who are equipped with the knowledge to guide our clients through a safe, effective + motivating journey. With our first splash into the Chicago market our instructors will be instrumental in our success, growth and build of our community.
ROLES + RESPONSIBILITIES:
Empower clients through strength + dedication
Inspire by leading our original workout through a uniquely curated experience combining
boxing technique (both heavy bag + shadowboxing) in a refined boutique fitness setting
Welcome, inform +motivate clients by creating a safe + comfortable environment with our
equipment + space
Build community by keeping our method innovative, positive + engaging
REQUIREMENTS:
Have a passion for boxing, fitness + wellness
Teaching and or performance experience is a plus
For a full list of requirements and perks, ask questions, or inquire about applying, please reach out to Jenna Salsedo at [email protected]
CycleBar River North – CycleStar instructor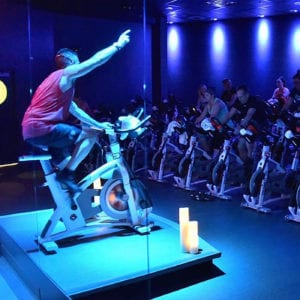 CycleBar River North (720 N. Lasalle) will be hiring instructors for an April/May opening this Spring! Looking for talent to help us hit the ground running within the boutique fitness community of River North. Experience is not mandatory as there will be an intensive boot camp which will certify to become a CycleStar. These upcoming auditions will decide who gets accepted into the boot camp program. We are prioritizing rhythm on the bike and a passion for fitness in our CycleStars.
Auditions will be held late March 2019 in 15-minute time slots at CycleBar Fulton Market, 175 N. Halsted St. Email Abby Gaulin at [email protected] for more details and to sign up for an audition slot in March.
Midtown Athletic Club – RIDE Cycle Instructor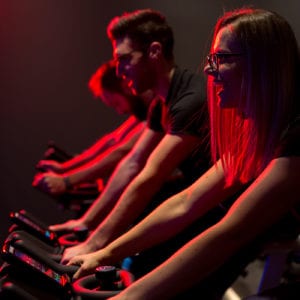 What you'll do:  Blaze a trail at Midtown Athletic Club.
Our RIDE instructors are equal parts performer and teacher—and bring their passions to life in our signature cycling programs.
You will lead classes with your personal brand of performance that engages, energizes, and entertains our members with a full audio/visual experience. You love making every moment memorable for your audience.
RIDE instructor requirements:
A passion for crafting inspiring experiences.
A love of performance and movement.
Maintain at least one nationally recognized certification in Group Fitness
Maintain at least one nationally recognized Indoor Cycle Instructor Certification, Training, or Coaching Certification, such as Schwinn Cycling (preferred), Stages, Mad Dog -Spinning, or Les Mills
Midtown instructors are as excited to learn as they are to teach. Our instructors are encouraged to grow their skillset at Midtown University and pick up skills that allow them lead a variety of classes across a range of boutique studios, or become certified personal trainers.
In addition to competitive pay, benefits, and a complimentary membership, Midtown allows instructors to build their brand and follower base while taking advantage of the name recognition that comes with working at Chicago's premier fitness club.
Email Claire Schaal, Fitness Program Director, at Midtown with questions or apply by sending her your resume at [email protected]
Midtown Athletic Club – Boxing Instructor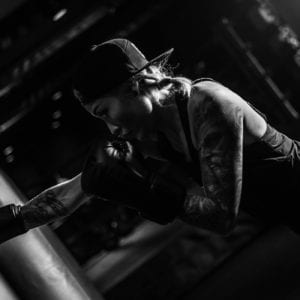 Fighters wanted at Midtown Athletic Club.
Our EverybodyFights (EBF) boxing studio is looking for high intensity instructors to lead our high intensity boxing-based fitness classes. Ideal candidates love to perform and can captivate an audience while leading a fitness class.
Instructors push our members to peak performance and inspire them to keep fighting. You should be able to roll with the punches as well as throw them, or put your guard down to engage with and encourage members one on one.
EverybodyFights instructor requirements:
Be friendly and outgoing before, during, and after fighting.
Be driven to challenge and encourage members.
The tenacity to lead group boxing classes.
Maintain at least one nationally recognized certification in Group Fitness.
Have experience teaching boxing-based fitness, martial arts or group fight style classes.
Finish EverybodyFights Training within first 60 days of hire.
Midtown instructors are as excited to learn as they are to teach. Our instructors are encouraged to grow their skillset at Midtown University and pick up skills that allow them to lead a variety of classes across a range of boutique studios, or become certified personal trainers.
In addition to competitive pay, benefits, and a complimentary membership, Midtown allows instructors to build their brand and follower base while taking advantage of the name recognition that comes with working at Chicago's premier fitness club.
Email Claire Schaal, Fitness Program Director, at Midtown with questions or apply by sending her your resume at [email protected]
East Bank Club – Head Lifeguard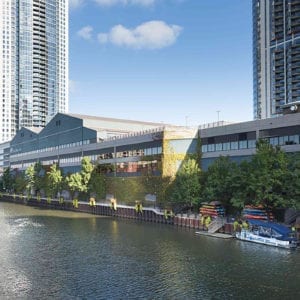 Schedule can be Full time or Part time. Looking for 2 candidates to work 15 hours per week administrative work plus lifeguarding. Candidate must have a flexible schedule and work weekends.
Job Summary: Overseeing pools to facilitate a safe and well run environment for all members. Has knowledge of rules and answer any questions. Ability to respond appropriately to emergency situations. Has the necessary skills to enforce pool guidelines with a kind member service approach, and lead staff by example and making assignment adjustments as necessary. Leads Summer Buddy system by awarding praise points.
Essential Functions:
• Communicate assignments to lifeguards
• Ensure that lifeguards are at assigned areas- communicate any issues to Aquatics Supervisor or Director or Aquatics
• Give breaks to lifeguards throughout shifts
• Observing assigned pool and pool area
• Member service recovery for any issues that arise in or around pool areas
• Relay any member relations problems to supervisors or management
• Controlling all actions around pool, enforcing all posted pool guidelines
• Keeping pool area and all pool storage areas clean and organized
-Picking up towels, vacuum/ scrub pool, move chairs, arrange equipment
• Assist Aerobics and Swim Instructors in setting up or facilitating classes including taking attendance
• Displays appropriate body language and greets members as they come to the pool
• Initiate and run employee incentive programs
• Suggests new programs and ideas for improvement, compiling pool statistics
• Training new lifeguards
• Schedule and run in-service training for Aquatics staff
Marginal Functions:
• Member relations
• Sending staff home when not needed
• Reassigning staff when pool attendance demands
• Kayak event check in
• Communicate problems or potential problems to supervisors
* Maintaining open communication with lifeguards
* Referring employees to managers when appropriate
Qualifications/Standards: 
• Maintains current Red Cross Lifeguarding. (Current America Heart Association and Ellis certifications will be accepted until Red Cross certifications can be obtained.)
• Acquire Red Cross Lifeguard Instructor certification within 60 days after hire.
• Ability to lead by example
• Time management skills, organized, positive attitude
• Ability to work well with others
• Ability to deal with members' complaints
EBC offers discounted parking, and workout privileges. Additional Full time benefits include insurance, vacation/ personal days. Job description and benefits may also be viewed via our website www.eastbankclub.com under our career center. East Bank Club is an Equal Opportunity Employer and drug/ smoke free work place. Hourly rate $17.14
How to apply: Click here to apply, or email Ian Rose, with questions at [email protected]
East Bank Club – Pilates/Gyrotonic Instructor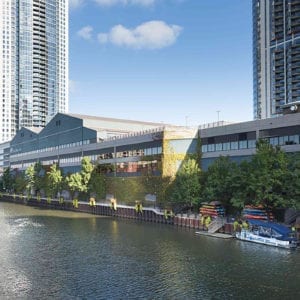 Pilates Job Description: Candidate must have a completion of a minimum 400-hour comprehensive Pilates Teacher Training Program and a Pilates certification including but not limited to BASI, STOTT, Physical Mind, Balanced Body, or Pilates Method Alliance Certification. Rehabilitation and/ or exercise physiology background, or Gyrotonic certification is a plus. Group class experience is preferred. Individual must have a strong customer service background and be able to work as part of a team. Schedule is evenings and weekends. Commission based position (50%).
East Bank Club is recognized as the country's most gracious and dynamic fitness, sports and dining facility. Located in Chicago's River North neighborhood, the Club opened its doors in 1980 and employs more than 650 employees. East Bank Club has set the standard for first-class hospitality and excellence in the fitness industry, a standard exemplified by each employee. The bond employees create with fellow staff, members and the Club itself keeps members and employees returning day after day.
Join a team of seasoned instructors (Our staff average is around 5 years of experience. Two of our staff members have been on board for 11 years. That is basically unheard of in this business.) Annual continuing education stipend and annual in house continuing education workshop with industry leaders that staff members are paid to attend Complimentary in house workshops on topics such as anatomy, biomechanics, training principles No sales quotas EBC offers a generous benefit package, discounted parking, discounts in the Proshop and Food Shop, and workout privileges. Full time employees (working 30hrs per week) are eligible for health benefits.
How to apply: Click here to apply, or email Lisa Reynolds, East Bank Club's hiring manager, with questions at [email protected]
SALT Fitness – Cycle and barre instructors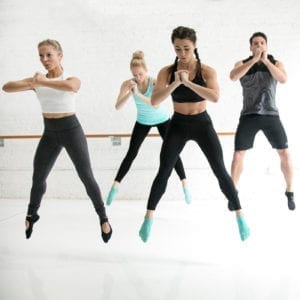 SALT Fitness is looking for motivating, experienced, knowledgable, team players to teach barre and cycle.
Who we are: SALT Fitness is a best in class fitness studio offering Barre, Indoor Cycling + FIT (interval) classes in a dynamic and fun work environment. At SALT we believe in strength. Strength in our bodies, in our minds, and in our community. And we are on a mission to build the strongest team of instructors in the city.
Who you are: Positive, inclusive, inspirational, connected, entrepreneurial, passionate about fitness & health and wellness, a team player. You care about having fun, just as much as providing a hard workout. You understand the importance of using correct form. You have a strong passion for music and curating playlists. You're willing to learn and grow, responsive to feedback, and knowledgable of physiology, exercise technique and body mechanics.
What we can offer: Competitive pay, options to grow and lead within the team (mentorships, workshop hosts, team lead), opportunity to train and teach in multiple disciplines (Barre, Cycle, FIT interval, stretch and strength), a flexible class format that allows for creativity to express yourself, continued education and mentorship.
How to apply: Please reach out to Tami Conway, [email protected], with questions and to apply.
LulaFit – Personal trainer and group fitness instructors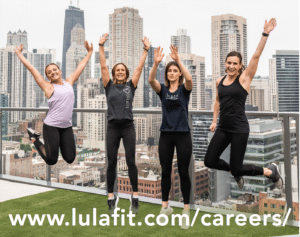 Instruct group fitness classes and or conduct personal training sessions in Chicago residential buildings.
Our company:
LulaFit is a concierge fitness and wellness company, providing on-site personal training, nutritional counseling, massage therapy, wellness coaching and group fitness. Our clients are busy people with demanding careers, and we make it easy for them to prioritize wellness by bringing our services to them.
Our Mission:
To make living a healthy lifestyle sustainable and accessible through movement, food, and restoration.
Our Brand Promise:
We deliver what our client needs, the way they need it, where and when it's most convenient for them. We provide in-home, concierge fitness and wellness services to busy people, including: personal training, nutritional counseling, massage therapy, personal chef services and wellness coaching. We bring our client these individualized programs, motivation and support all in the comfort of their home. We create a completely customized fitness and wellness plan that is manageable, flexible and fun, so our client doesn't have to dread the little time they spend on themselves.
Responsibilities and Duties
Lead group fitness classes in the luxury buildings we service
Train with individuals and small groups for private or semi-private training
Design safe and effective workouts for our clients
Demonstrate proper technique
Provide feedback, adjustments, and training recommendations
Qualifications and Skills
Current National Accredited Personal Trainer and/or Group Fitness Certification
Be well versed in group exercise classes (Bootcamp, HIIT, mat, barre and others a plus)
1+ years of experience as a trainer
Additional training certifications preferred
Open availability weekday evenings and Saturday mornings
Current Liability Insurance and CPR Certification
Excellent customer service skills
Job Type: Contract
Salary: $25.00 to $55.00 /hour
How to apply: Go here to apply, and reach out to Stefanie Kassab at [email protected] with questions.
Brooklyn Boulders Chicago – Fitness Instructor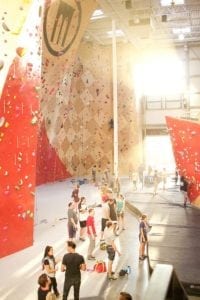 Brooklyn Boulders (BKB) opened its doors in 2009. With facilities now nestled in the hearts of New York, Boston and Chicago and programs all over the country, BKB operates an adventure lifestyle ecosystem that consists of a diverse community of climbers, creatives, artists, and fitness enthusiasts, with the common vision of Becoming Superhuman Together
We're looking for a creative person, excited by the prospect of providing amazing experiences to our community members. Driven by their passion to improve the lives of others through exercise, making it beautiful in the process. Someone who has a positive, vibrant presence and energy.
Fitness Instructors at BKB are responsible for teaching a variety of perk classes to our members and guests. The Fitness Instructor will ensure the timely start and finish of each class, and create class curriculums and outlines that are engaging and inspiring to our community.
Qualifications:
Minimum 1 year teaching experience, 2+ years of teaching experience preferred

Valid certifications in class format required

Yoga

Personal Training or Group Exercise Certification

Additional specialty/certifications preferred [TRX / Kettlebell Etc]

Knowledge of and ability to implement group fitness teaching strategies, incorporating music, tempo, cueing technique, and rhythm to classes

The ability to be professional while motivating class participants

The ability to cooperate and work well with other team members

Your own liability insurance and have

Fifth Concerto Holdco Inc. and Brooklyn Boulders Location

named as an additional insured

A desire to pursue continuing education

A valid CPR certification [to be kept on file]

Climbing experience is a plus!
How to apply: Email Daniel Rudolph to apply!
Brooklyn Boulders Chicago – Personal Trainer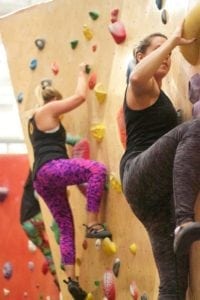 Brooklyn Boulders (BKB) opened its doors in 2009. With facilities now nestled in the hearts of New York, Boston and Chicago and programs all over the country, BKB operates an adventure lifestyle ecosystem that consists of a diverse community of climbers, creatives, artists, and fitness enthusiasts, with the common vision of Becoming Superhuman Together
We're looking for an enthusiastic, motivated individual stoked on helping others achieve their goals. Someone who's passionate about fitness and self-discovery. Someone who is relentless about improving their craft.
The Personal Trainer (PT) performs climbing and fitness assessments with community members and prospective clients, delivering unique and integrated personalized climbing and fitness programming to meet or exceed those goals. The Personal Trainer participates in sales, promotions, and events as necessary. They must be able to schedule and follow training guidelines according to standard operating procedures of the product team.  
What the job entails:  
Teach scheduled personal training sessions completely, and on time

Provide a personal training experience that showcases the BKB brand

Be aware of, and help to ensure the success of appropriate promotional, conversion and retention strategies

Act as an ambassador for the BKB brand and health, climbing and fitness on and off the clock in our facilities

Use the appropriate systems to track sales, conversion, retention, hours worked, as well as any other data-tracking and reporting functions as instructed by your manager

Report feedback to Climbing and Fitness Manager as needed

Conduct outreach and network to generate leads as required by management

Work diligently to retain clients through superior service and generating results in their achievement of fitness and climbing goals

Report any needs or issues related to trainers, equipment, members, or schedules to Climbing & Fitness Manager or Fitness Coordinator [as applicable]

Know and abide by all standards for the Climbing & Fitness department and its product standard

Be a connector in the community and maintain positive relationships with peers,community members and clients

Keep all fitness and climbing areas clean, tidy and in a better state than you found them in accordance with any applicable SOPs

Attend meetings as determined by Climbing & Fitness Manager

Responsible for meeting performance goals

Must hold, and maintain personal training certifications and other modality certifications as required by the Climbing & Fitness Manager

Communicate with clients and your Climbing & Fitness Manager in a timely manner

Meet the conditions of your hiring, specifically related to  hours and revenue generated

Work time on the floor fielding questions, selling personal training sessions, and conducting consults/assessments as scheduled and required by Climbing & Fitness Manager
Qualifications
At least one PT certification  (NASM, ACE, etc.) or the willingness to obtain one within 90 days of hiring

A valid CPR certification

Passionate, hard working, committed to changing people's lives

Additional modality specializations [Yoga, Kettlebell, etc] a plus

Rock climbing experience preferred

2 years of PT experience preferred
How to apply: Email Daniel Rudolph to apply!
Spynergy Wicker Park – Cycling Instructor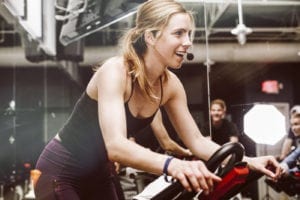 Spynergy Wicker Park is looking for motivational, high energy, fitness professionals who love music and community. Spynergy offers a no-frills, heart pumping work out for all fitness levels. We're a brand new studio excited to hire instructors who help us create a solid foundation and loyal following.
The ideal cycling instructor will
Create and maintain the Spynergy community
Design and deliver high energy choreography paired with personalized playlists
Help customers to build, plan, and execute personal goals
Maintained positive relationships with members and encourage continued class attendance
Clean and organized the studio after each class
Consistently fill classes to capacity
How to apply: Interested applicants should email [email protected]
Orangetheory Fitness River West – Certified Coach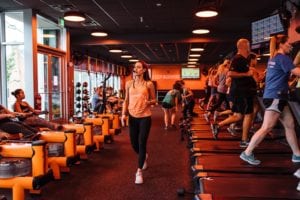 Orangetheory Fitness River West is looking for fun, smart, passionate fitness professionals to join its rapidly growing fitness team! As a Orangetheory Coach, you will be responsible for executing our scientifically proven predesigned workouts for our classes.
This trainer will be responsible for the following:
Delivering predesigned workouts to groups
Motivate members throughout workout
Build OTF attendance and retain current members
Ensure safety in regards to technique and HRM system
Provide options and challenges to accommodate all skill levels
Assist Sales Associates with introductory studio tours and sales QUALIFICATIONS
Current Personal Trainer or Primary Group Exercise Instructor Certification from select accredited bodies such as but not limited to ACSM, ACE, NASM, NSCA, ISSA, AFAA.
Current CPR/AED Certification
Knowledge of physiology, exercise technique, and body mechanics
Ability to multi-task and stay organized
Positive and effective communication skills
How to apply: email Jessica Beresford [email protected].
Management and staff
STRIDE | Director of Education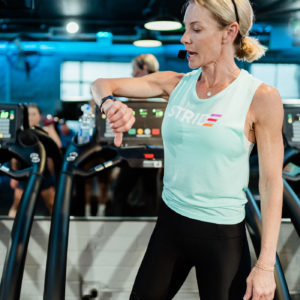 Job title Director of Education
Reports To: President
FLSA Status: Exempt
The Director of Education at STRIDE is responsible for developing material and training Franchise owners on policies and procedures regarding class scheduling and instructors. Consults with franchise owners on recruiting best practices for instructors. Responsible for training the trainers by performing the following duties:
Responsible for creative instructor interview protocols and hiring SOPs. 
Develops instructor program and execution of the program. 
Develop best practices and creates guidelines for Education Department standards. 
Creates new education platform, film content, writes, and edits scripts for filming and manual.
Creates master training manual.
Coordinates requirements for entry into Master Training Summit.
Plans and implements Summit and continuing educations.
Demonstrates brand knowledge and compliance for master trainers, instructors, and implements and audits system.
Implements the digital education platform.
Responsible for product education with ancillary trainings.
Coordinates with preferred travel agent and hotels to approve and facilitate travel accommodations, along with payment arrangements for master trainers and traveling instructors.
Manages invoices and expense reports for traveling instructors, master trainers, and education department.
Responsible for training the trainers.
Prepares for the education portion of Discovery Day and delivers the material to franchise candidates.
Teaches classes at corporate or pop-up classes. 
Qualifications:
To perform this job successfully, an individual must be able to perform each essential duty satisfactorily. The requirements listed below are representative of the knowledge, skill, and/or ability required. Reasonable accommodations may be made to enable individuals with disabilities
to perform the essential functions.
Computer Skills:
To perform this job successfully, an individual should have knowledge of Microsoft Word, Microsoft Excel, Preferred MindBody, ClubReady or other booking software.
Education/Experience:
Bachelor's degree (B. A. / B. S.) from four-year college or university; or more than 10 years related experience and/or training; or equivalent combination of education and experience.
Specialized Training:
Preferred 2 years master trainer or comparable level.
Certificates and Licenses:
Preferred personal trainer certification and/or running coach certification.
How to apply:
Applicants should apply by sending their Resume and Cover Letter to Jeff Stokes at [email protected] via email with the subject line "STRIDE Director of Education Application. Candidates should either be local to LA or willing to relocate immediately.
LulaFit | Service Manager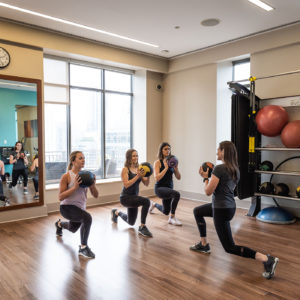 As the Service Manager, you will be responsible for growing, managing, and developing our team of Service Providers.
LulaFit provides on-site concierge fitness programming. The Service Manager will recruit, hire, on-board and develop our Service Provider staff. This team includes Personal Trainers, Group Fitness Instructors, Massage Therapists, and Nutritionists. The Service Manager plays a vital role in order to maintain our growing and developing staff.
To apply, click here. For more information about the Service Manager job description, position, or responsibilities, please contact Recruiting at [email protected]
The Barre Code | PR & Social Media Media Manager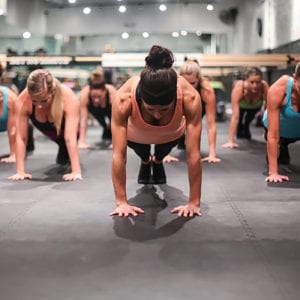 The PR & Social Media Manage is responsible for expanding national media relations
& social media following and directly assisting the VP of Brand Strategy with
administrative & digital-related tasks. Directly reporting to the VP of Brand Strategy,
the main task for this role is to grow the national Barre Code brand via media
relations, advertising, social media marketing, national initiatives, and partnerships.
The VP of Brand Strategy will approve all brand materials and social media content.
Responsibilities include, but are not limited to:
Work with VP of Brand Strategy to develop a national PR & social media strategy
with the objective of growing the national brand footprint
Attainment of Facebook Marketing certification and creation of a digital
advertising strategy to increase awareness in all franchise markets and nationally
Monthly media outreach to national bloggers, editors, reporters for both longlead print placements and short-lead online placements
Quarterly media events and/or mailers surrounding big national launches and
initiatives
Creation of PR & social media strategies for franchise owners to employ locally
Creation of custom photo & video content for the national pages and for monthly
franchise social media calendars
Outreach & securement of national donations for monthly Instagram giveaways
Cultivation & relationship management of national social media brand
ambassadors
Daily management of Facebook & Instagram, incorporating new ideas & tactics to
increase following & drive traffic
Up-to-date knowledge of digital & social trends that pertain to our industry
To apply, send your resume and cover letter to [email protected]
Yoga 2.0 Front Desk Team Member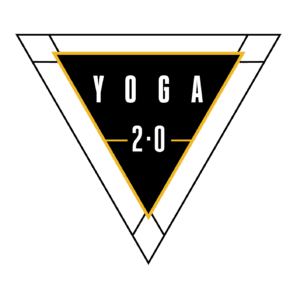 Welcoming face of the the studio, demonstrating high level customer service including check in, retail and general information.
Yoga 2.0 Front Desk employees are the G.O.A.T (greatest of all times) squad. As a part of the squad, front desk employees are required to uphold the company standard of providing a welcoming environment with uncompromising, above and beyond customer experience. Front Desk employees
within the Yoga 2.0 family are considered best in class and we will hold you to that standard each and every shift!
Job Responsibilities:
Act as welcoming face of the studio and brand at all times
Own all front desk responsibilities and act in a professional manner at all times in representation
of Yoga 2.0. Complete front desk task list during every shift
Build and maintain positive relationships with Yoga2.0 students. Utilize student names upon
arrival and departure
Assist with room turnover and general facility upkeep at all times alongside the Yoga 2.0
cleaning crew and management staff
Be an expert in front desk and check in systems to insure proper class and retail transactions
Assist with retail sales and promotions
Please contact Robyn with any questions you have about applying and to request a hard copy application form at [email protected]
Pure Barre West Loop and Pure Barre Fulton Market – Lead Sales Associate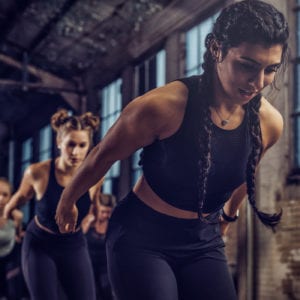 Pure Barre is the national leader in barre fitness. Our tried and true technique set the standard for barre, and yet we're always still evolving to deliver the best full body workout every.single.time. our clients walk through the doors. The Pure Barre experience is driven by music, focused on form, rooted in community, and proven by results.
We're expanding our Pure Barre West Loop and Pure Barre Fulton teams. We're looking for a Lead Sales Associate who is passionate about fitness, goal-driven, and committed to best-in-class customer service.
The Lead Sales Associate oversees all sales and customer service activities during their shift. This role is the face of our business during our busiest hours, welcoming clients into our space, understanding their goals, matching our services with their needs, and fostering a supportive and meaningful community.
MINIMUM REQUIREMENTS:
* 2+ years of fitness sales or relevant sales experience
* Able to work afternoon/evening shifts (approx. 3pm – 7:30pm) Monday-Thursday and Saturdays (8am-12:30pm).
* Confident in generating sales and training other team members to succeed
* Highly organized; able to prioritize and meet deadlines and sales goals
* Must be outgoing, have strong interpersonal skills and a positive attitude, and enjoy meeting new people
* Excellent problem-solving skills and discernment; ability to recognize areas of improvement and make meaningful suggestions and act on those suggestions
* Professional, punctual, and reliable
* Strong attention to detail and accuracy
* Excellent phone, email and in-person communication skills
* Ability to excel in a fast-changing, diverse environment
* Proficiency with computers and studio software
PRIMARY RESPONSIBILITIES:
* Manage and drive multiple revenue streams including membership and retail sales
* Assist in training, motivating, and coaching team members to continually improve their skills and hit personal and studio goals
* Immerse yourself in our community – building a strong rapport with clients and team members so you have the best understanding of how to support and assist those around you
* Ensure a best-in-class studio environment by maintaining a clean and organized studio, fully stocked retail, smooth client check-in process, etc.
* Assist with lead generation including grass roots marketing and networking as needed
* Be well versed in all studio policies and procedures and be able to communicate those clearly with staff and clients
Email Susan Rothman with questions about the job opening at [email protected]
Shadowbox – Studio Manager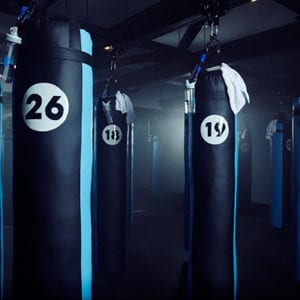 We are seeking a motivated, organized and passionate Studio Manager to create + build a remarkable brand experience inside Chicago's very first Shadowbox studio. This person has a strong business acumen, a 'roll up their sleeves' approach, thinks strategically, loves people and problem solving. From the studio aesthetic and customer service to facilities functionality and staffing/operations, the
Studio Manager takes an active leadership role in upholding the Shadowbox service standards. Managing effective team processes, and successfully communicating the Shadowbox mission all while setting the tone + pace for our brand expansion into a new market.
ROLES + RESPONSIBILITIES:
Partner with HQ Leaderships team to effectively oversee + execute the operation and business
of the studio
Perform and lead daily class check-ins during business critical hours
Help open and close the studio
Manage the growth and development of the Assistant Studio Manager
Keep open + effective lines of communication between the studio coordinators, cleaning team, facilities and HQ
Manage and provide ongoing training to studio and cleaning teams
Train, motivate, direct, coach and evaluate all studio staff, creating and maintaining a team
that is highly personable, client-focused and committed to achieving and exceeding both the
studio and company goals
Work together with the Sr. Manager of Operations + Partnerships on the implementation of
standard operating policies and procedures to develop holistic business plans
Manage + Analyze studio P&L as well as budgets/operating costs
Build and maintain strong relationships with Shadowbox clients, instructors + studio teams
Connect with local business owners to network and grow the brand within the market
Create a studio culture in which teammates love coming to work
Keep open + effective lines of communication between the studio coordinators, facilities and HQ
Manage and provide ongoing training to studio teams
Continue to uphold the Shadowbox brand mission and culture
Assess and provide immediate feedback/solutions for the team to implement around the
clock, as needs and obstacles arise
Oversee the studio's retail operations and gear inventory
Work with the Brand Team to execute marketing initiatives and events within the market
Be open to, embrace and manage change within your studio and your team daily
Have fun. Period.
To ask questions or inquire about applying, please reach out to Jenna Salsedo at [email protected]
Lifestart Wellness Network – Fitness Director
LifeStart Wellness Network is the fastest growing corporate wellness company in the fitness industry. We consistently evolve with market trends, but always stay dedicated to helping our clients reach their goals. With over 50 corporate fitness facilities in the Chicagoland area we are looking for a high energy, motivated Fitness Director to create a dynamic and engaging community.
Duties: As a Fitness Director working with LifeStart our daily responsibilities include but are not limited to the following:
Growing our fitness fanbase
Overseeing all things fitness related
Assisting General Manager
Personal Training/Group Training
Wellness Events/Customer Engagement
Changing Lives
Tracking member success
Daily club operations
Benefits: LifeStart is committed to investing in our employees.
Competitive Salary
70% Commission on Personal Training
Club Connect Subscription
Annual CEC reimbursement money
ACE Health Coach Certification
Medical/Dental/Vision
401K w/ Company Match
PTO
Education Reimbursement
Free network of fitness centers
No WEEKENDS!!!!!
Education Requirements:
Degree in health or fitness related field
Nationally Accredited Personal Training Certification: ACSM, NASM, NCSA (

Within 6 months

 of hire)
How to apply: All qualified candidates ready to have fun every day and change people's lives should apply at www.lifestart.net/careers. We look forward to you joining our amazing team.
More Jobs in Health and Wellness
Delos Therapy Staff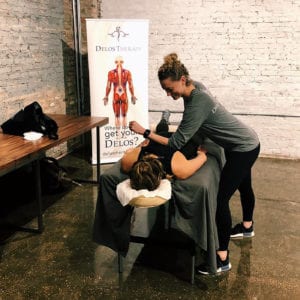 Delos Therapy is a growing therapy business that focuses on our innovative therapy to help people who are in pain or have muscle stiffness. We are looking for someone who is extremely organized, a multi-tasker and great with people. The ideal candidate is seeking to learn all aspects of running an entrepreneurial organization and help the operations manager with daily tasks while also being able to contribute to long-term plans.
Daily tasks include answering the phone, scheduling clients, writing emails and data entry. However, there is also a challenging and fun part of the job that includes event planning, social media marketing, networking, project work, creating advertising campaigns, developing relationships with vendors and prospective business parters, etc. Local travel between clinics (including suburb locations) may be required.
We will develop you into a world-class employee. You have to be eager to grow, open to feedback and work well in a fast-paced environment. Ideally we'd love to have you work with us long term and turn this job into a career where you'll be managing clinics.
We are looking for someone who has open availability, including weekends. The open position home base will be our River North location, the other three on an as needed basis.
To apply or ask questions, email [email protected]!
VIVE Float Studio + | Old Town, Studio Director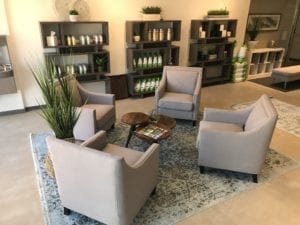 VIVE is looking for a thought leader in the wellness industry, experienced leadership, self-motivated and a passion for community outreach as we build the first national REST and RECOVERY wellness brand dedicated solely to simultaneous mental and physical restoration, specializing in float, cryogenics, full-spectrum infrared sauna, vibroacoustic and halo/dry salt therapies.
Qualifications:
Has an innate love for mental and physical wellness. Is drawn to learning about all-natural, alternative modalities.
Will manage the day-to-day operations, with Assistant Studio Director, to include but not limited to hiring, scheduling, payroll, booking software, and maintenance of equipment.
Responsible for communicating and upholding VIVE's calm, clean and curative environment and leading by example.
Manage a clean, friendly and well maintained studio.
Ensure that team members consistently execute the basics in punctuality, dress code compliance, friendliness and cleanliness.
Train and develop a strong team with the sole purpose of caring for those entrusted to our care and studio standards.
Responsible for the successful attainment of targets, including revenue and member retention.
Design, build and implement ongoing corporate wellness programs, local partnerships and outreach.
Maintaining inventory of Bleu Boutique product and make recommendations of future product purchases.
Partner with other Studio Directors and Managing Director to further VIVE's purpose and mission as an overall R & R wellness company.
How to apply: Click here to apply, or reach out to Andi with any questions at [email protected]