This page offers you the latest updates on job postings for fitness instructors, personal trainers, yoga teachers, studio managers as well as open studio space available for rent in Chicago. If you're a gym owner looking to hire instructors, staff or rent out your space, fill out this simple form.
Ready to check the listings?
Want to feature your gym or studio's opportunities? Fill out this short form!
Teacher, trainer and instructor job postings
LulaFit (Virtual Platform)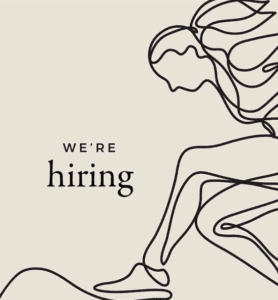 LulaFit is looking for energetic and motivated fitness professionals to join their virtual content team.
Expert fitness instructors needed who are able to create connections and build a following within LuluFit's virtual environment. Instructors can be based anywhere and must be able and willing to submit a video audition. Formats preferred are Yoga, Pilates, Barre, HIIT & Bootcamp Style.
Lakeview East Athletics and Performance (LEAP) – Personal trainer/ Group class instructor

We are looking for positive, motivated, well educated trainers to build the best fitness team in the city to join LEAP, opening the first week of April!
LEAP is the culmination of over a decade of service provided by owner, Matt Durdin, to Chicago as a personal trainer, group exercise instructor, and nutrition coach.
The previous co-owner of Unrivaled Fitness in Lakeview, his evolution as a fitness professional over the years lead him to the creation of Lakeview East Athletics and Performance.
This exclusive club, offering the best in personal training, team training, and nutrition consultation, enables it's members to feel confident that no matter what their fitness goals may be, they have the ability to accomplish them at the supportive community known as LEAP.
The main floor of LEAP is where personal training and team strength and conditioning takes place. Team S&C is a collaborative effort of fitness professionals that provides you with the feeling of personal training in a 10 person max capacity class.
The classes held in our downstairs studio include rowing, assault bikes, and kickboxing, both with a mix of strength and conditioning!
Our entire facility was designed in collaboration with world renowned gym designer Cuoco Black.  Believe us when we say that there is no other facility like this in Chicago!
To learn more about this incredible new gym, the responsibilities and qualifications required for a coaching position at LEAP, and to apply, please email Matt at [email protected]
Old Town Fit Body Bootcamp – Personal Trainer/Coach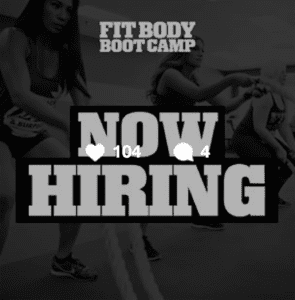 We are looking to hire an energetic, passionate, fun and friendly Coach to help our clients live a healthier and happier lifestyle! 
Position Overview: The Trainer works directly with clients in a group setting to provide 45 minutes of high intensity circuit training.
Our program is designed to be the best 45 minutes of our clients day every day! In addition, trainers provide encouragement, resources and coaching to a variety of fitness levels.
Expectations:
Be the best part of our clients day!
Provide a high level of energy at each session with passion and enthusiasm
Demonstrate how to carry out various exercises during group session
Watch clients do exercises and show or tell them correct techniques to minimize injury and improve fitness
Monitor clients' progress and challenge them during sessions
Work with other trainers to program a variety of workouts to keep clients challenged
Coach clients through weight loss challenges and hold them accountable to their goals
Develop relationships with all clients, knowing names and what their why is
Perform additional responsibilities as requested by the Facility Manager
Continually develop training knowledge through education
Understand and adhere to company core values, leading by example at all times
Ideal Candidate: High Energy, Great Character, Passionate about fitness, and genuinely loves people
To apply, please reach out to Kyle Blust at [email protected]!
All in Motion – Strength and Conditioning Trainer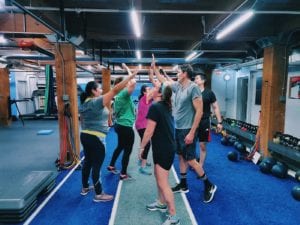 All in Motion (A.I.M.) is a Trainer and Physician owned fitness facility that provides small group training, group conditioning and private training. We also service corporate venues. We always provide a welcoming environment for all fitness levels.
Our gym offers two types of classes: small group strength training (SGST) and conditioning. SGST has a six person maximum per class. These classes have set programming that changes every other day (MWF). The conditioning classes are currently set at a 20 person maximum capacity. The programming is trainer devised and changes with every class. In general, these classes offer HIIT and/or endurance based instruction. As a small neighborhood gym, All in Motion is based on relationships.
Job description:
All in Motion Fitness is seeking an experienced Personal Trainer that specializes in strength, HIIT and sports performance.
We provide high-intensity classes in several different formats for maximal variability.
For our conditioning classes, we ask our trainers to program their own classes within our format.
As part of the interview process we ask that candidates instruct a 30 minutes HIIT class for All in Motion staff.
Responsibilities:
Instruct strength and conditioning classes while providing a high level of personalized attention
Create your own customized conditioning programs
Show proficiency in demonstrating movements, corrective techniques, efficient cuing, and time management
Ensure safe and effective use of training equipment
Develop a good, friendly relationship with all members
Part time hours (6-10 hours per week) to include early morning and evening classes
Ability to take on private training clients (payment is 55% of client charges)
Qualifications
Certified Personal trainer/Group instructor from an accredited organization (NASM,ACSM, NSCA, ACE, ISSA, AFAA) CPR/AED training
Proven experience working as a personal trainer and ability coach large group conditioning classes
Excellent social, verbal and written communication skills
Impeccable customer service and client focus
Enthusiastic and passionate about fitness and health Trainers must submit to background check
Must provide proof of professional liability insurance naming
All in Motion as additional insured
To apply or to ask questions, reach out to Robin Sanchez or Amy Homma at [email protected]
Urban Athlete – Personal Trainer, Group Fitness Instructor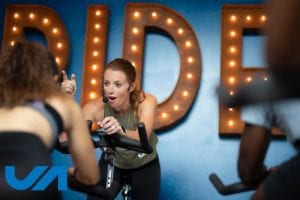 Urban Athlete is looking for Certified Personal Trainers/Class Instructors for their Ravenswood, and NEW Lincoln Park locations. We're looking for motivated individuals willing to work with clients one-on-one, and lead group classes. Since we run over 80 classes a week, trainers with experience teaching group classes will receive top priority. Morning, evening and some weekend availability required.  Urban will be hosting an upcoming NASM certified training workshop for all interested applicants. Participants will receive free NASM/AFA continuing education credit upon workshop completion.
Responsibilities:
Assume the responsibility of training existing clients and developing programs consistent with their goals
Arrive at least 10 minutes before training sessions and 15 minutes before classes
Manage scheduling through our online system
Give clients ample notice if you need to change appointment times and respond quickly to clients who must change their schedules
Lead group fitness classes when necessary
Completion of Team Training Workshop
Qualification Requirements:
Bachelor's degree in Kinesiology or related field preferred
Personal training or group training certification required
Must have current, valid CPR and First Aid certifications
1+ year experience in personal training or group fitness instruction
Kickboxing/boxing experience a plus
Spin certification a plus
Apply online here or email your resume to [email protected]! 
Management and staff
Club Pilates North Center – Sales Associate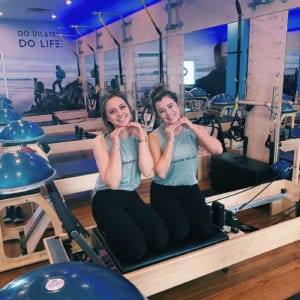 We are looking for dynamic, customer-centric Sales Associates with a passion for fitness!
Join our team! We are looking for dynamic, customer-centric Sales Associates with a passion for wellness to enhance our growing studios!
The Sales Associate position will be responsible for membership sales by calling and following up with prospects and maintaining relationships with current members.
Other responsibilities include but are not limited to; creating a positive and welcoming atmosphere, retail sales and merchandising, and participating in community events (Farmer's Market, neighborhood festivals, promotional tabling) to help promote the studio, studio cleaning. Weekend availability is required.
To apply, please email
[email protected]
and reach out to Josie Mulgrew with any questions! 
More Jobs in Health and Wellness
Delos Therapy Staff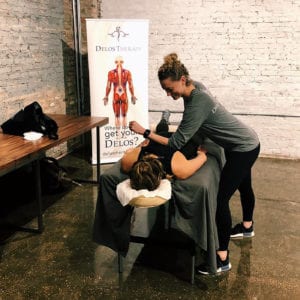 Delos Therapy is a growing therapy business that focuses on our innovative therapy to help people who are in pain or have muscle stiffness. We are looking for someone who is extremely organized, a multi-tasker and great with people. The ideal candidate is seeking to learn all aspects of running an entrepreneurial organization and help the operations manager with daily tasks while also being able to contribute to long-term plans.
Daily tasks include answering the phone, scheduling clients, writing emails and data entry. However, there is also a challenging and fun part of the job that includes event planning, social media marketing, networking, project work, creating advertising campaigns, developing relationships with vendors and prospective business parters, etc. Local travel between clinics (including suburb locations) may be required.
We will develop you into a world-class employee. You have to be eager to grow, open to feedback and work well in a fast-paced environment. Ideally we'd love to have you work with us long term and turn this job into a career where you'll be managing clinics.
We are looking for someone who has open availability, including weekends. The open position home base will be our River North location, the other three on an as needed basis.
To apply or ask questions, email [email protected]!