10 Best Kombuchas to Try Right Now
Ask people their opinions on kombucha and you'll either get a look of pure delight or pure disgust —there's no in-between. The fizzy fermented drink has gained traction in the last few years and has quickly become one of the trendier items to have in your grocery cart. But with so many brands out there, which one is the best? Is there a difference in the benefits? Is it really that good for us?
In order to really celebrate National Kombucha Day on January 15, we've turned to the sources for more info on the fruity stuff and rounded up 10 of the best brands to try out. So whether you're on the fence about booch or already a die-hard fan, we've got you covered.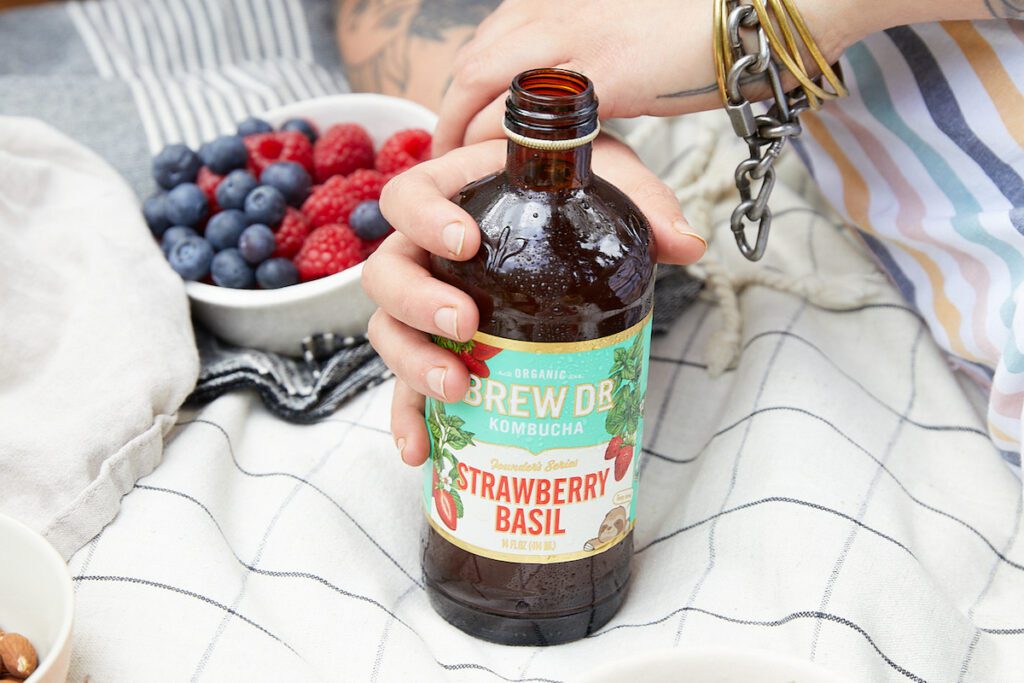 What is kombucha?
Let's break down the basics first: Matt Lancor, the founder of Kombuchade, a midwest kombucha brand that's quickly gaining traction in the U.S., says that kombucha is basically brewed black or green tea, a SCOBY (which stands for "symbiotic culture of bacteria and yeast"), and some sweetener (to feed the SCOBY and kickstart the fermentation process).
The blend is then left to ferment for a set amount of time, with the SCOBY assisting by eating most of the sugar in the blend and transforming it into the fizzy, sweet-sour beverage we know and love. The blend is then flavored with fruit juices and other blends of herbs (depending on the brand). 
Fermentation also produces organic acids which are known to improve bioavailability of vitamins, help our immunity, and prevent the accumulation of heavy metals and insoluble oxalates. There are two main styles of brewing booch — continuous and batch style, with the former being a bit more traditional. "This process has a bit higher concentration of some of the beneficial compounds that form during that [fermentation] process," Lancor says.
The benefits of kombucha
Lancor explains that drinking kombucha goes far beyond a trend. Part of their mission at Kombuchade (which Lancor, an athlete, developed in his mother's kitchen as an alternative to sugary sports drinks) is to help educate people on the connection between gut health and how it affects our physical and mental health. Lancor says you only need about one kombucha per week to reap the health benefits from the tea and herbs as well as the gut health benefits from the fermentation process, which strengthen our guts.
Jack Joseph, the founder, and CEO of Chicago-based Komunity Kombucha, says he started his brand because of his frustration with the lack of clean and healthy beverage offerings out there. "I believe that consuming kombucha and other fermented living foods has helped me in a few different ways," he says. "[It] has made my immune system stronger, helped with my digestive process, reduced sugar cravings, and got me to stop drinking alcohol and other sugary beverages."
As for when to drink it, Lancor says everyone is different and to "trust your gut." "Everyone likes it at different times," he says. "I personally like it maybe 45 to 30 minutes before a training. I like it with meals too."
aSweatLife contributor Christina Heiser loves drinking kombucha once or twice a week with lunch because it's helped on her own healthy gut journey. "As someone with gut issues, I love kombucha because it aids in digestion," she says.
Still not sure about it but want to reap the benefits of booch? Lancor recommends using it as a salad dressing base, cocktail mixer, or his personal favorite, a smoothie base (his recipe is one 12 oz. bottle mixed with frozen bananas, blueberries, maca, collagen, mushroom powders, hemp seeds, coconut milk, and a pinch of sea salt).
Which kombucha tastes best?
Wondering which kombucha tastes best? We tested some of the most popular brands out there to find out. Here are the best ones to try (either in a recipe or straight up):
Brew Dr.: Based in Portland, Oregon, and recognized by its mascot, Otis the sloth (who shows up under the cap of every bottle), this kombucha has a "pleasant tang," is "less bitter," "isn't too vinegary," and is "reminiscent of craft beer in both taste and smell," according to reviews. One reviewer stated that these kombuchas were "literally GULPBABLE!" Fun limited edition flavors (like Vanilla Oak) and smaller, easy-to-grab bottles make this brand a standout.
GT's: GT's has been around since 1995 when it first appeared on the shelves at L.A. fave Erewhon. It can now be found almost everywhere from Whole Foods to 7-Eleven. A crowd pleaser, reviews say GT's is "nice and fizzy," "refreshing," and has a nice balance of sweet and sour.
Kevita: One of the bigger national brands, Kevita is touted by reviewers as being a good "starter kombucha," meaning it's an ideal choice if you've never tried one out before, are dubious, or are trying to make the switch from soda or other sugary drinks. Reviews say it's "mellow," "not too fizzy," and "not vinegary."
Bear's Fruit: Brooklyn-based Bear's Fruit (which was started in the back of a cookie shop) is 100% organic and offers flavors like Ginger Lemon, Strawberry Jalapeno, and Blackberry Sage in slim, pop-in-your-bag cans. Reviewers love the low vinegar taste and the strong, pleasant flavor profiles.
Health-Ade: Definitely the cutesiest brand out there (just check out their website with the animated FAQ and the cartoon fruit characters marching around), Health-Ade is another brand that can be found nationwide. They offer offbeat flavors such as Tropical Punch, Pink Lady Apple, and Pineapple Creamsicle. Reviews say it's "punchy" and "tart" and note that there's more sediment in this brand than in others.
Komunity Kombucha: Chicago-based Komunity Kombucha is different since it has unique blends not traditionally seen in mainstream kombucha. It's made with functional herbs with adaptogenic, nootropic, and nervine characteristics. Reviews noted one of their flavors, Blue Dream (made with blue spirulina and hemp) tasted like the "healthy version of blue razz." It's the easiest to drink and one of the more flavorful of the kombuchas sampled, with reviews stating "an almost non-existent vinegar taste."
Kombuchade: This Chicago brand has a standout taste, partly due to the five-step filtration system they use for their water. Kombuchade comes in flavors like Wild Guava, Mango Turmeric, and Lavender Lemonade and uses a special tea blend focusing on ingredients that increase energy and lower inflammation. It's a bit more vinegary than some of the other brands but "smooth" and "drinkable," according to reviewers. Because it's formulated to replace sports drinks (instead of sodas) it's also decidedly less fizzy than other brands.
Rowdy Mermaid: A bit more designer than some of the other brands, Rowdy Mermaid comes in basic flavors such as Peach, Ginger, and Grapefruit but incorporates botanicals, herbs, roots, fruits, and mushrooms into their recipe. Reviewers like the "clean, crisp, and refreshing taste" and note the lower sugar content than in other brands.
Forage: Forage is based in Wisconsin but is available nationwide and definitely wins the award for the prettiest can. These works of art come in flavors like Jasmine Rose and Blackberry Grape, and reviewers love the unique flavors and how it's "extra bubbly."
Pilot: Reviewers say they love this New York City-based brand because they offer a variety of unique flavors that are the "perfect blend of sweet and tart." Flavors include Lavender Peach, Celery Juniper, and Turmeric Aloe.
The bottom line on kombucha
Both Lancor and Joseph agree that everybody is different — and it may take trying a few brands to find your new favorite. Lancor sums up the bottom line in a matter-of-fact kind of way:
"Kombucha is not going to solve all your problems, but it is a really useful tool especially if you don't have a probiotic or some kind of fermented food that you eat on a regular basis," he says. "It could really be that thing that you're missing if you're already doing everything right."