The 8 Best Plant-Based Products from Trader Joe's
Trader Joe's has a bit of a cult following, and I'm here for it. From unique products to daily samples to their seriously underrated Fearless Flyer magazine there's so much to love. Plus, employees get some killer benefits and really seem to love their jobs.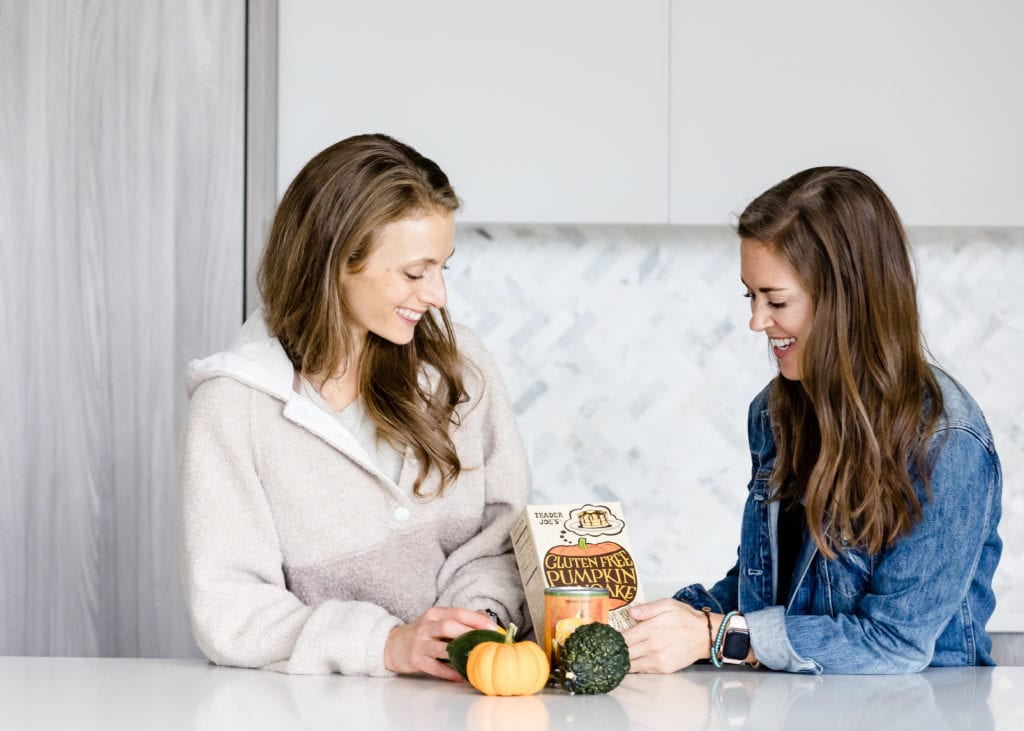 Vegans and vegetarians seem to love Trader Joe's just as much as everyone else which piqued my curiosity in plant-based Trader Joe's products. I set out to try Trader Joe's vegan items and round up the stars—but not before getting some guidance from Kylene Bogden, RDN and Wellness Advisor for Love Wellness on what I should look for in plant-based products.
In order to make sure your plant-based products are actually healthy Bogden recommends you "check out the ingredient list BEFORE you review the nutrition facts panel. Look for whole food ingredients such as lentils, pea protein, avocado, or coconut oil for example."
In contrast, she says, "if you start to see words like high fructose corn syrup or sucralose, run for the hills!! Eating chemical-laden products will not support your goal of improving health on a plant based diet." She recommends checking the ingredients before the nutrition facts panel because "there is no point in eating a high fiber, low sugar product if the ingredient list is predominantly a list of preservatives and man-made fats such as partially hydrogenated oil." 
Additionally, Bogden advises steering clear of items that are high in sodium and saturated fats. According to the FDA, foods that have less than 5 percent of your daily value  of sodium are considered low sodium, while foods that contain more than 20 percent daily value for sodium are considered high sodium items. According to health.gov, you should aim to limit your daily intake of saturated fat to about 20g for a 2000 calorie diet. Look for "%DV" on nutrition labels to determine where plant-based items fall in these categories.
When it comes to plant-based Trader Joe's products (or food items from any other store), they generally fall into two categories – faux meat and products that just happen to be vegetarian or vegan without attempting to mimic their animal based counterparts. I rounded up the best in each category.
Faux Meat
1. Meatless Breakfast Patties
With a relatively short (and clean label) ingredient list coming in at 10 percent daily value for sodium per serving and no saturated fat, these are a win in my book. Are they perfect? No, but as a sub for pork breakfast sausage they're a good choice. And of course I have to mention the fact that they're delicious. 
2. Beef-less Ground Beef
This vegan ground beef is also clean label and keeps its ingredient list short. It comes in at 11 percent daily value for sodium and is also free of saturated fat. If you're really craving that classic ground beef flavor it does the trick. Mixed into a pasta sauce or taco mix you could probably even mistake it for the real deal.
3. Chickenless Mandarin Orange Morsels
These have a longer ingredient statement than the previous items, but the ingredients are all recognizable. They're higher in sodium and saturated fat than the previous items, reaching 24 percent of your daily sodium and 5 percent of your daily saturated fat. All things considered, these can probably hold up as a more substantial meal on their own than the breakfast patties or the ground beef, so as long as you budget for it, these can definitely be part of a healthy meal.
Consider making this into a stir fry with lots of veggies and whole grains like brown rice or quinoa. It's also a great sub if you're a fan of Trader Joe's Mandarin orange chicken, which is probably one of their most popular products.
4. Soy Chorizo
This chorizo has the shortest ingredient statement of the faux meats on this list and a good chunk are things you could probably find in your own kitchen, which is what I like to see. That said, it's the highest in categories to look out for, containing 31 percent daily value for sodium and 9 percent daily value for saturated fat per serving. From a flavor perspective, it's my favorite item on this list and if you make sure to control your portions and serve it with veggies, it can be a great option.
Veggie dishes
These are the types of products I like to gravitate towards when I'm looking for a plant-based option. Unlike the faux meats listed above, these plant-based Trader Joe's products highlight and star vegetables rather than trying to make them taste like meat and can be just as delicious if not better than their faux meat counterparts.
1. Vegetable Spring Rolls
These are so good and might be my favorite product on both lists (but the chorizo really gives them a run for their money). The spring rolls are essentially egg rolls filled with kale, edamame, mushrooms, and shredded tofu and they're delicious. They highlight plants in their natural state and the tofu and edamame ensures that their protein content rivals their meat based alternatives. The ingredient list is clean label and they come out to 5 percent daily value for saturated fat and 8 percent for sodium.
2. Paneer Tikka Masala
I used to eat this at least once a week (if not more) when life got crazy and I wasn't able to meal prep lunches to bring to work. Despite some fatigue after eating it for months, I still think it's delicious. The ingredient statement is so straightforward you might even be able to recreate it at home.
Unfortunately, it's the biggest offender on this list in terms of saturated fat coming in at 45 percent daily value, as well as sodium, which hits 30 percent daily value so it's probably not the best option to eat as often as I once was (oops). For a vegan alternative try the vegan tikka masala which subs out the paneer for faux meat.
3. Black Bean & Cheese Taquitos
I love Trader Joe's mini chicken tacos and these are a great vegetarian (but not vegan) alternative. This product also has a concise and recognizable ingredient statement and is more forgivable than the tikka masala at 10 percent daily value for saturated fat and 8 percent for sodium.
4. Shelled Edamame
You can't get more straightforward than this one. The ingredients are soybeans and salt. It's high in protein and an easy addition to stir fry or a great snack on its own.
Let us know!
Did this post help you get closer to achieving one of your goals?