Travel Snacks: What to Pack for Your Next Flight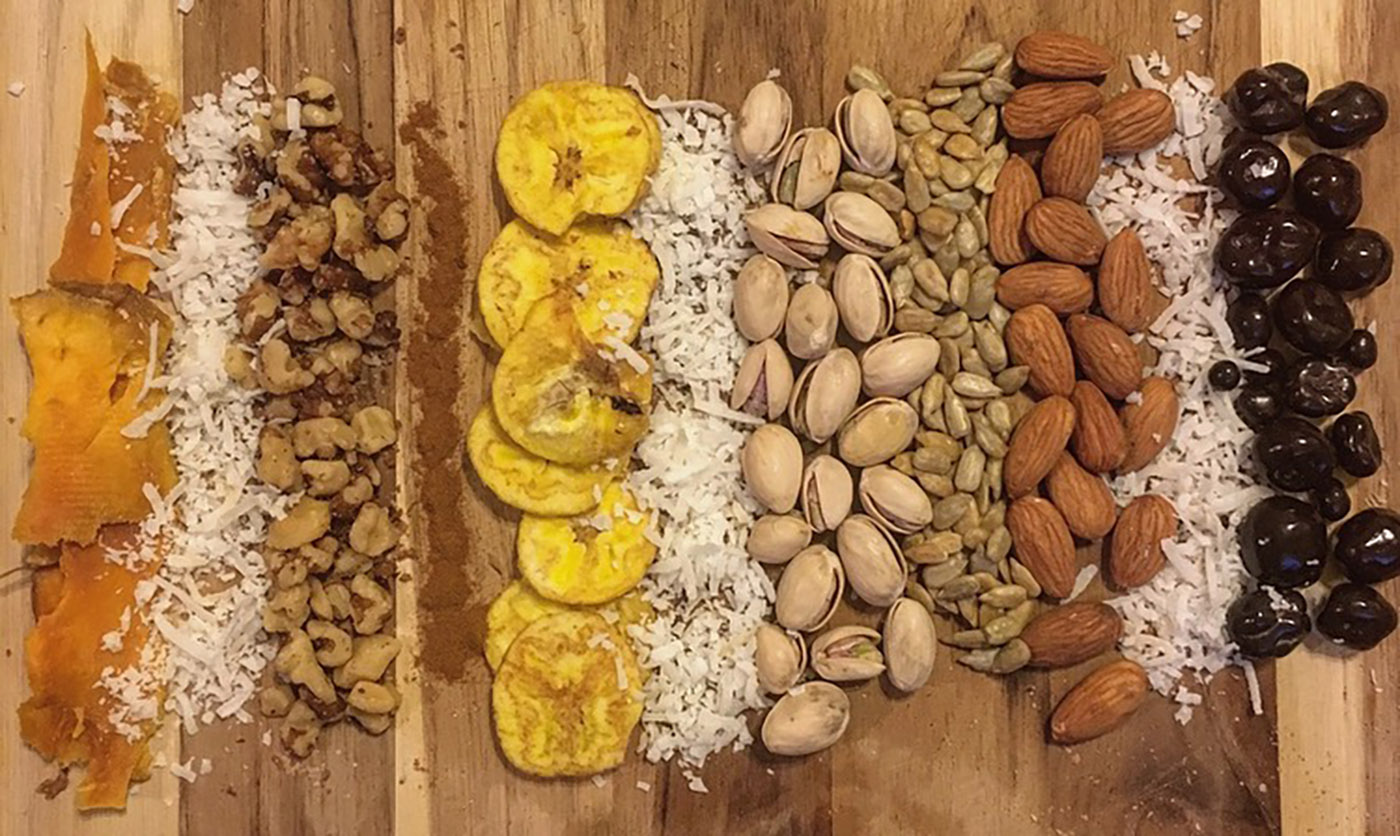 With holiday travel just around the corner, it's time to start thinking about packing your bags. Nope, not your suitcases – I'm talking about your snack bags. My mom has taught me many brilliant and wonderful things in my 33 years, but perhaps one of the most important is this: Never get on a plane without copious snacks. After all, these days, you're lucky if the airline tosses you a 50-calorie bag of peanuts. And good luck if you encounter some sort of delay – you might be sitting on that plane twice as long as you expected, while your rumbling stomach attracts stares from your seat mates.
My husband's jaw dropped the first time he saw how many different snacks I bring onboard a flight. I'm not sure why he was so surprised – he knows my work tote is stocked with nuts and granola bars. Maybe it was the way I kept pulling different items out of my purse like a modern-day Mary Poppins. Meanwhile, I was shocked he didn't pack a single snack. "What will you eat?" I wailed in mock horror. "I didn't pack enough for you!" Then I burst into a maniacal laugh. Of course there was enough for him. I could have fed the entire plane and probably half the people waiting at the gate.
Like I said, I got it from my momma. When she was corralling four girls between the ages of one and 12 onto a flight, hoping for minimal tears and fights, she knew she could get things under control quickly with one simple solution: plastic baggies of M&Ms, one per daughter. Add in another couple bags of Goldfish, carrot sticks and maybe a bagel or two and we were all set.
So take it from a pro. Fill up that carry-on with as many snacks as you can. Here are some of my favorites:
Sliced apple
Get the crunch you crave and hydrate at the same time. No need to chase that apple with a gallon of water that will have you doing the pee-pee dance in your seat while the seatbelt light burns in your eyes.
Peanut M&Ms
My mom reasons that the peanuts are a good source of protein. All I know is that I enter my happy place whenever I eat a bag of Peanut M&Ms, especially on a flight.
Various bars
Look for bars with a lot of protein and not too much sugar (because you already ate those M&Ms, right?). My favorites are Luna's dark chocolate hazelnut and dark chocolate mocha almond bars, which both have 5 grams sugar and 7 grams protein. I also like the nut butter-filled CLIF bars.
Almond butter crackers
Slather some almond butter on a couple of stoneground wheat crackers, press them together to make sandwiches and presto, you've got a delicious portable snack. Pack them in a small Tupperware container so they don't break when you're slinging your bag onto the security check conveyer belt.
SkinnyPop Popcorn
You could bring the biggest bag of SkinnyPop onboard and I wouldn't judge you. But for ease of travel, I suggest making your own smaller bag(s).
Peanut butter and jelly sandwich
You might as well bring a real meal with you, and nothing beats the convenience of a pb&j.
Homemade trail mix
I like to combine peanuts, chocolate chips, raisins, dried cranberries and slivered almonds for a delicious on-the-go snack.
Jerky
This is another good way to get your protein fix en route to your final destination. Plus, it's having a bit of a renaissance, so you have plenty of brands and flavors to choose from (try Krave's pineapple orange beef, Field Trip's cracked pepper turkey or Trader Joe's wild salmon).
Energy bites
Pack a few of these tasty energy bites for a satisfying snack. They're like healthy truffles. Your fellow passengers might be jealous, so bring extras and share.
Almonds
Kill those hunger pains with roasted, unsalted almonds. I recommend the snack-size packs from Trader Joe's.
Cheez-Its
Basically, I will take any excuse I can to eat Cheez-Its. I try to keep them out of my home because I will eat an entire box in one sitting if it's in my cupboard. But for some reason, I find it perfectly acceptable to do this when I'm flying across the country (remember, this is a judgement-free zone).
Gum
No one wants to experience your Cheez-Its breath. Not even me.
Water bottle
Don't forget to fill it up in the airport before boarding!