Matzah Makeover: Ten Easy Recipes to Get You Through Passover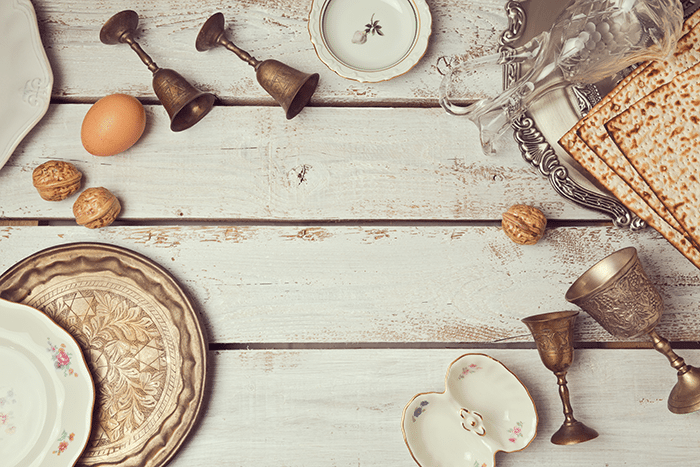 Can a girl live on bread alone? I sure wish so. If I had it my way, I'd start every morning with a croissant, eat a baguette for lunch, snack on cinnamon-raisin toast in the afternoon and finish the day with a loaf of crusty bread dipped in olive oil. Sounds good, right? Well, without fail, this carb-laden fantasy really takes hold during one specific week each year: Passover.
As you may or may not know, Passover (or Pesach in Hebrew) is a Jewish holiday commemorating the Israelites' escape from slavery in Egypt. The exodus happened so quickly that the Israelites didn't have time to let their loaves of bread rise. Instead, they packed up the dough and it cooked in the hot sun on the journey to freedom.
The resulting cracker-like product, matzah, is a staple of the Passover diet. During Passover, Jews eschew all leavened foods – not only bread, but also cookies, cakes, pasta and grains (with the happy exception of quinoa!). Over the years, I've followed the Passover proscriptions to varying degrees. This year, my sister and mom will be in town, so I'm hosting a seder (the traditional kick-off dinner where we eat special foods and re-tell the story of Passover), but you might see me devouring my favorite berry-granola French toast the next morning at Yolk. After they leave, however, it's ixnay on leavened products until the following weekend.
So what will I be eating? In addition to my normal staples – salads, salmon with broccolini, scrambled eggs, zoodles – matzah is entering the rotation. On its own, matzah is incredibly dry and tasteless, but it's also easy to dress up. If you're facing down the breadless blues for Passover like I am, try one of these matzah makeovers. (Author's note: I don't keep Kosher, so keep that in mind if you do.)
Morning Matzah
Slather that matzah with almond butter, top with abundant slices of banana, drizzle with honey and you'll be ready for whatever the day throws at you.
Morning Matzah, Take Two
Matzah + butter + cinnamon sugar + syrup = sticky deliciousness.
Morning Matzah, Weekend Edition
Elevate your matzah game with this Passover take on the bagel. Spread a generous amount of cream cheese on your matzah, then pile on lox, red onion, cucumber and capers.
Mediterranean Matzah                                        
This was my go-to recipe in college. Start with a base layer of your favorite flavor of hummus. Then add sliced tomatoes, hunks of feta and all the black olives. Top with spinach if you want some greens.
Matzavocado
Avocado makes everything better. Smash it up, gently spread it on the matzah and sprinkle the whole thing with sea salt.
Nacho Time Matzah
Honestly, my Lutheran husband gets jealous when I eat these nachos in front of him. They're that good. First I cook up some ground turkey meat with taco seasonings. Then I break up the matzah into smaller pieces and place them on a foil-covered baking sheet. I pile Mexican cheese and the taco meat on top, then stick in the oven for a couple of minutes at 350 degrees. Once the cheese is melted, I cover the nachos with salsa and guacamole. Almost as good as the real thing.
Pizza Matzah
It's a classic for a reason. Spoon some pizza sauce onto your matzah, sprinkle with oregano and chili flakes, layer on the mozzarella and bake at 350 degrees until the cheese is gooey. Depending how you're feeling, optional add-ons might include spinach, mushrooms, olives, tomatoes, banana peppers or whatever else floats your boat.
Fancy Matzah
Spread some apricot jam on a matzah. Soften a round brie in the oven. Lovingly lay melting slices of the brie on the matzah. Pretend you're in Paris. (But try not to think of the baguettes … and the croissants … and the macarons.)
Dessert Matzah
Melt milk chocolate chips in the microwave or a double broiler; then do the same with white chocolate chips. Coat your matzah with peanut butter, then drizzle with both types of melted chocolate. Melted caramel would also be a wonderful addition here.
Dessert Matzah, Addiction Edition
Speaking of caramel, if you haven't had "matzah crack," aka matzah toffee goodness, you haven't truly lived. Get the original recipe here.
What's your favorite way to eat matzah? Leave us a comment to let us know!