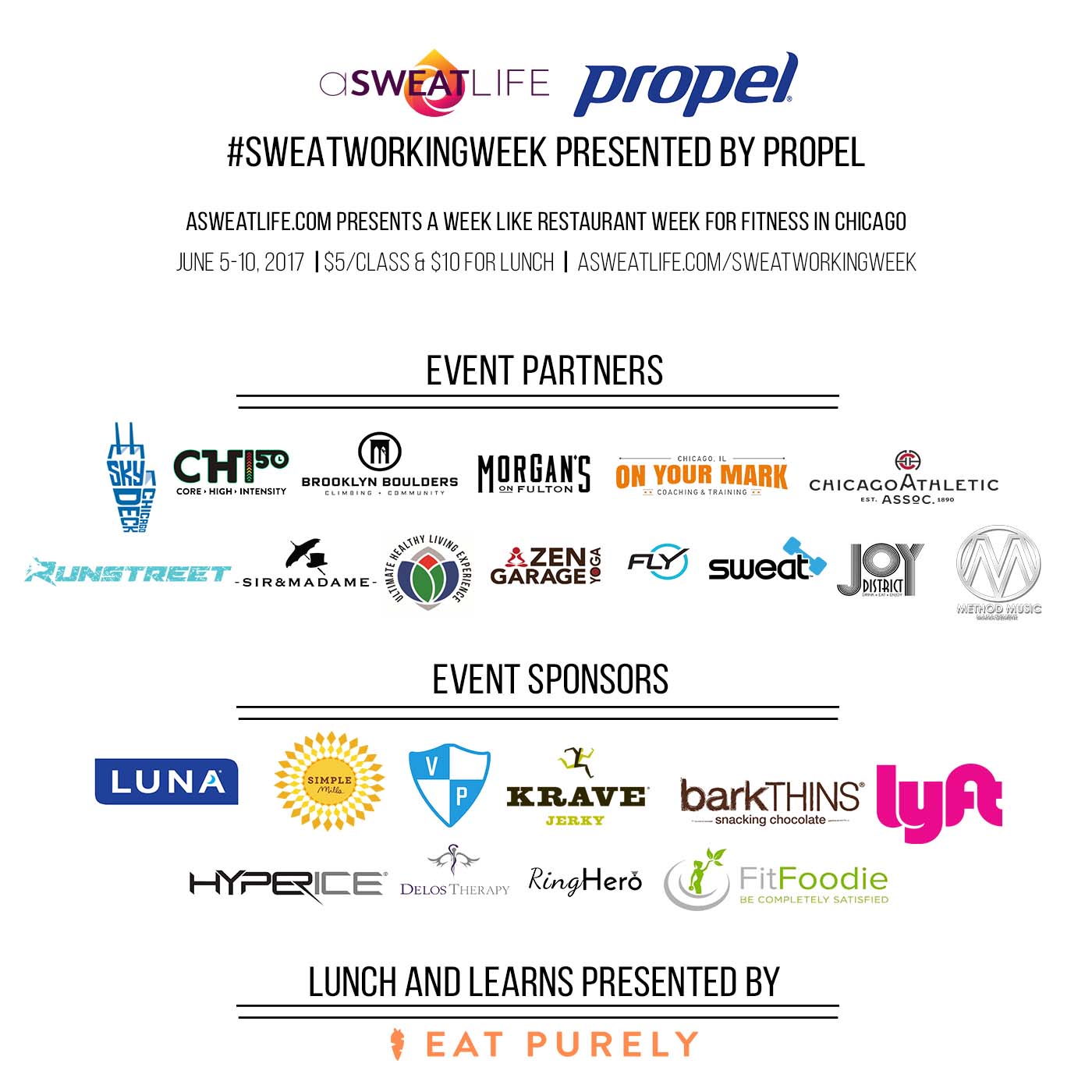 June 5-10, 2017, we're taking on a curated fitness schedule – each day is different from the others and you'll sweat with a few of our friends.
Kate Lemere |  Jason Loebig & Bret Gornik | Emily Hutchins | Erica Robinson | Jeana Anderson Cohen & Maggie Umberger | Paul Rahn
There's something in the air in Chicago. We know that June means a whole lot of love in this lakefront-path-running city of ours, but it also means one more thing: #SweatworkingWeek. We're excited to announce our third edition of #SweatworkingWeek with an incredible schedule curated by some of our friends coming at you June 5-10.
What's #SweatworkingWeek? It's a restaurant week for fitness put on by aSweatLife.com that seeks to get Chicago moving twice a year. We put all of our blood, sweat, tears and imagination into creating a schedule that excites you to amp up your wellness routine in and out of the gym.
And all week long we'll be staying hydrated with Propel Electrolyte Water which made it possible for us to offer all workout sessions at just $5/class, with those ticket sales going to charity. Friday's Flywheel ride will go to the MS Society and every other workout will benefit Girls on the Run.
Propel is the only water with enough electrolytes to replace what is lost in sweat*, making it the perfect partner to keep you going through an entire #SweatworkingWeek.
*Among national enhanced water brands
We're doing this for a few big reasons:
We want to help you strengthen a habit. You'll be able to spend the week trying new ways to sweat for summer '17. If you find something you love after the week – settle down and stay a while.
We want to make trying something new a little less scary. We can guarantee that you won't be the only new person in class and we know from experience that being a newbie alongside other newbies makes those first-time jitters a little less jittery.
We believe that everything is better with friends. Throughout #SweatworkingWeek, we're taking over full classes because we want you to shake a hand and have some human interaction. You can rest assured that the classes will be packed with people who will be supportive if you're new and will cheer you on along the way regardless of your fitness level.
Because we believe that everything is better with friends, we decided to invite some friends to show us what makes them tick in Chicago fitness. The next #SweatworkingWeek schedule is a product of the creativity, excitement and imagination.