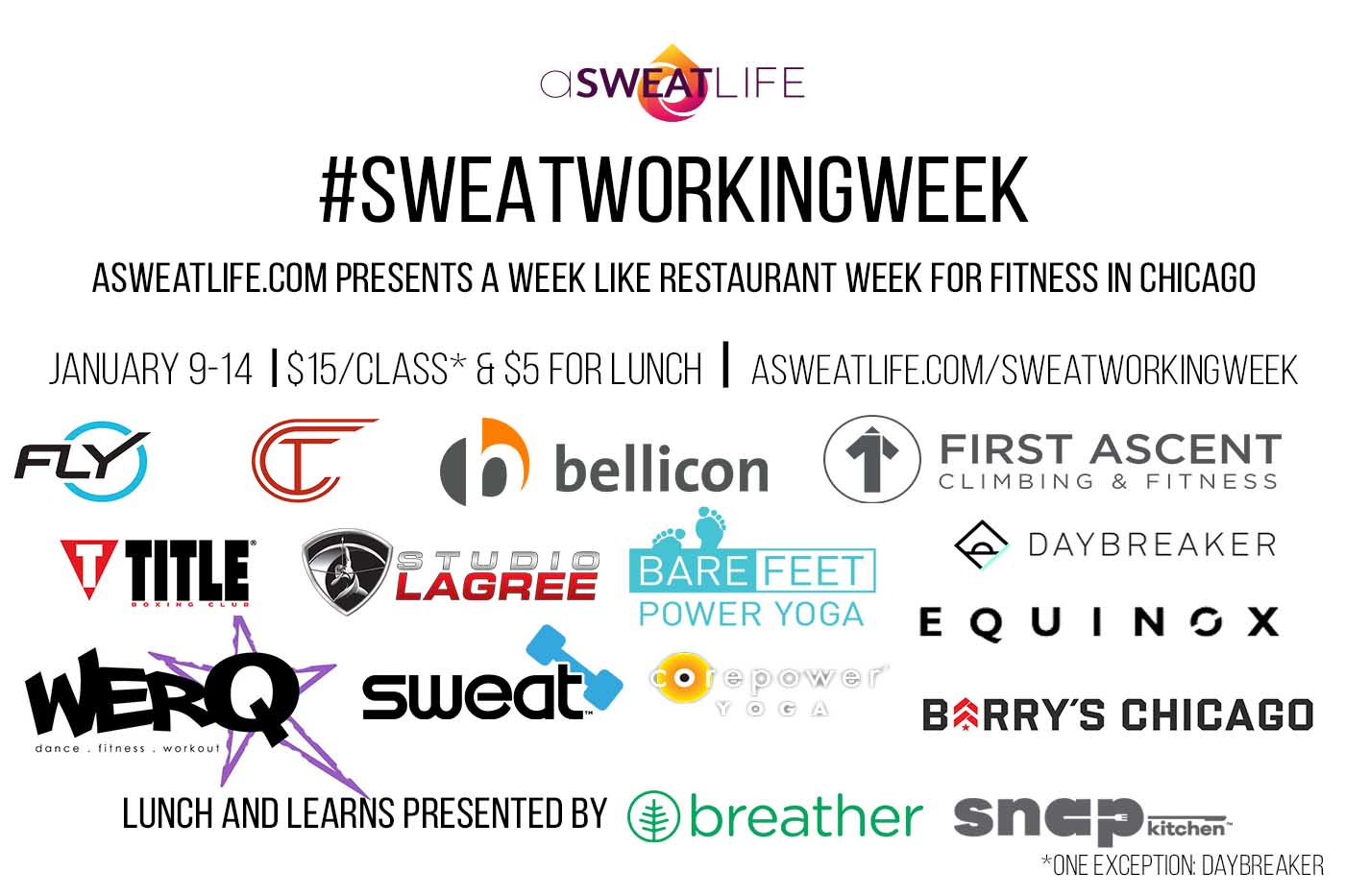 From January 9 through 14, we're giving you a taste of the best of Chicago fitness through a week of dedicated workouts called #SweatworkingWeek. You won't want to miss a sweaty minute and at just $15 a class (a very special #SweatworkingWeek price meant to make trying things a lot less scary), you'll have a chance to try it all and find your fitness match.
In the middle of the day, we'll bring in some people from the Chicago Fitness community to talk about some of the things they know, some of the things that drive them and we'll walk away from each session a little more empowered. Lunches will be just $5 and every cent will go to the Greater Chicago Food Depository. We'll feature lunch from Snap Kitchen and we'll be in space provided by Breather.
Here's where you can find us that week.
Why are we doing this?
We want to help you strengthen a habit. You'll be able to spend the week trying new ways to sweat and setting the tone for 2017. If you find something you love after the week – settle down and stay a while.
We want to make trying something new a little less scary. We can guarantee that you won't be the only new person in class and we know from experience that being a newbie alongside other newbies makes those first-time jitters a little less jittery.
We believe that everything is better with friends. Throughout #SweatworkingWeek, we're taking over full classes because we want you to shake a hand and have some human interaction. You can rest assured that the classes will be packed with people who will be supportive if you're new and will cheer you on along the way regardless of your fitness level.
About the sessions:
1/9, 6 am: FlyBarre at Flywheel Sports Old Town
Hop off the bike and onto the mat with FlyBarre, the total-body sculpting class that blends light weight training with core strengthening exercises to create the ultimate toning experience. FlyBarre is a fun, high-energy workout that quickly tones and strengthens muscles. The routines change frequently, so even though the class always concentrates on arms, core, thighs, and glutes, you won't get bored.
1/9, 12:00 pm: Lunch and Learn – Doing good through fitness with Jenn Junk, Executive Director of ROW®
January 9, our first Lunch will be with Jenn Junk, Executive Director of Recovery on Water. Recovery on Water is a rowing team that gives survivors of breast cancer the unique opportunity to interact, become active in their recovery, and gain support from fellow survivors.
1/9, 6:30 pm: Total Body Strength at CrossTown Fitness West Loop
At CrossTown Fitness, this Total Body class focuses on strength, with little or no cardio. The trainer will use free weights, kettlebells, TRX, bodyweight, and more to create a total body workout to focus on getting you stronger!
1/10, 6 am: Bellicon Bounce Trampoline Fitness
The bellicon Bounce class alternates between intense cardio and strength training in a structured, progressive workout. It's a high-energy, fat-burning, muscle-toning workout that's as much fun as it is challenging.
1/10, 12 pm: Lunch and Learn – Blazing your own path and choosing happiness with Kate Lemere and Katie Henry
January 10, our second Lunch will be with Katie Henry (Physical therapist, wellness enthusiast and a Desire Map Facilitator who walked away from her job at a hospital to help clients pursue goals that are driven by desires and the life that they actually want) and Kate Lemere (Founder and CEO of TheFourPercent.com, Barry's Bootcamp Chicago Founding Instructor, Nike Master Trainer and busy professional who pursued her own path to happiness).
1/10, 6 pm: Yoga and Climbing at First Ascent
At First Ascent in Avondale, we'll split our time between yoga and the autobelay climbing wall, using the machines that help you climb with control and without the assistance of another climber. You'll have so much fun it won't feel like a workout.
1/11, 5:30 am: Yoga + Dance at Daybreaker
Daybreaker is an early morning dance movement in 15 cities around the world and growing. It starts with a one hour yoga + fitness experience and then dance with reckless abandon for two hours before work. You never know where the next location will be and what surprises are in store.
We partnered with the global, morning dance sensation to get you in to try it for yourself as a part of #sweatworkingWeek for a discounted price of $25, which includes both the yoga and the dance party that follows.
1/11, 12 pm: Lunch and Learn -A step-by-step guide to being your own boss with Cindy Kuzma and Shreena Amin.
January 11, our third Lunch will be with Cindy Kuzma accomplished wellness writer and runner and Shreena Amin Co-Founder of Pretty Quick, female-founded tech company that was recently acquired by Groupon. You'll walk away with stories from people who created their own career and tips to know whether that life is for you.
1/11, 7:15 pm Boxing at Title Boxing Club Lincoln Park
At Title Boxing Club, the Power Hour format utilizes the fundamentals of a true boxer's workout to strengthen and tone your arms, legs, back, core and your confidence. Empowering, exhilarating and totally addictive.
1/12, 6 am: Studio Lagree in River North
In class, you'll hop on a Megaformer, a machine built to deliver a challenging workout. In class, you'll experience the method that the combines working muscles to failure and eliminating rest periods to develops muscle tone and strength. Best of all, the effective intensity can always be adapted, preventing clients from ever reaching a training plateau.
1/12, 12 pm: Lunch and Learn – Fitting moments of wellness in your day with Kelly Magnus and Eric Owens
January 12, our fourth lunch will be with Kelly Magnus (triathlete, writer at aSweatLife.com, busy professional at Fleishman Hillard) and Eric Owens (Co-Founder of Delos Therapy and Ping Pong Hall of Fame inductee). You'll walk away from this lunch with real advice that you can use to make space in your body and your day for moments of health.
1/12, 6:30 pm: Bare Feet Power Yoga
Connect your breath to your movements and focus your mind as you flow through this powerful class. Practice starts with traditional Sun Salutations and moves through a variety of standing, balancing, backbending and hip opening postures that will build your strength and increase your flexibility. Teachers will offer modifications to keep beginners comfortable and confident, as well as add challenging variations to push the limits for even the most experienced practitioners. Each class will be at an uptempo pace and filled with positive vibes to make for a truly uplifting experience.
1/13, 6 am: WERQ Dance Fitness with Founder Haley Stone at SPiN
January 13, we'll take on an hour of fitness that will be one you'll never forget – WERQ Dance Fitness with Haley, the founder of the dance fitness phenomenon at the Ping Pong paradise, SPiN.
WERQ is the wildly addictive cardio dance class based on the hottest pop and hip hop music. The workout is nonstop with repetitive athletic moves and fresh dance steps, so you get the best sweat. WERQ Instructors build a playlist based on trendsetting pop and hip hop music. Each week a couple new routines are introduced, so you get to WERQ the routines you know and challenge yourself with ones you're learning
Music will be by DJ Sye Young of the DJ Firm and Haley will keep you moving.
1/13, 1 pm: Equinox Firestarter (30 minute workout + lunch)
January 13, we'll take on Equinox's new 30-minute workout built for the lunch hour – Firestarter.
You're going to do more work than you thought possible in just 30 minutes. You'll use lightening fast intervals, benches and bodyweight and you'll be happy it's just 30 minutes.
1/13, 6:30 pm: Strength at Sweat Chicago
Expect a high intensity, strength driven class that touches on every muscle group.  This trainer-led class uses heavy strength training with functional movements while incorporating different weights such as dumbbells, kettles, bars, ropes and more to have you feeling ripped in this 60 minute class!
1/14, 10 am: A tasting class at Core Power Yoga River North
Start the day with a tasting of yoga at Core Power Yoga River North.
You'll get to try several of the different kinds of yoga available at Core Power Yoga including C2, Yoga Sculpt and Hot Power Fusion. You'll leave with a reignited fire for your practice (and extra sweaty).
1/14, 2 pm: Barry's Bootcamp River North
With every day of the week adhering to a different theme, Barry's bootcamp guarantees that it will shock your body with a combo of running and strength training. The energy and enthusiasm will get you through class.
1/14, 3:30 pm: #SweatworkingWeek closing party at Barry's Bootcamp
This event will be invite-only for all who attend any event during #SweatworkingWeek.