June 20-24, 2022 #SweatworkingWeek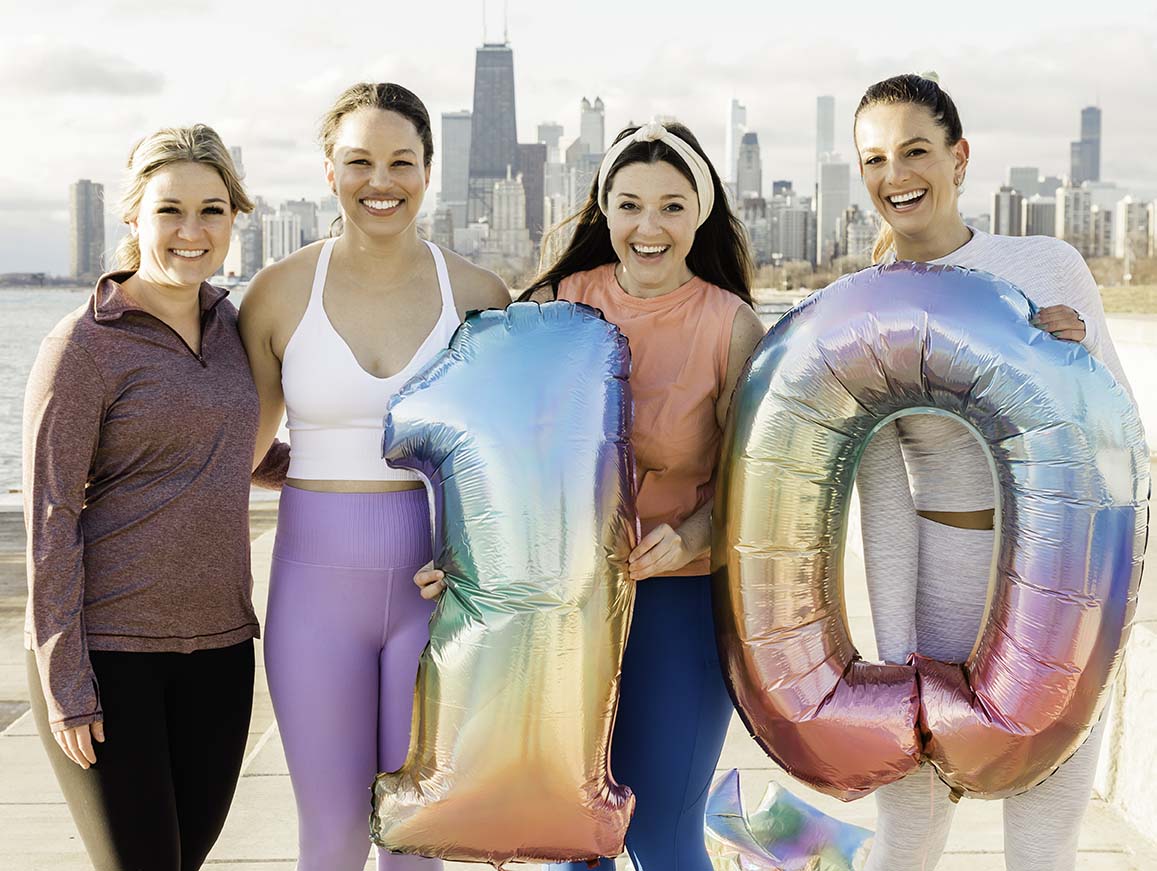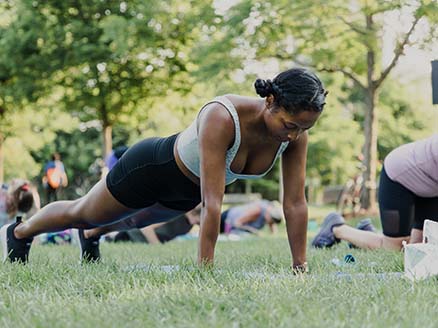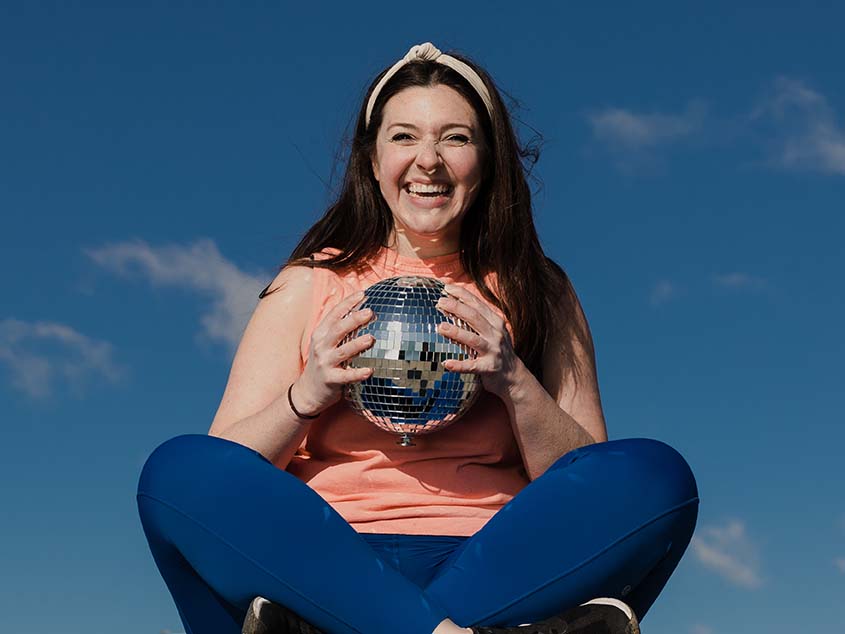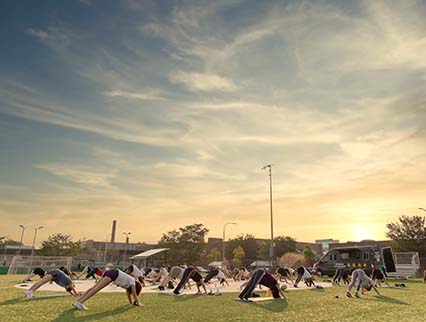 June 20-24, 2022 #SweatworkingWeek
Get your tickets below! ⬇️
We're about to proudly spend the summer celebrating our 10th anniversary, and all that commences with our 10th #SweatworkingWeek.
We'll be spending June 20-24 celebrating movement in so many different forms – with heavy weights and on fancy machines in studios across the city and under the summer sky in Maggie Daley Park.
#SweatworkingWeek is a week that's one part restaurant week and one part music fest, so you get to try so many new things and meet a lot of new people. Because if we've learned anything over our 10 years doing this, the best workout for you is the one that brings you joy and everything, especially workouts, is better with friends.
And we'll be peppering in special moments and perks from friends, partners, and musical guests. And we're creating moments with partners that will help you feel the spirit of friendship too!
And we'd be remiss if we didn't mention that this is our 3rd summer watching for CDC updates and making sure you feel safe. That's while you'll see a schedule that mixes indoor and outdoor workouts to support you at your comfort level.
Ready for a summer of Celebration. Get your tickets below! ⬇️
What to expect
01
What you need:
Your own yoga mat, your own hydration, and anything else you want for an outdoor workout! Additional items provided in the workout description.
02
Ticket Cost:
You'll find two ticket tiers this year - the $20 ticket for a person coming alone to #SweatworkingWeek, and a $15 ticket for a person buying tickets in groups. We also have a scholarship request for anyone who needs a little help right now. That request can be found in every event listing.
03
Our safety and Sanitation Protocols:
We are following all protocols advised by the CDC and City of Chicago. We're excited to be indoors again this year at the studios we love, but we do ask that you self-report any illness symptoms and to stay home if you show any signs of illness leading up to the event.
04
Summer of Friendship:
We'll have plenty of opportunities to make and deepen friendships across #SweatworkingWeek. Friendship bracelets anyone?
#SweatworkingWeek Schedule of Events
Monday, June 20, 2022
June 20, 7 and 8 am: Strong X at The Garage: This class is the perfect blend of strength and conditioning. This class will get you back in touch with your inner athlete, leaving you winded, sore, and proud as hell. This class is programmed with a little bit of strength and a little bit of conditioning to build athletes up and not break them down. And, bonus, this class is full of functional  feel good movements that your body craves.
June 20 at 6 pm: SWEAT, Studio Fit and Zen Yoga Garage: We're mashing up three studios and formats that we love. First, you'll experience the combo of strength and cardio from SWEAT. Then Studio Fit will give you a taste of barre, a strength format that looks much, much easier than it ever is. To finish off the workout, Zen Yoga Garage will get you moving from pose to pose and breath to breath on your mat. What do all of these studios have in common? They're all a part of the My Strong Circle network, which allows YOU to bundle your favorite gyms and studios in a single membership with unlimited monthly access.
Tuesday, June 21, 2022:
June 21, 7 am: Choose 1: Cycle, Heated Yoga or Torch at Studio Three: At Studio Three, you'll get to choose your adventure – you'll grab a ticket to one of the three workouts at the Fulton Market location. Start times are staggered, so pay attention to your ticket.
Cycle 45:
Our signature class is a 45 minute ride jam packed with hills, flats, sprints and everything in between. A challenging class for all skill levels driven by incredible playlists and motivating instructors. Get ready to sweat, work hard and have fun.
Heated Yoga Flow:
Moderately heated 45 minute Vinyasa yoga practice for all levels. Allow the breath to be your anchor as you flow from posture to posture building strength, increasing mobility, improving circulation & reducing stress through conscious breath. Unique to the teacher's style & energy.
Torch 45: Butt and Legs
This 45-minute class features our signature three zones of varying work and intensity for all skill levels. Zones consist of treadmill intervals, strength training and rowing. Strength training will target the glutes, hamstrings, quads and other leg muscles.
June 21 at 6 pm: Flow under the Chicago skyline with Maggie Umberger: International yoga teacher Maggie Umberger returns to Chicago to lead a mindful yoga flow at the center of the city in Maggie Daley Park. Expect challenging and delightful sequences that meet you right where you are. You'll find mobility sequences that make your heart-rate race and a practice that focuses on you. We are so excited to welcome Maggie Umberger back to #SweatworkingWeek and Chicago.
Wednesday, June 22, 2022:
June 22, 7 am: Alive at The Space Between: A candlelit, vinyasa-inspired flow set to an expertly crafted playlist, turned up loud to help you feel all the feels. Expect strong poses, long holds, and thoughtfully slow transitions. Each class will include intentional breathwork and soulful guidance to help you go beyond the mind and come alive within. Alive is designed to awaken your soul while also challenging your body. All levels welcome.
June 22, 12 pm SoulCycle with Aya: SoulCycle is an immersive and intense full-body workout. Legendary instructors guide you through class—helping you lose yourself in the ride, the music, the experience. Expect to ride to the beat, whip your towels in the air, and occasionally scream out your favorite lyrics at the top of your lungs. It's an epic cardio party on a bike. (PROOF OF VACCINE REQUIRED)
June 22 at 6 pm: Go! Running Tours with Arc'teryx: Chicago is known for its iconic buildings, beautiful parks, monuments and history. This run will give you a sense of the history Lincoln Park has to offer. This run will be roughly 5K and will take off from the Arc'teryx store on Oak Street. Expect to learn about the statues you walk by every day to the city's park we love to stroll – Lincoln Park – we'll check off many items on your Chicago bucket list. There will be some epic photo ops!
June 22 at 6 pm: Dance mash-up with POMSQUAD™ and Ashantis Jones: We're pairing up people and formats we love for a night of dance you won't want to miss. Ashantis Jones (she/they) is bringing you a dance cardio class where they'll lead you through a fun-filled dance cardio class that'll have you loving and moving the body you're in. Ashantis's approach to fitness is holistic – they're a Master's level Counselor, NASM Certified Personal Trainer, and Wellness Advocate and her goal is to teach young adults the importance of self-love so they can live a healthy and purposeful life starting today. Catch her on TikTok and Instagram as @iamshantis or on her website at www.ashantisjones.com.POMSQUAD™ is a super fun, immensely positive, high energy dance fitness class! You'll be shaking your poms while prancing, dancing, bending, and snapping to today's hits and yesterday's favorites. Inclusive, encouraging, and easy to follow classes are designed to maximize caloric burn while strengthening and toning the body. Featuring a variety of dance styles and unique choreography, there is something for every type of spirit leader in each and every class. And you'll get to experience it with the co-creators Matthew Hollis (Mattrick Swayze) and Jena Ertel (The Jenarator).
Thursday, June 23, 2022:
June 23, 7 am: Rise Nation: Get the feel for Rise Nation and the Versaclimber in our Level 1 Base Climb. This class highlights the basics of climbing and our foundational choreography with in-depth instruction. Don't be fooled, the versatility of the Versaclimber allows these classes to be modified to expert level if desired.
June 23, 12:15 pm: Shred415: Shred415's signature class is designed to target multiple muscle groups for an efficient and effective total body workout. You'll spend an equal amount of time on the treadmills and the floor including strength training and cardio bursts you need to shred your body. Modifications are always offered, so you can be sure you're getting the right workout for YOUR body.
June 23 at 6 pm: Strength + yoga with Kelita Hollins and Paige Willis: This 60-minute fitness experience will start with a 15-minute yoga flow, followed by a 30-minute strength training class. Then, we'll round out our time with 15-minutes of yoga and meditation. And sis, this class is designed for every body — beginners, pros, and everyone in-between. Our goal is to leave you feeling seen and celebrated. The Instructors: Class will be led by Kelita Hollins and Paige Willis – two Chicago-based fitness instructors with a passion for cultivating spaces that promote strength and celebration of self for women of color. And, this class will be set to the sounds of Midtown Strings – we're talking an incredible DJ with a live violin accompaniment. We're already losing our minds.
Friday, June 24, 2o22:
June 24, 8 am: Bolt Chicago: Steph Rountree and Ryan Nightingale will be leading Bolt's signature Strength and Conditioning class! You can expect to incorporate anything from kettlebells, dumbbells, and med balls to ski ergs, assault runners, and sled pushes on the gym's 15 yd turf. If the weather is nice, we'll be opening up the 17ft garage door to bring in the fresh air and sunshine. At Bolt Fitness it doesn't matter what your fitness level or experience is. We take every workout and make it work for you. With variations, you can simplify or challenge yourself as you see fit. From the words of Nike's co-founder: "If you have a body, you are an athlete."
June 24, 12:15 pm: Basecamp Fitness: One minute intervals sound short, until you're in them and you're pushing yourself 'til you feel the burn. And just when you're ready to cry Uncle, we switch to strength training. Then cardio/strength/cardio again. You get the idea. In cardio sets, Assault bikes will push you. Push back harder. Dig deep and attack each one-minute burst with all the speed you can possibly muster. In strength sets, you'll find an ever-changing mashup of TRX, kettlebells, weights, medicine balls – even your own body weight.
Our Partners
Want to get your brand in the mix at #SweatworkingWeek? Email us: [email protected].