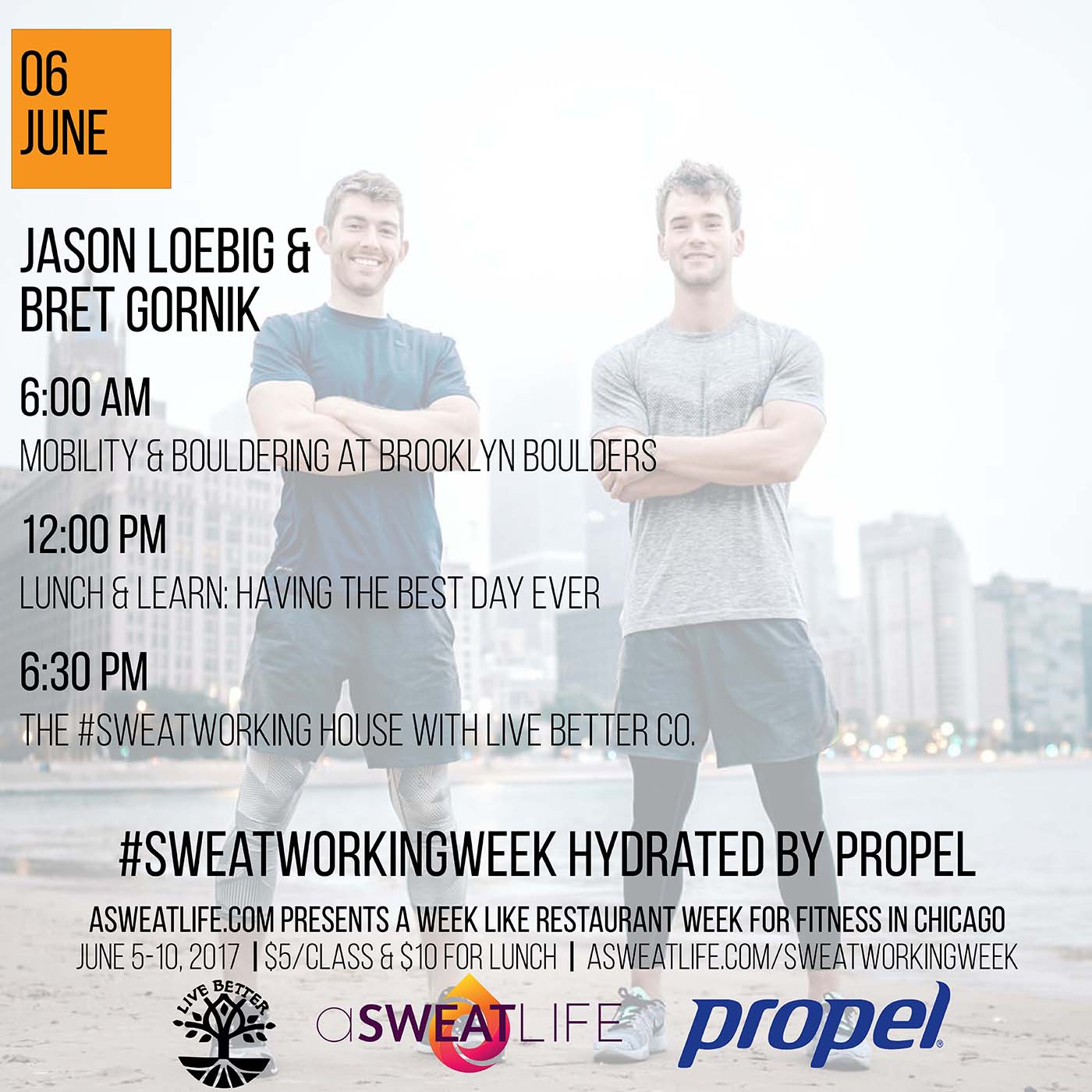 We'll start the day at Brooklyn Boulders, where Bret and Jason do business, play and train. We'll have the space completely to ourselves for a mobility session with HyperIce Mobility products followed by a bouldering session. You'll get to explore the routes during this private session and feel how easily your body moves after Bret and Jason help you get more mobile. And if you need to get right to work after this session, use the locker rooms, which are equipped with Cowshed products.
To expedite your check-in, be sure to sign Brooklyn Boulders' waiver ahead of time here: brooklynboulders.com/chicago/waiver.
(Book your spot in this 6 am session)
For Bret and Jason's lunch and learn session, we'll get together sans sweat to chat about something they care deeply about – having the best day ever. The pair created a company around this idea and we'll talk to them about how you can live your life and make small tweaks to apply their theories of "Best Day Ever." Included with your ticket is delicious organic lunch from Eat Purely.
In the evening, we're taking over one of our favorite venues in the city – Morgan's On Fulton – to create the #Sweatworking House with Live Better Co. No, we're not kidding and yes, it's as amazing as it sounds. The #Sweatworking House will have three levels of activities that make aSweatLife and Live Better Co. tick. On the first floor, we're focused on making friends. You'll network, interact with brands we love, collect some swag and get excited. Then you'll move onto the second level where CHiLL Chicago will help us be more mindful through a guided meditation. After getting your mind right, we'll take our party to the roof where Method Music Management will set the tone for a workout with Jason and Bret.
(Book your spot at 7 pm, 7:30 pm or 8 pm)
Excited about the schedule? Tell us all about it with the hashtag, #SweatworkingWeek.