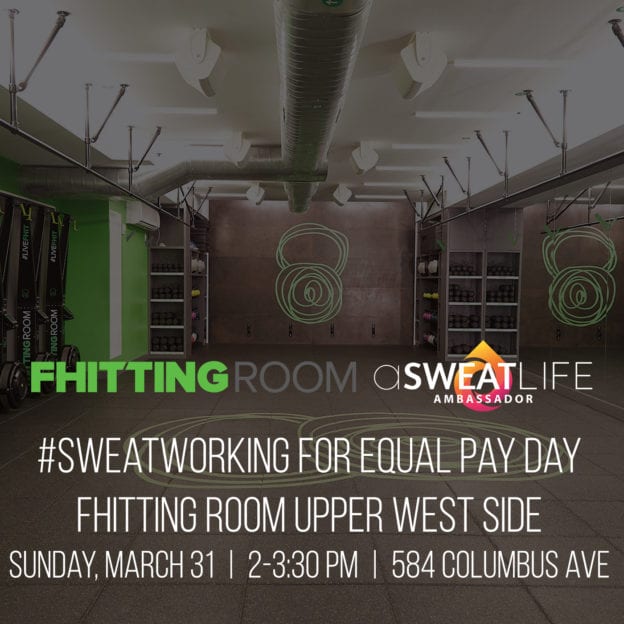 Get your tickets to #Sweatworking for Equal Pay Day at Fhitting Room Upper West Side here.
When: Sunday, March 31 from 2-3:30 pm
Where: Fhitting Room Upper West Side, 584 Columbus Ave
Join aSweatLife to kick off a week of national #Sweatworking events, starting at Fhitting Room's Upper West Side location. There's limited space available for this workout + networking combo, so grab your sweaty girl (and guy!) gangs from all over the city.
Fhitting Room is a High Intensity Interval Training (HIIT) studio delivering a total body workout that's a step above the rest. They've upgraded the group workout experience with better trainers and better programming to deliver better results. Each 50-minute workout is composed of a warm-up, strength work and a circuit. The class finishes with a FHIX – or Functional High Intensity Mix – to burn you out before the cool down. Classes are led by not one but two trainers, which means more attention to form, amazing energy, and more motivation to crush it.
After, you'll hear from these strong women:
After Fhit Pros Tara Nicolas and Chris SantaMaria challenge us in the studio, we'll fuel up on snacks, hear from a panel of badass women including Fhitting Room founder, Kari Saitowitz, and you'll have a chance to network with fellow sweatmates.
Christine Bibbo Herr: She has a passion for fitness and a flair for fashion. She spent the first part of her career in publishing, working for mags like Health, Real Simple, Family Circle, Rachael Ray, Shape en Espanol and The Knot, all leading to the position as Fashion Director for the legendary Good Housekeeping. She built a brand and a business for herself that allows her to be among the most sought-after stylists/spokespersons/fitness fanatics in New York City. Find more from Christine here.
Emily Winter: She's an accomplished comedy writer who has written for TV Land and Colbert does a well-known comedy act about asking for money. She also Co-founded and produced an international comedy festival, WHAT A JOKE, which raised over $50K for The ACLU. You can also find her contributing to publications like Glamor, The New Yorker and the New York Times.
Kari Saitowitz: Kari is the President + CEO of Fhitting Room overseeing three Fhitting Room studios in NYC. She has an MBA from Harvard Business School, where she graduated with honors, and she graduated summa cum laude with a BS in Economics from the Wharton School of University of Pennsylvania. Prior to creating Fhitting Room, Kari, was a marketing executive at Pepsi. She focused on building equity for powerhouse brands and launching new product innovations – skills she uses to create best-in-class fitness experiences today.
Can't make it to the event? Get a totally free pay negotiation training here.