#TrainersConnect at Ritual Hot Yoga
When:
September 12, 2018 @ 1:30 pm – 3:30 pm
2018-09-12T13:30:00-05:00
2018-09-12T15:30:00-05:00
Where:
Ritual Hot Yoga
750 N. Franklin St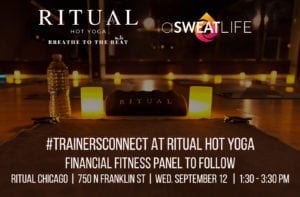 San Francisco-based Ritual Hot Yoga opened its doors just beside the Chicago Brown Line train stop in Chicago this summer. On September 12, we'd love to have the city's group fitness instructors, yoga teachers and personal trainers alike join us for #TrainersConnect – our monthly series dedicated to creating community among fitness professionals – at Ritual.
About Ritual Hot Yoga
At Ritual Hot Yoga, you can expect to move and sweat – a lot – to the beat of the music surrounding you. This cozy studio will feel just like home once you enter it, but don't expect to kick your feet up and relax. Two teachers will be in class with us for the entire 50 minutes, guiding us through postures and demo-ing leveled options for every series. With radiant heating in the floors, candles to set your gaze on and melodic beats to move you through each sequence, you'll relish savasana and the cool towel you'll find for your forehead when you take that last resting pose.
About the workshop
Besides making the yoga practitioners feel at home inside the studio, founder Lindsey Kaalberg wanted her teachers to feel comfortable in their careers at Ritual Hot Yoga, too. Kaalberg built the business around enabling her instructors to be salaried with benefits that would include paid time off, sick time, and 401(k)s.
After class, we'll walk to Left Coast for smoothie samples and to hear from Kaalberg to gain her take on what it means to be financially fit from a personal and business perspective, and in particular, within the business of fitness.
Joining us, we'll also have  Julie Martin, Director of Finance at Grow Forward, a Chicago-based venture capital firm focused on funding, mentoring, and growing sustainable businesses.
Martin is a former soccer player and marathoner who aspires to one day keep the ball inside the tennis court. A CPA by trade, Julie got her start working for Grassroot Soccer, a health and wellness nonprofit in Cape Town, South Africa and rounded out her international experience with three years in private equity. Growing up in a family of entrepreneurs, Julie is no stranger to the pressures of being self-employed but knows that sometimes the risk is worth the reward.
We'll hope you'll join us for #TrainersConnect on Wednesday, September 12 for an afternoon of sweat (a whole of it) and conversation on what it means to be financially fit wherever you are in your career, and wherever you plan to go.
We'll have the opportunity to ask questions of the speakers and each other, so come with anything you'd like to ask regarding financials in the business of fitness. We'll see you on September 12 at 1:30 pm!
Here are all the details of the event on September 12:
What should I bring? Ritual has yoga mats and yoga towels for you, so all you'll need is a pair of clothes you don't mind getting (very) sweaty in!
What else do I need to know?
Bring your financial fitness questions to class on 9/12, and we'll be sure to leave time for Q&A afterwards for both Lindsey and Julie. To read more about Lindsey Kaalberg and the business model that's shaking up the fitness industry, go here.
Come hungry, we'll be walking to Left Coast after class for the workshop portion and we'll have small smoothies when we get there.
What does the $5 price to go? Directly to the Greater Chicago Food Depository