#SweatworkingWeek Hydrated by Propel Takes on a Final Rooftop Workout with SWEAT at JOY District
When:
June 10, 2017 @ 10:00 am – 11:00 am
2017-06-10T10:00:00-05:00
2017-06-10T11:00:00-05:00
Where:
Joy District Rooftop
112 W Hubbard St Chicago
IL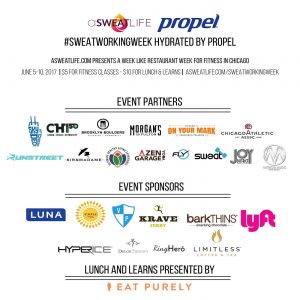 There's something in the air in Chicago. We know that June means a whole lot of love in this lakefront-path-running city of ours, but it also means one more thing: #SweatworkingWeek. We're excited to announce our third edition of #SweatworkingWeek with an incredible schedule curated by some of our friends at some of our favorite places coming at you June 5-10.
What's #SweatworkingWeek? It's a restaurant week for fitness put on by asweatlife.com that seeks to get Chicago moving twice a year. We put all of our blood, sweat, tears and imagination into creating a schedule that excites you to amp up your wellness routine in and out of the gym.
And all week long we'll be staying hydrated with Propel Electrolyte Water which made it possible for us to offer all workout sessions at just $5/class, with those ticket sales going to charity. Friday's Flywheel ride will go to the MS Society and every other workout will benefit Girls on the Run.
Propel is the only water with enough electrolytes to replace what is lost in sweat*, making it the perfect partner to keep you going through an entire #SweatworkingWeek.
*Among national enhanced water brands
After a week of hard work, we'll take in one last morning workout on the rooftop of Joy District with SWEAT. Expect a tough and sweaty workout from Paul Michael Rahn, owner of SWEAT, who will make you earn the after-party. We're getting the first taste of SWEAT's Summer Rooftop Workout Series Hydrated by Propel in Chicago, NYC, LA, and the Quad Cities, so this is the best way we could think of to finish our week. Expect bodyweight moves with some light equipment, like bands and mats.
Following the final workout, we'll celebrate a week of sweat on the Joy District rooftop, your f'roze destination for the summer. Anyone that comes to any workout during the week will be invited to celebrate with us at this complimentary closing party.
Need a Lyft? We worked with Lyft to make it easy to eliminate the last excuse to try or get to class.
New Lyft users can download the Lyft app and enter the code "Sweatworking" to get a $20 ride credit.
Existing Lyft users can use the promo code "LyftForSweat" for 15% off ride