#SweatworkingWeek Hydrated by Propel: a HIIT Class with Kate Lemere at Willis Tower
When:
June 5, 2017 @ 6:00 am – 7:00 am
2017-06-05T06:00:00-05:00
2017-06-05T07:00:00-05:00
Where:
Skydeck Chicago (99th floor workout)
233 South Wacker Drive Chicago
IL 60606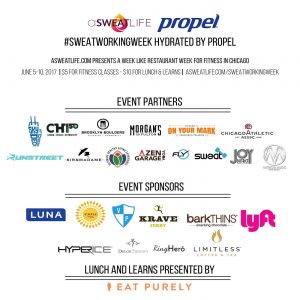 There's something in the air in Chicago. We know that June means a whole lot of love in this lakefront-path-running city of ours, but it also means one more thing: #SweatworkingWeek. We're excited to announce our third edition of #SweatworkingWeek with an incredible schedule curated by some of our friends at some of our favorite places coming at you June 5-10.
What's #SweatworkingWeek? It's a restaurant week for fitness put on by asweatlife.com that seeks to get Chicago moving twice a year. We put all of our blood, sweat, tears and imagination into creating a schedule that excites you to amp up your wellness routine in and out of the gym.
And all week long we'll be staying hydrated with Propel Electrolyte Water which made it possible for us to offer all workout sessions at just $5/class, with those ticket sales going to charity. Friday's Flywheel ride will go to the MS Society and every other workout will benefit Girls on the Run.
Propel is the only water with enough electrolytes to replace what is lost in sweat*, making it the perfect partner to keep you going through an entire #SweatworkingWeek.
*Among national enhanced water brands
Kate Lemere will curate Monday June 5. Kate eats and breathes fitness, and she also know some life-hacks that fill her Instagram feed. You may know her for her wit, but this lady is savvy too and we can't wait to spend an entire day with her.
Monday morning, Kate Lemere will lead a sweaty workout above the city she loves at SkyDeck at Willis Tower. She'll get your blood pumping with a DJ-driven workout with music by Method Music Management and then we'll head to The Ledge to spend time taking in the breathtaking views before the observation deck opens – standing with nothing but glass between us and the city, 103 floors down.
Need a Lyft? We worked with Lyft to make it easy to eliminate the last excuse to try or get to class.
New Lyft users can download the Lyft app and enter the code "Sweatworking" to get a $20 ride credit.
Existing Lyft users can use the promo code "LyftForSweat" for 15% off ride