#Sweatworking at Studio Lagree River North
When:
February 21, 2017 @ 7:30 pm – 8:30 pm
2017-02-21T19:30:00-06:00
2017-02-21T20:30:00-06:00
Where:
Studio Lagree River North
24 East Erie Street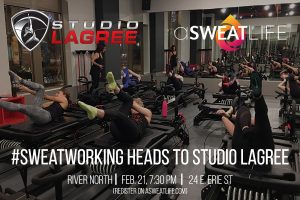 We couldn't get enough of Studio Lagree during #SweatworkingWeek, so we're heading back for more and devoting a full #Sweatworking event to the new location in River North.
The River North Studio Lagree location holds 14 Megaformers. These devices deliver the studio's preferred form of torture – the Lagree method – and work muscles in unimaginable ways and in just a matter of seconds. Your lunges' intensity will be amplified, making them feel more effective when compared to doing a million reps of similar exercises on the boring, old ground.
Experiencing the Lagree Method through #SweatworkingWeek was the perfect introduction to a new format when we visited the studio during our recent week-long event. If you haven't experienced it and have heard stories about being "weird-sore" or sore for days, you'll walk out of this class feeling worked in just 50 minutes.
And afterwards, we'll head to sweetgreen for a full complimentary dinner.