#Sweatworking + an Opening party for REVITALAB with RUNAWAY
When:
November 18, 2018 @ 12:00 pm – 3:00 pm
2018-11-18T12:00:00-06:00
2018-11-18T15:00:00-06:00
Where:
RUNAWAY
200 E Illinois Street
Chicago
IL 60610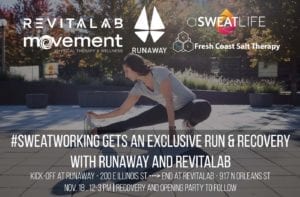 We love to give you exclusives at aSweatLife. And when we talked to our friends from Revitalab and RUNAWAY about what it would look like to create a day that showcased both new concepts, we were more than jazzed.
Here's what you can expect from the workout: 
We'll start Sunday November 18th with a workout that RUNAWAY will lead to showcase the classes you'll find when the studio soon opens its doors in Streeterville. We'll do a workout the RUNAWAY team is terming HERE + THERE. You'll get in a fun run that will not only showcase picturesque places to run in Chicago, but also RUNAWAY's proprietary training method, AMP (Adaptive Musculoskeletal Periodization), created to help you reach running goals while still being able to mix and match your classes.
What can you expect from the after: 
And our friends at RevitaLab will showcase a taste of the recovery they have in their walls including Cryotherapy, Fresh Coast Salt therapy, Normatec boots, Infrared sauna and more. You'll have access to mini treatments, snacks from friends of aSweatLife and more. You won't want to leave.
Can't make it to the run?
You can come to the after party if you're in the mood for just a Sunday fun-day and in NEED of some recovery. (Hot tip: anyone who shows up for the run will get an exclusive pass to RUNAWAY and a deal on future classes.)