When:
July 25, 2017 @ 6:30 pm – 8:30 pm
2017-07-25T18:30:00-05:00
2017-07-25T20:30:00-05:00
Where:
Revel Motor Row
2400 S Michigan Ave Chicago
IL 60616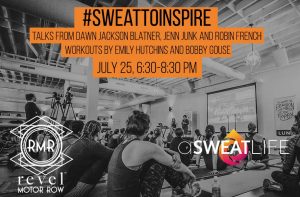 Grab a friend and prepare for a dose of inspiration, July 25. You won't want to miss our second #SweatToInspire at The Revel Group's newest venue Revel Motor Row.
#SweatToInspire gives you an opportunity to hear from other accomplished women, to form community, to sweat together and to give back. A portion of the proceeds from this event will go to Recovery On Water, an organization dedicated to giving survivors of breast cancer the unique opportunity to interact, become active in their recovery and gain support from fellow survivors.
Our three speakers all have a unique perspective on self-love and are incredibly accomplished women.
The Inspiration: Prepare to get a dose of self-love from our speakers:
The sweat: We'll finish with workouts from two different and amazing fitness pros that will make your heart skip a beat out of love and sheer exertion:
Emily Hutchins is the owner of On Your Mark and Nike Master Trainer. Expect a tough, bodyweight-based workout that will make you feel like the athlete you are.
Bobby Gouse comes to Chicago by way of NYC where he trained young Broadway dancers and was a part of the dance fitness phenomenon ((305)) Fitness. He'll be leading his new style of dance fitness MVFitness. You don't have to be a dancer to enjoy this.
What to wear: athletic attire and training shoes
What to bring: a yoga mat – the workout isn't yoga, but when you're on the floor doing planks and push-ups, you'll want a mat.
When to arrive: We'll start checking you in around 6 pm, but the speakers will start at 6:30 pm on the dot
The nitty gritty about this venue: If the weather cooperates, the entire workout will take place on Revel Motor Row's unique outdoor courtyard, a breathtaking place to workout or party. If it rains, no biggie, we'll move inside to another spectacular space within the venue.